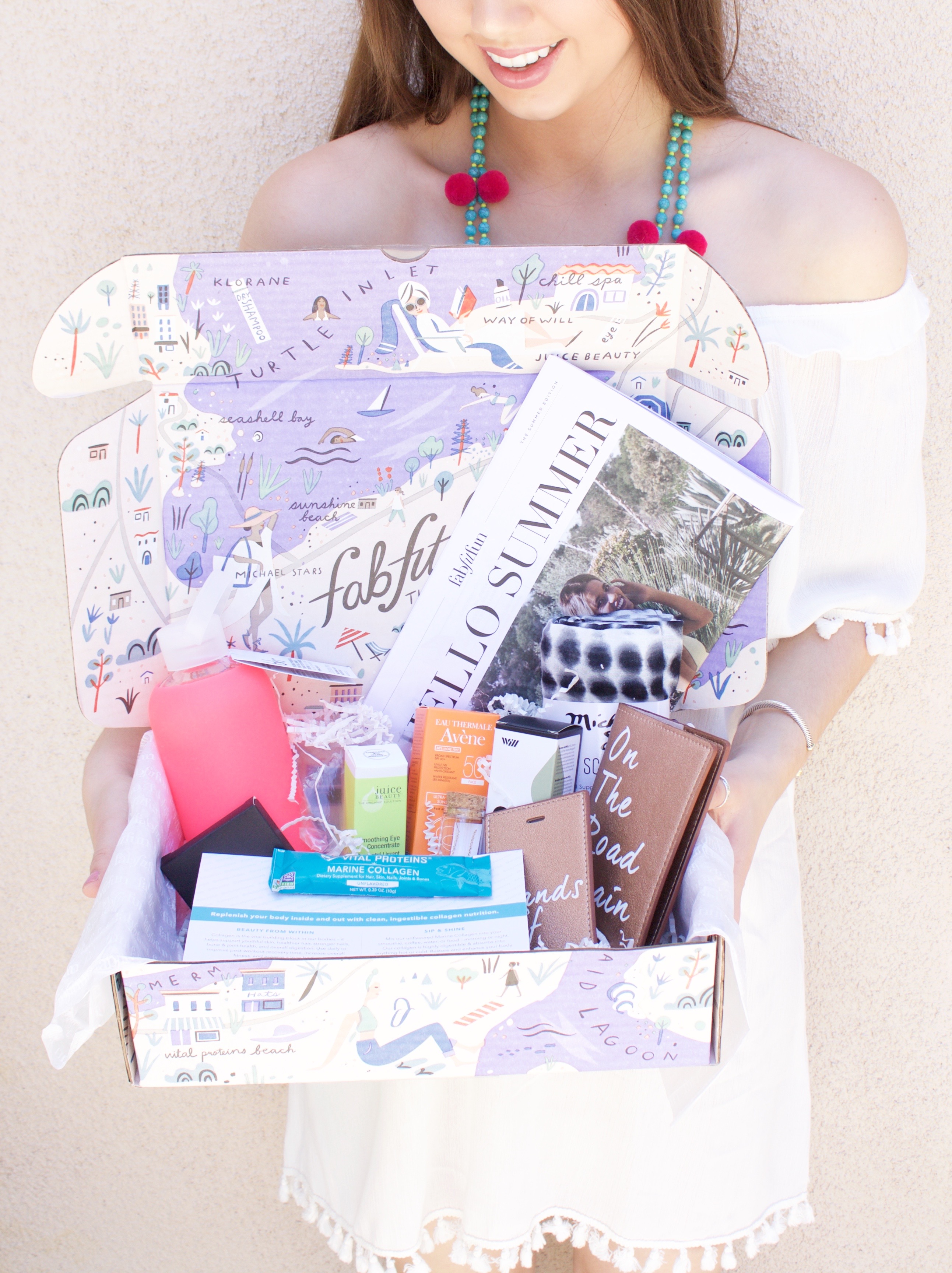 Cheers to it almost being the weekend! Today I'm sharing a review of the FabFitFun Summer 2017 box! As you may know, the past few seasons I shared reviews of these boxes — see Spring 2017 and Winter 2016. I honestly just love these boxes so much and think they are such a fun thing to receive in the mail. I want to warn you though, this post does contain spoilers, so don't keep reading if you want your box to be a surprise.
As I've previously mentioned, FabFitFun is one of the subscription boxes out there that I think is totally worth the money. High quality + full-size products…heck yes! Boxes come out 4x per year and are $49.99 per box. This may seem a little expensive at first, but once you see what's in the box, you'll realize it's SO worth it. My Summer 2017 box has $287.50 worth of items in it!
Here's a breakdown of what's in my box:
bkr bottle – little 500 mL – $35
Michael Stars Ruana – $54
Cargo Cosmetics Cargo_HD Picture Perfect Highlighter – Bronze – $30
Juice Beauty Smoothing Eye Concentrate – $29
Kris Nations Mystic Bar Necklace – $58
Understated Leather On the Road Again Travel Set – $28
Way of Will 03 Soothe and Cool Massage Oil $29.50
Eau Thermale Avene Ultra-light Hydrating Sunscreen Lotion SPF 50+ – $24
Vital Proteins Marine Collagen (sponsored item)
I do want to note that there are a few versions of each season's box. The difference is that items in different boxes vary in terms of color/style/scent depending on which box you are sent.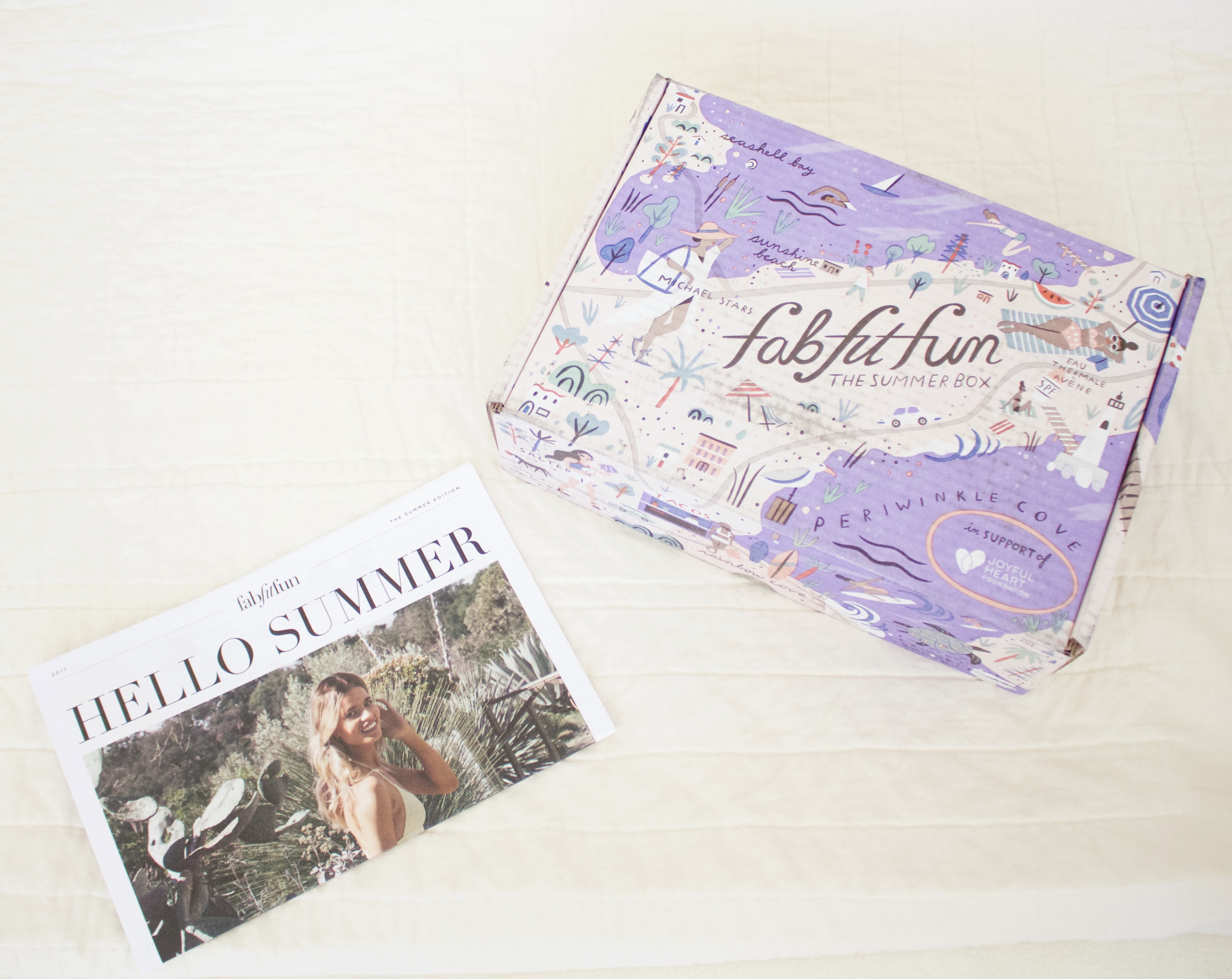 Let me start by saying that FabFitFun nailed this box for summer! I mean just look at the packaging. While the outside of the box is SO cute, every item inside could not be more perfect. I already tried a few of them and so far I loved them all.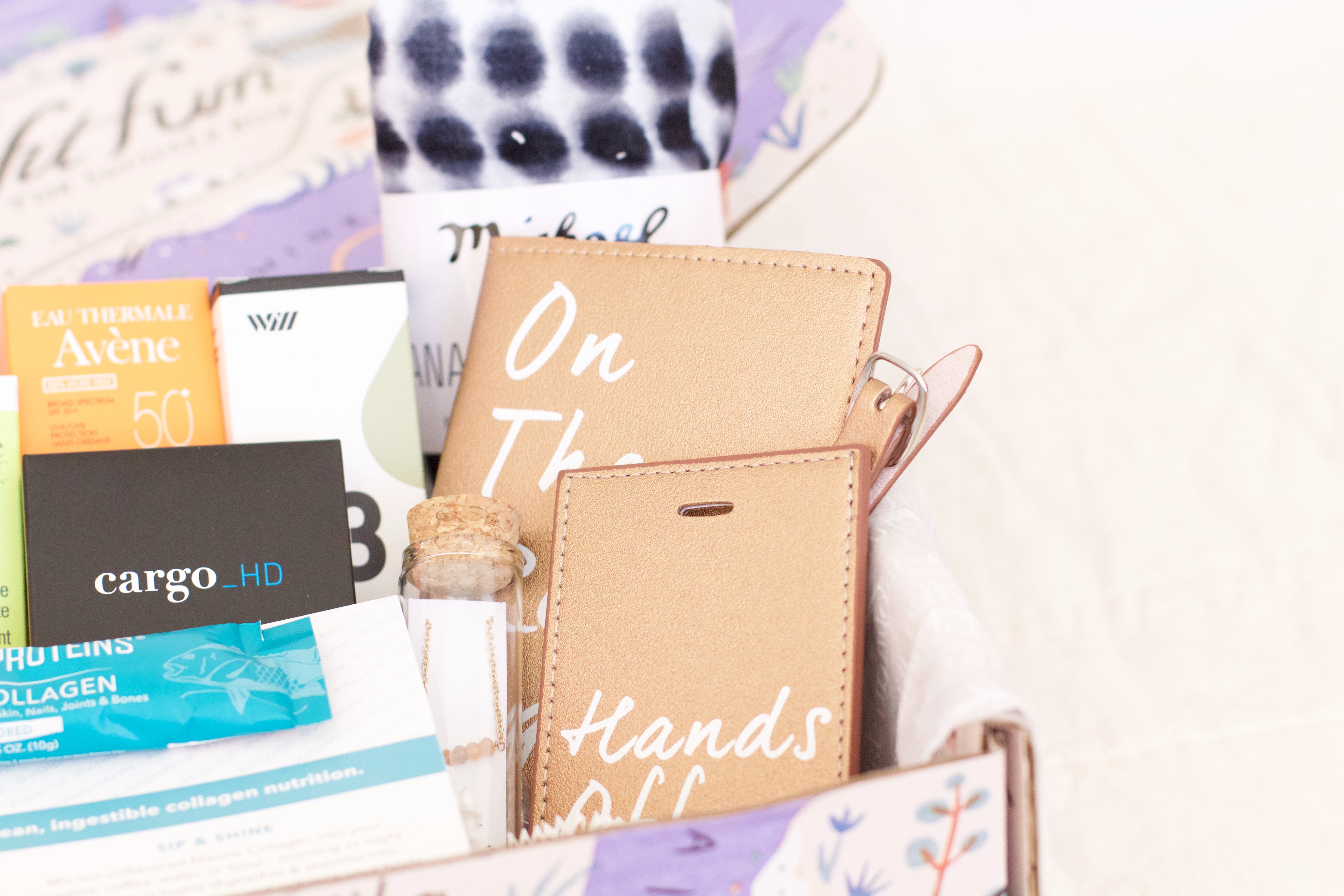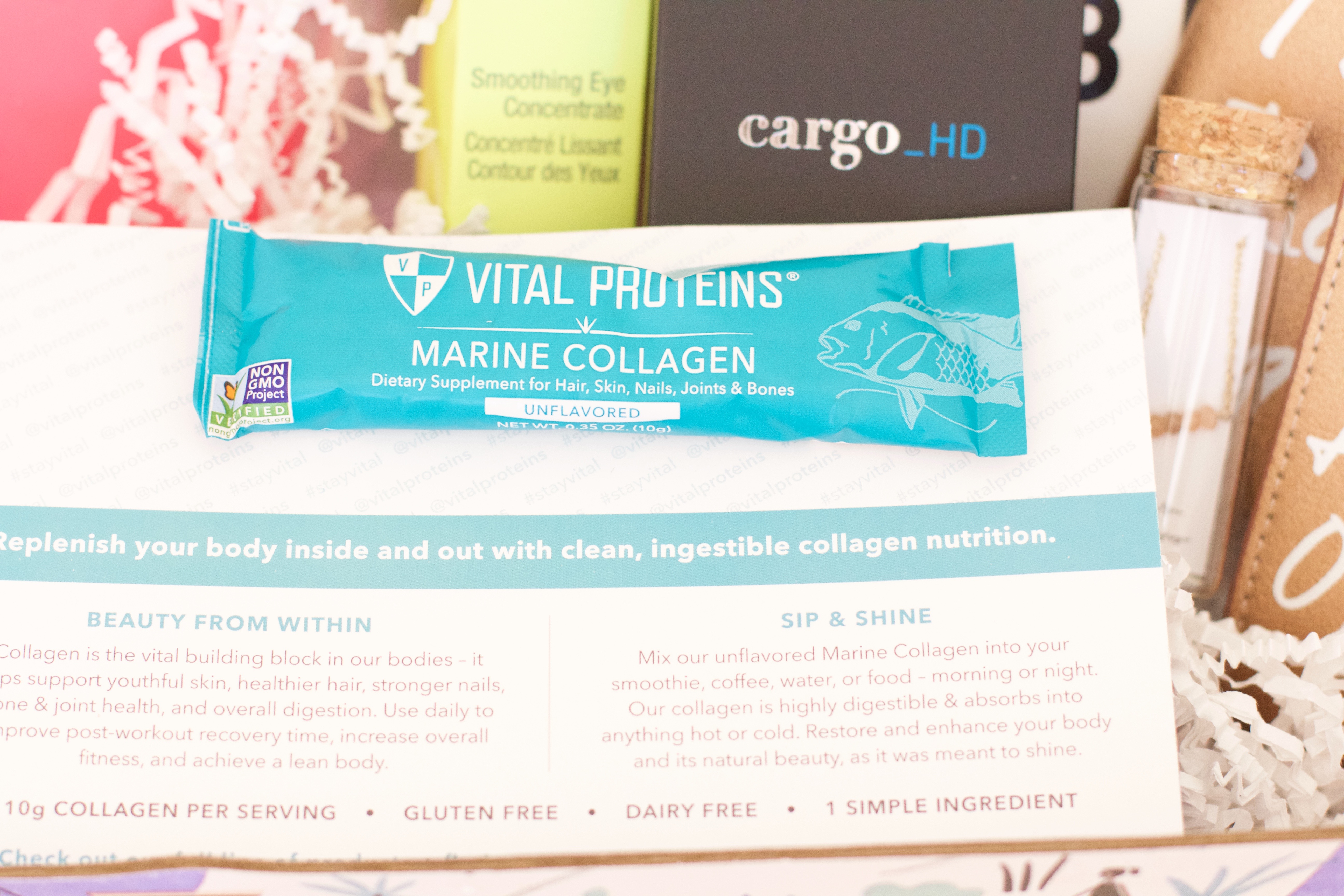 When I opened the box, I first saw this Vital Proteins Marine Collagen. I've heard so many great things about this brand and cannot wait to try this product in my next smoothie.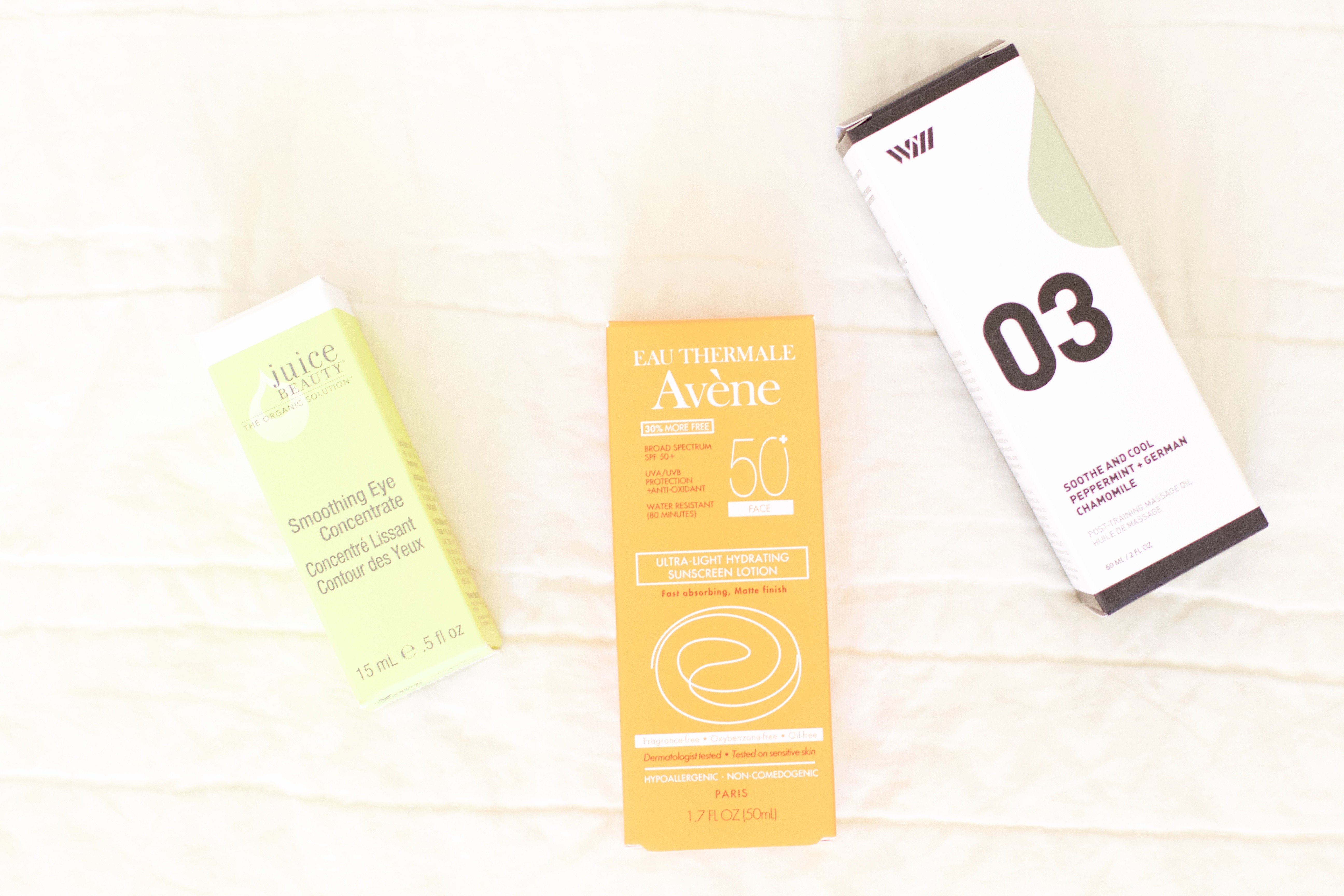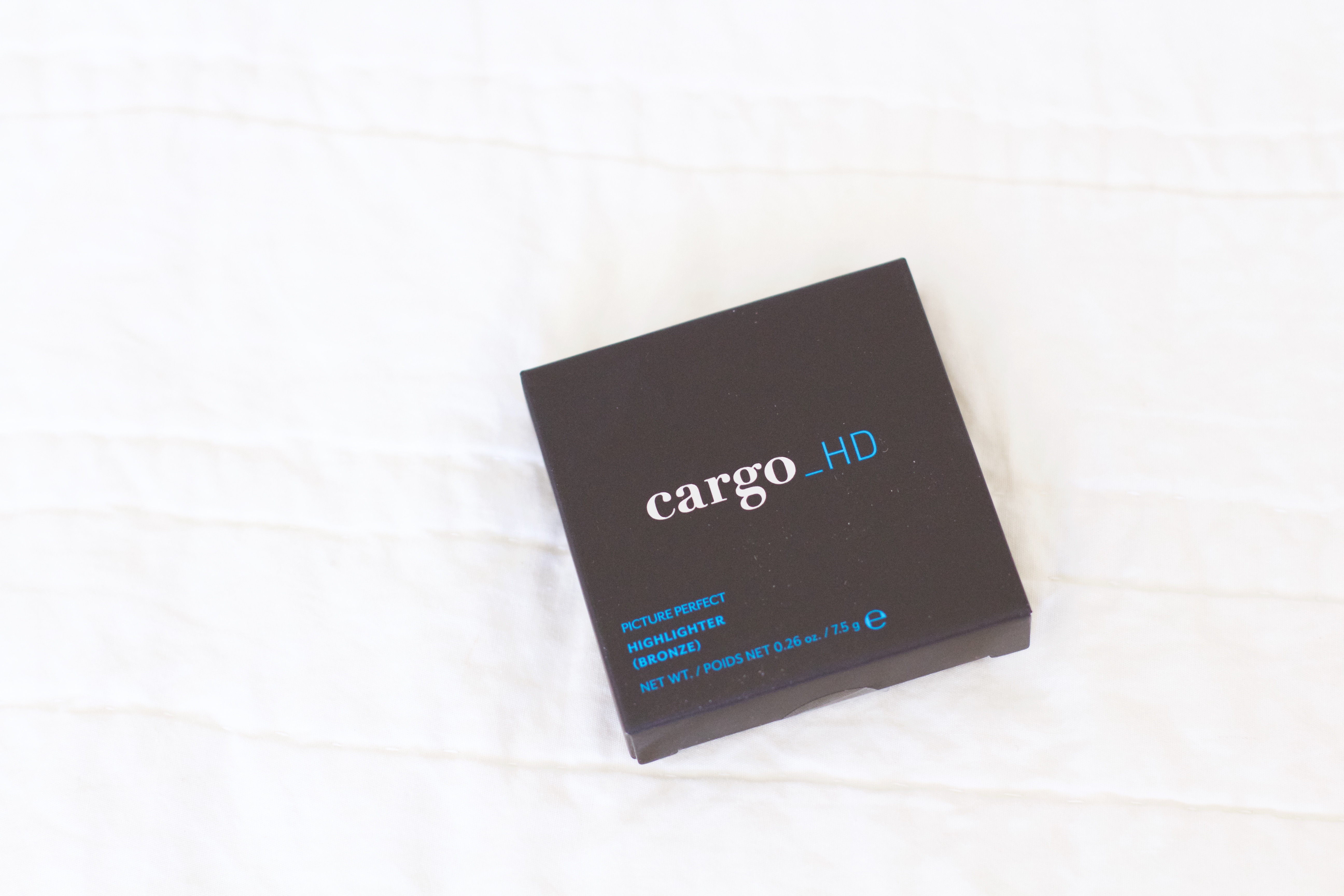 Next were a bunch of beauty products! I just tried the Cargo_HD highlighter and it gives that perfect summer glow. As for the other products, the Eau Thermale Avene SPF 50+ is something that will come in handy throughout the upcoming months. Also, I'm excited to try the Juice Beauty Smoothing Eye Concentrate, as I've heard great things about this brand, and the Way of Will 03 Soothe and Cool Massage Oil.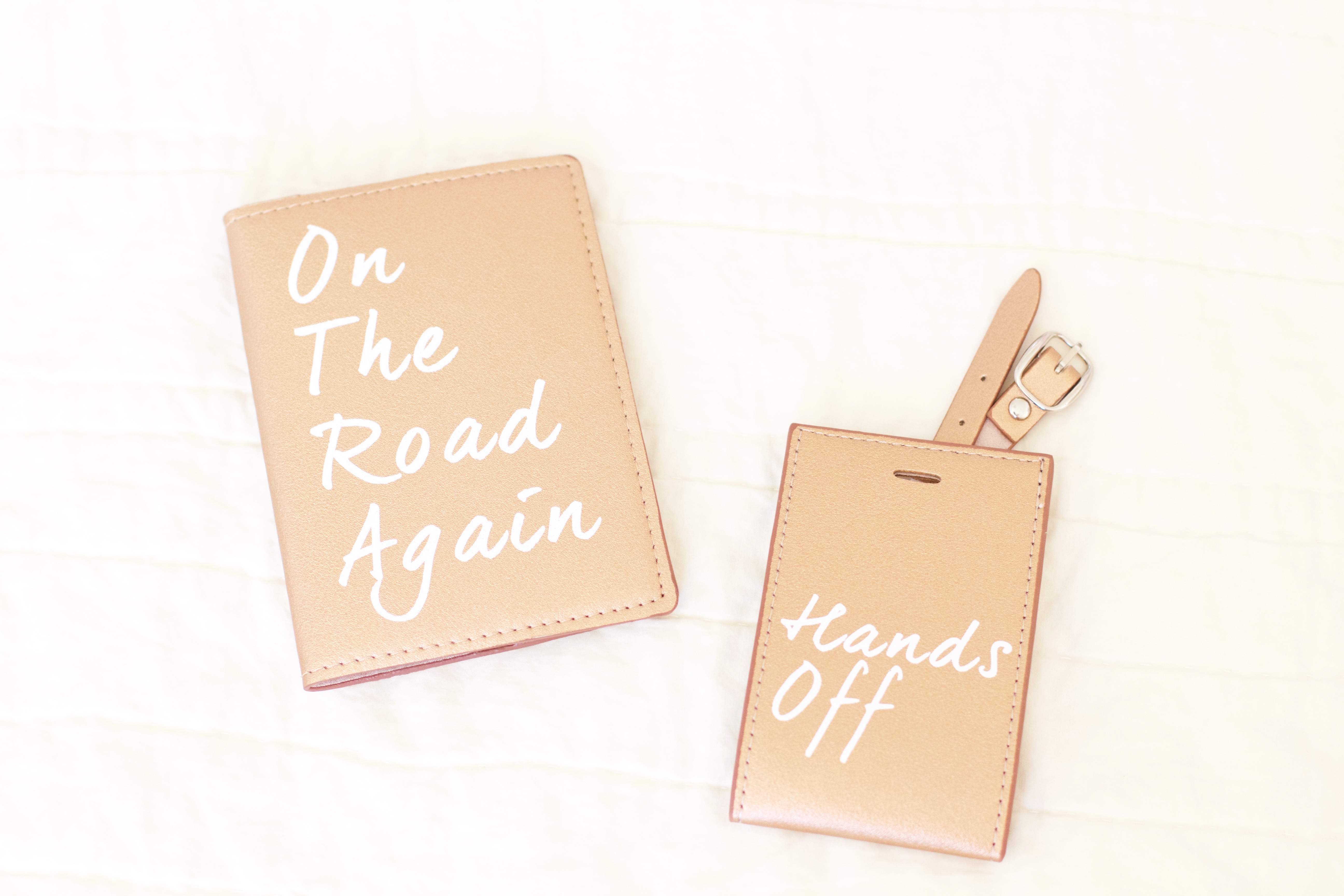 If you're vacationing this summer like me, then you can understand how much I love this Understated Leather travel set.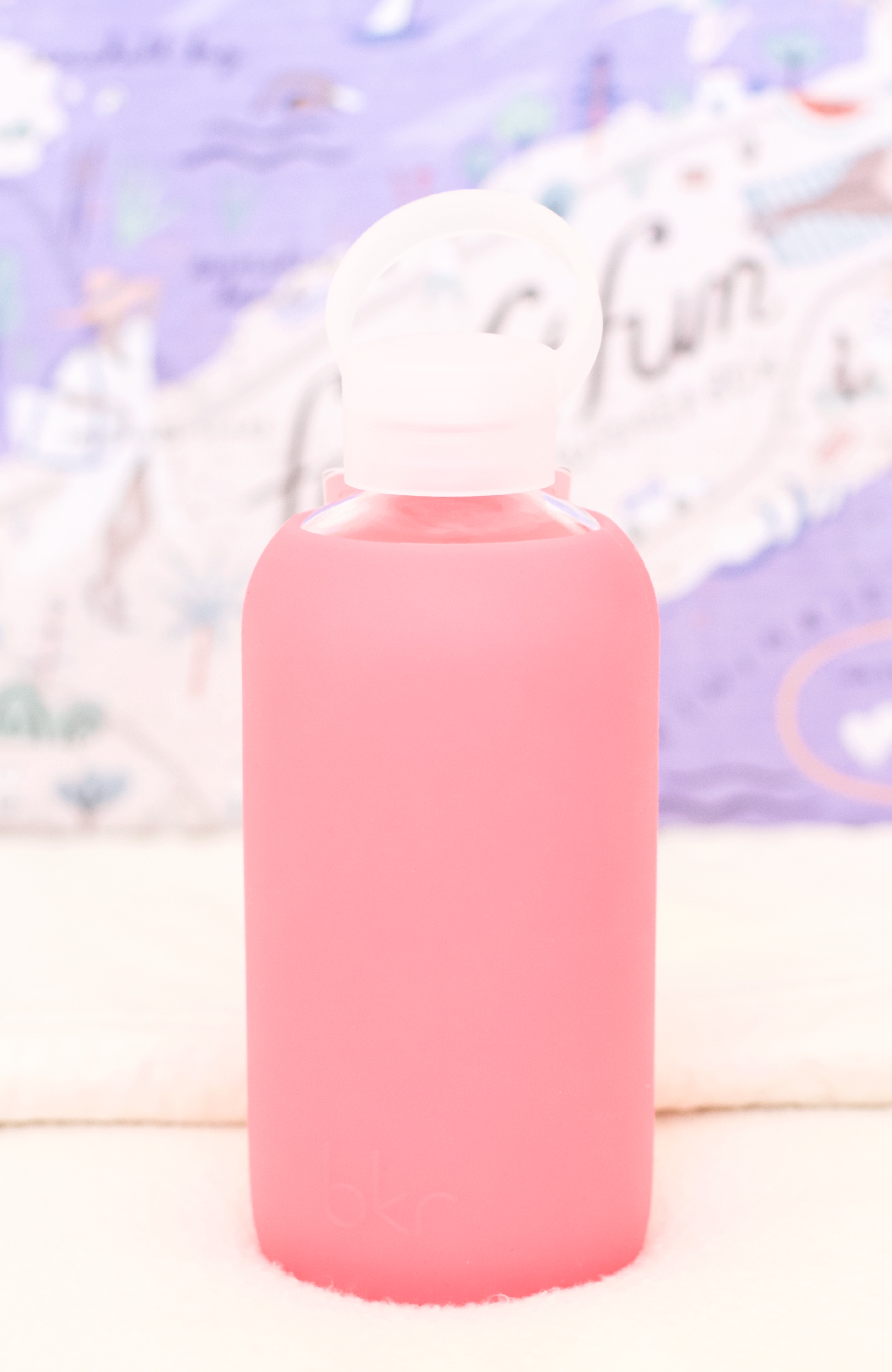 While I love every item in the box, this bkr bottle may just be my favorite. I actually own a couple of these bottles and they are great for helping me drink water. I don't know about you, but when my water is in a cute bottle, I tend to drink it more! This one holds 500 mL.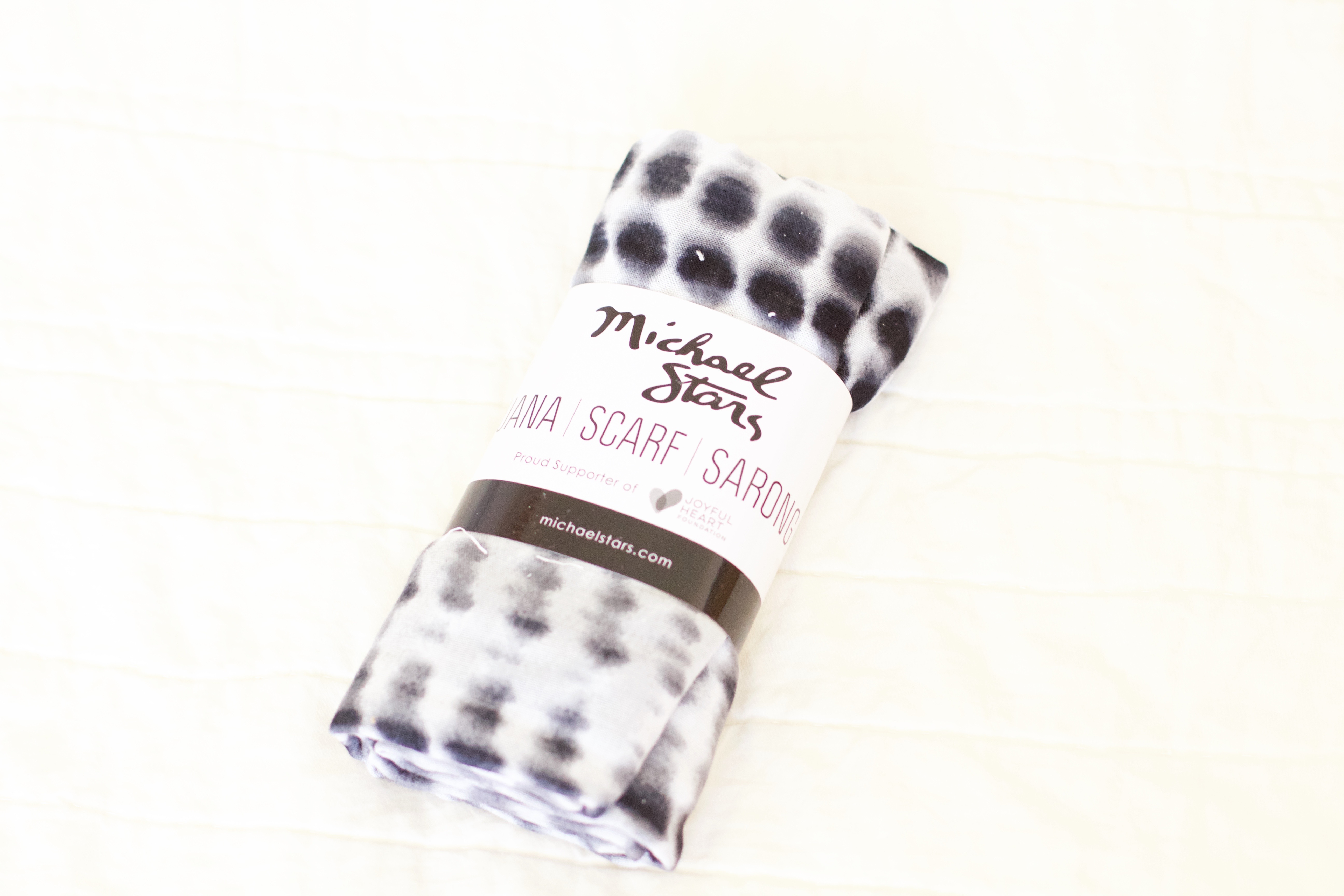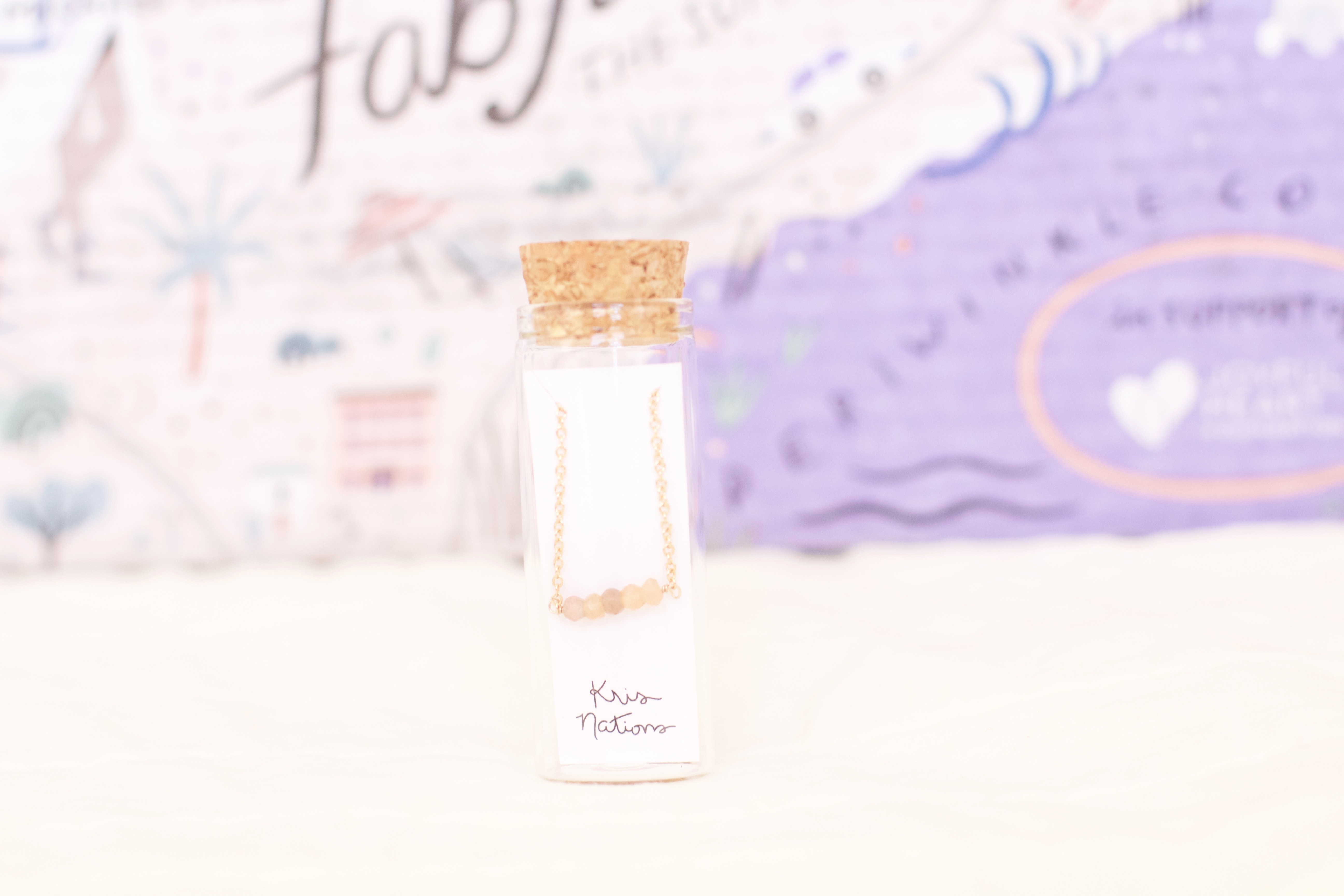 As for accessories, my box included this beautiful gemstone necklace by Kris Nations and a fun ruana by Michael Stars. I already know I will be reaching for both a ton this summer.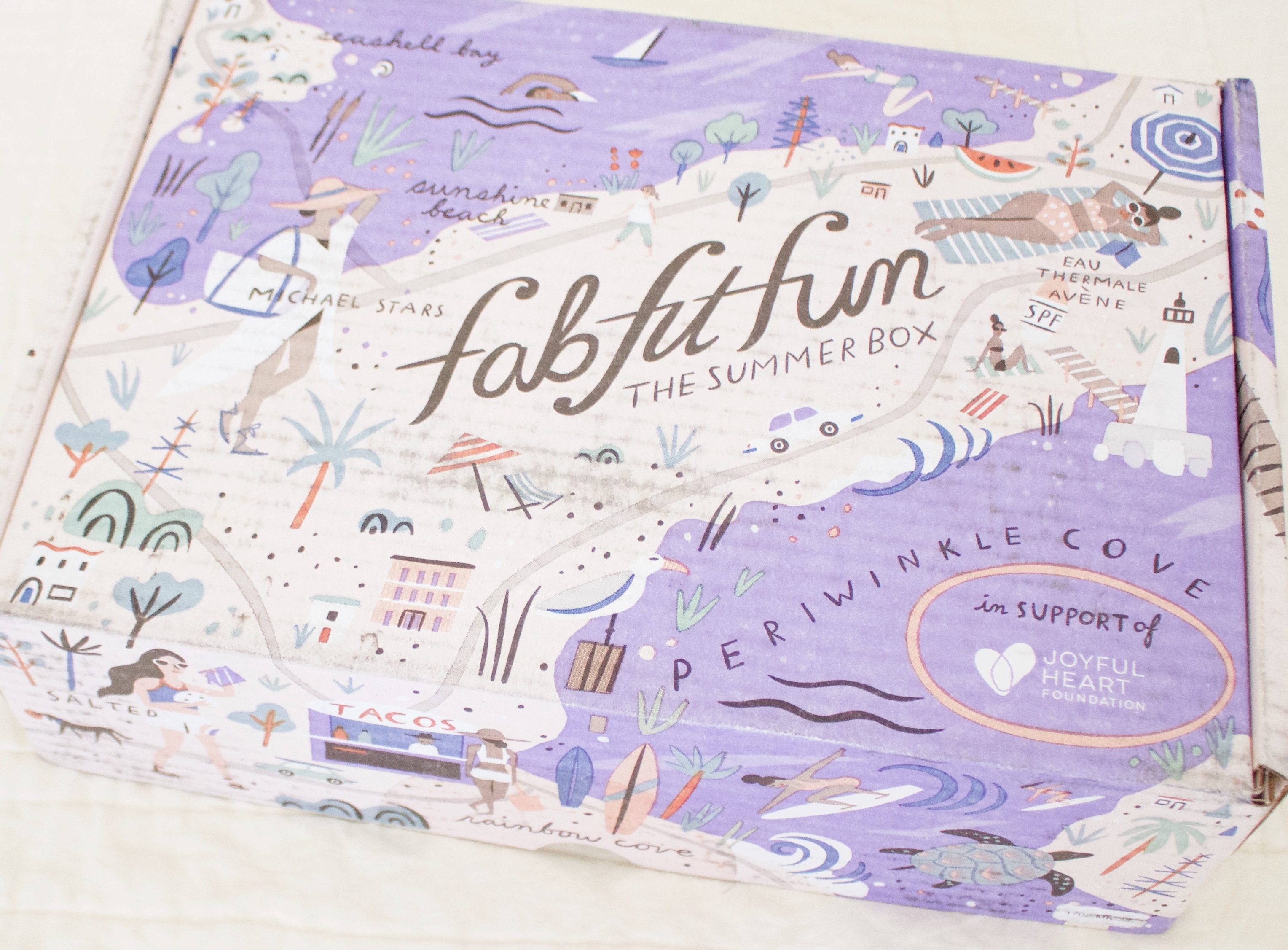 Also, I have to mention that My Styled Life readers can get $10 off their first box with the code KENDALL!
Thanks for reading! Have you tried this subscription?!
xoxo Kendall
*FabFitFun sent me this box, but I was under no obligation to write a post. I chose to because I've received questions about my thoughts on the box and whether it was worth the money. As always, all opinions are my own. I only share products and brands that I love. Thank you to all the brands who make My Styled Life possible.