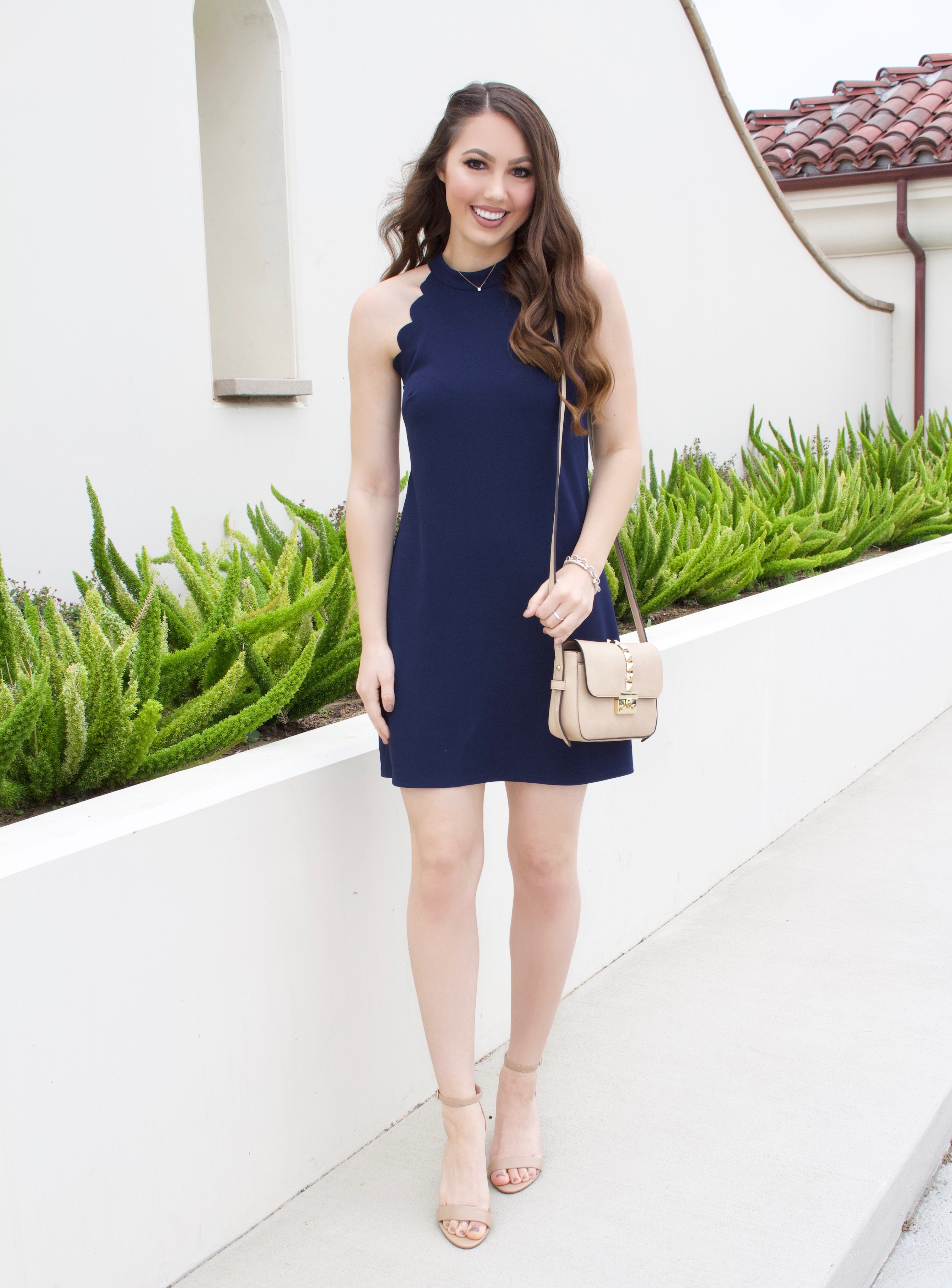 Summer is now officially here, which means that it is wedding season!! Personally, I think that one of the hardest parts about attending a wedding is deciding what to wear. We've all had that moment where we've pulled out every dress in our closet only to conclude that there is "nothing" to wear. Luckily, Macy's has a huge selection of affordable dresses that are perfect to wear as a wedding guest! While I fell in love with so many dresses while shopping at my local Macy's, ultimately I narrowed it down to the three I'm sharing with you today! The best part is that each dress is under $100.
While shopping at Macy's, I also found the cutest nude studded crossbody bag and nude pair of ankle strap heels. To show you how versatile they are, I paired them with all three dresses. I have to be honest, I find most heels to be somewhat uncomfortable, but these heels are SO comfy! I'm even thinking of going back to buy them in black. Also, I have to mention that the shoes and purse individually are under $100.
Dress 1 ~ The Scalloped Halter
Navy Scalloped Halter Dress | Nude Ankle Strap Heels (chunky heel) | Nude Studded Crossbody
This navy scalloped halter dress…I fell in love the second I tried it on. The scalloped edges give it a fun summer vibe, while the navy color is classic. Did you know navy is actually a popular color for weddings right now!? Anyway, I love that this dress can be dressed up, such as how I styled it, or dressed down by pairing it with a cute pair of sandals and a sweater. Additionally, the loose fit in the stomach area means you can eat all the cake you want without having to suck in your stomach 😉
While this dress is from the juniors section, I did not need to size up. Even if you're older than I am, I always suggest looking at dresses in the juniors department as well since these dresses can sometimes have a little more of a fashionable element to them. For reference, I'm wearing a size small and it fits perfectly. It's very slimming as well, which is an added bonus.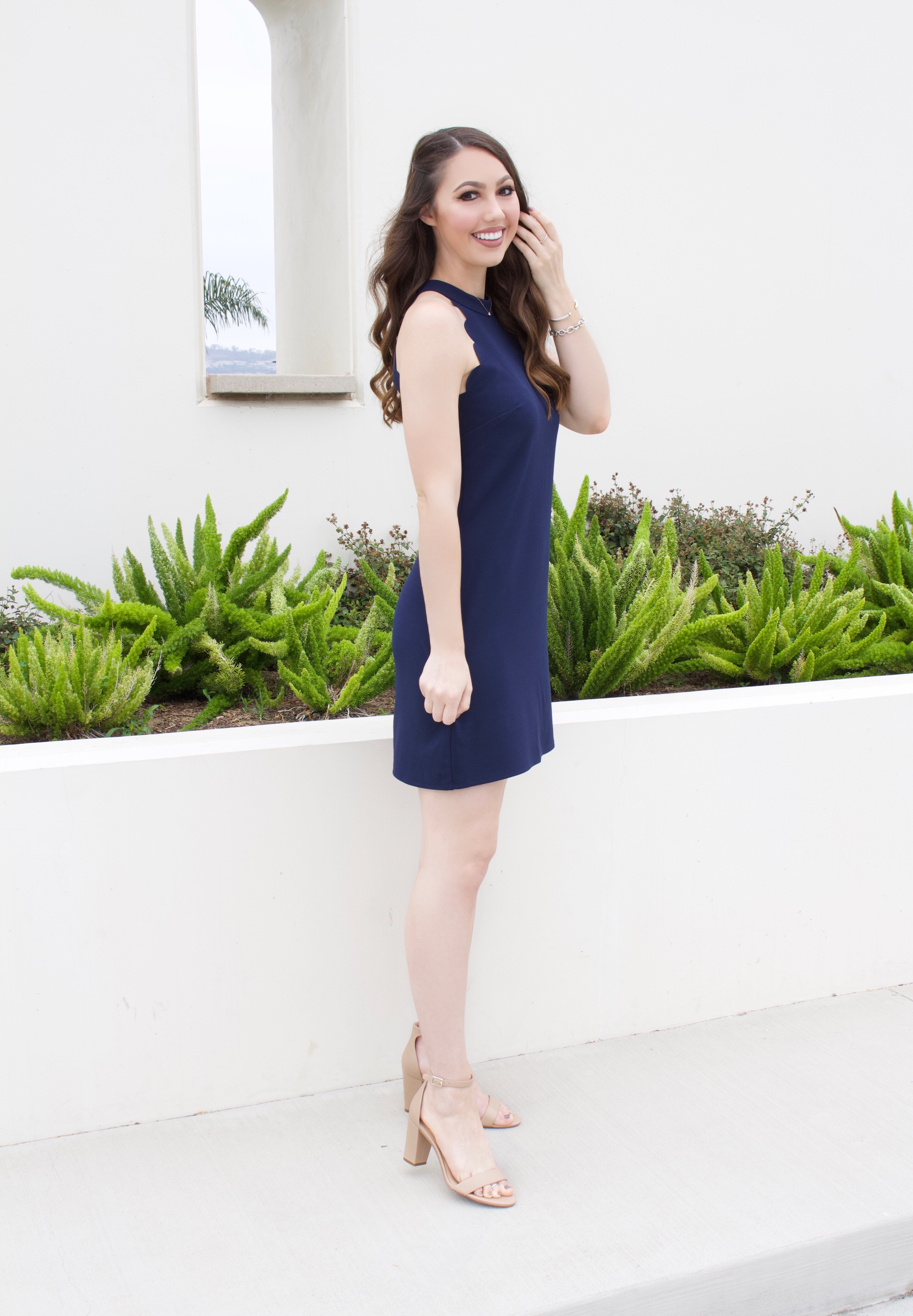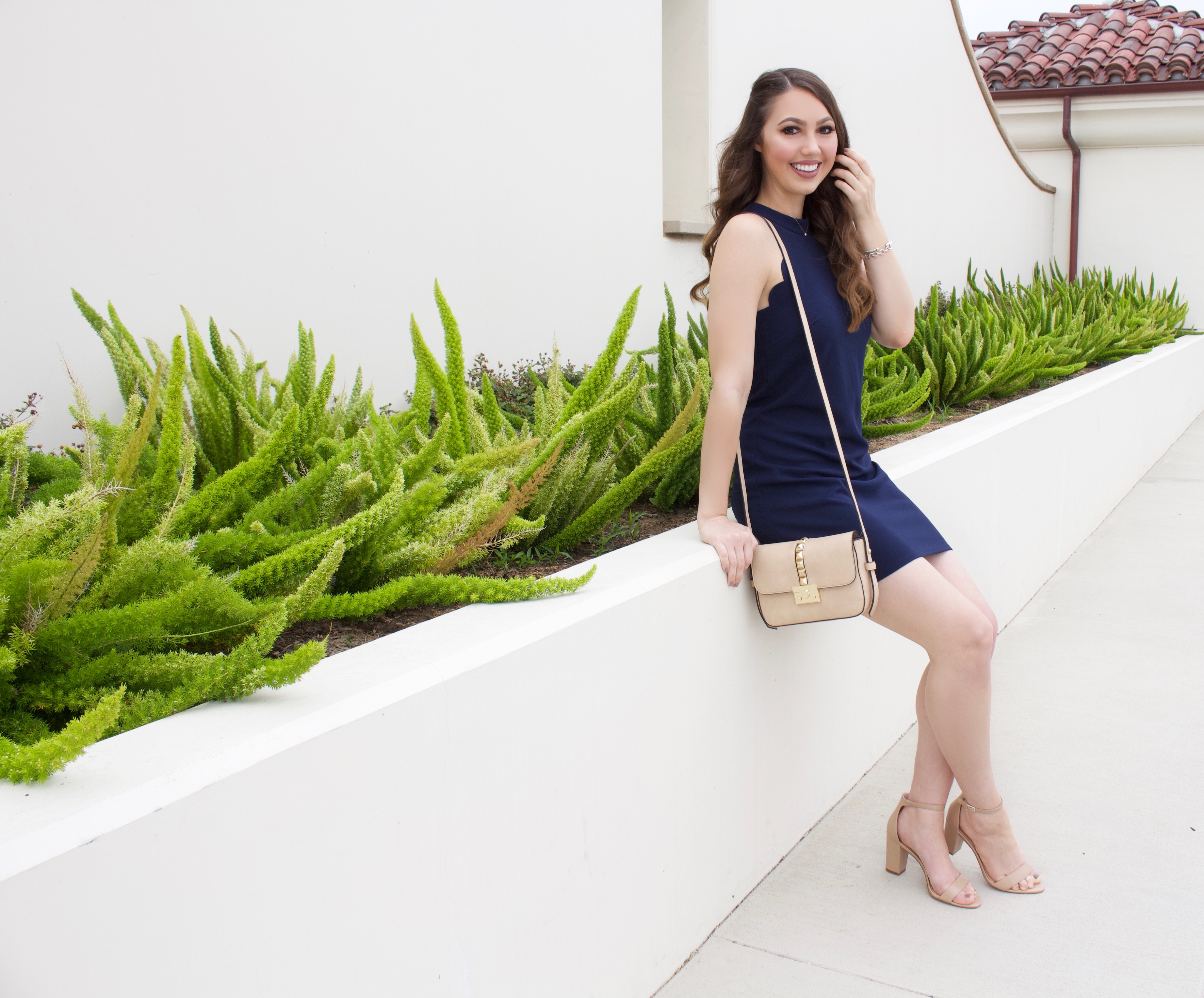 Dress 2 ~ The Floral Boho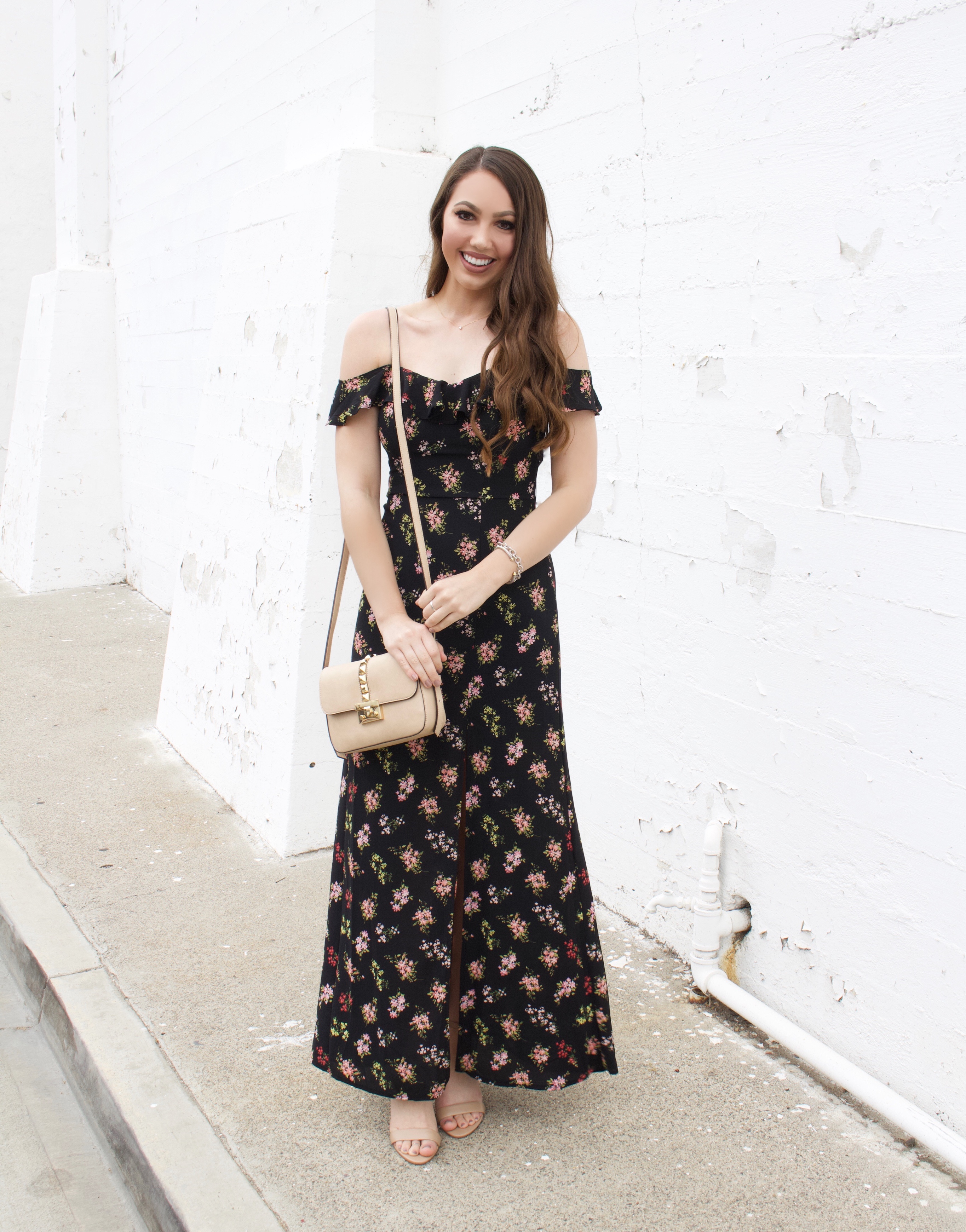 Off-the-Shoulder Floral Maxi Dress | Nude Ankle Strap Heels (chunky heel) | Nude Studded Crossbody
If you're heading to a summer outdoor wedding, you need this off-the-shoulder floral maxi dress. The print and ruffles make it feminine while the slit up the leg shows just enough skin. This dress is fitted in the rib and stomach areas and then the bottom half is flowy.
Since this dress also has spaghetti straps, it will be easy to dance in – unlike a traditional off-the-shoulder where you feel like you can't raise your arms up. Once again, this dress looks fabulous with the nude purse + heel combo! I actually prefer a chunkier heel, like the one I'm wearing, with this type of dress because it's a little more casual than a normal heel.
For reference, I'm wearing a size 5/6.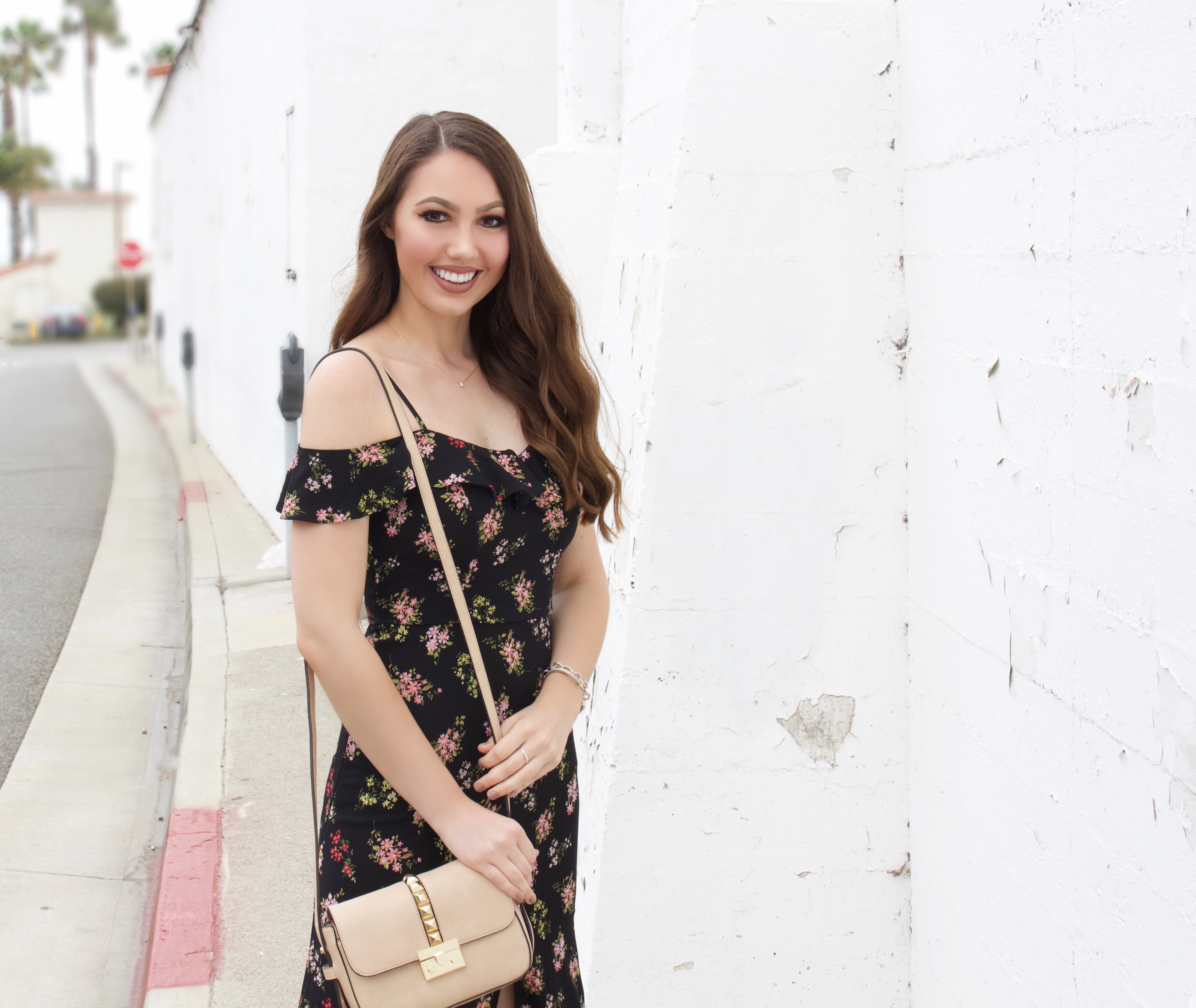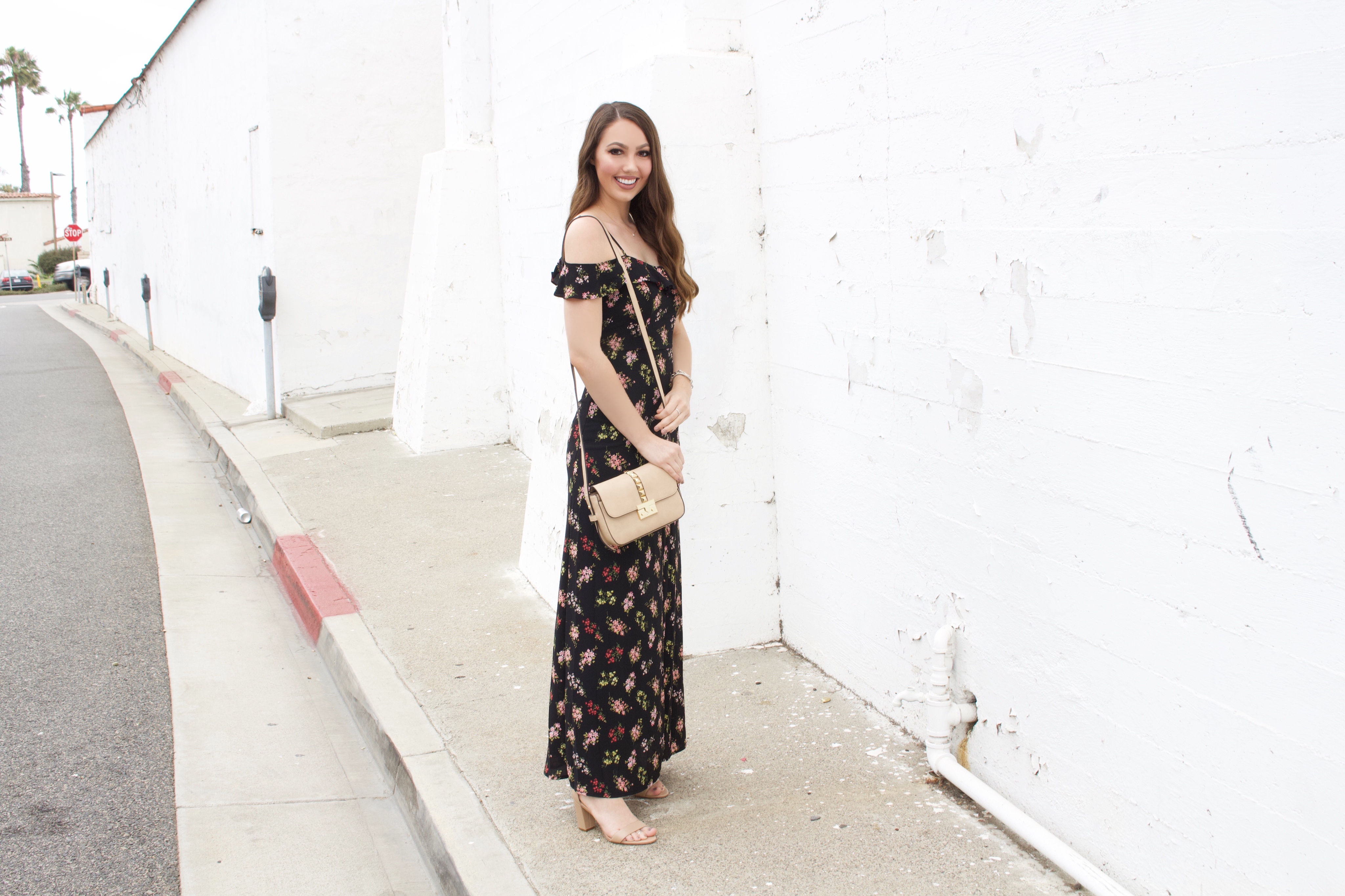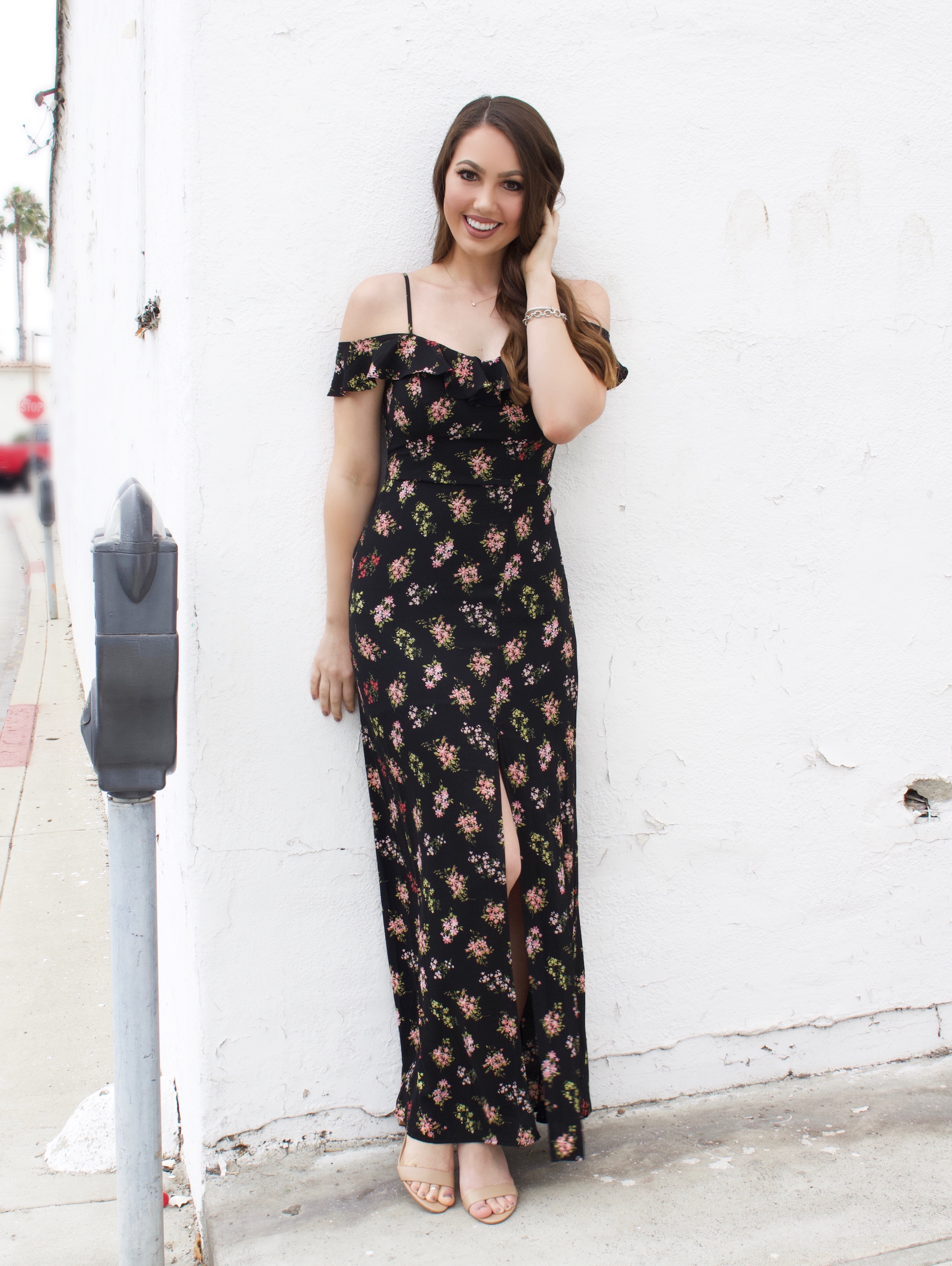 Dress 3 ~ The Classic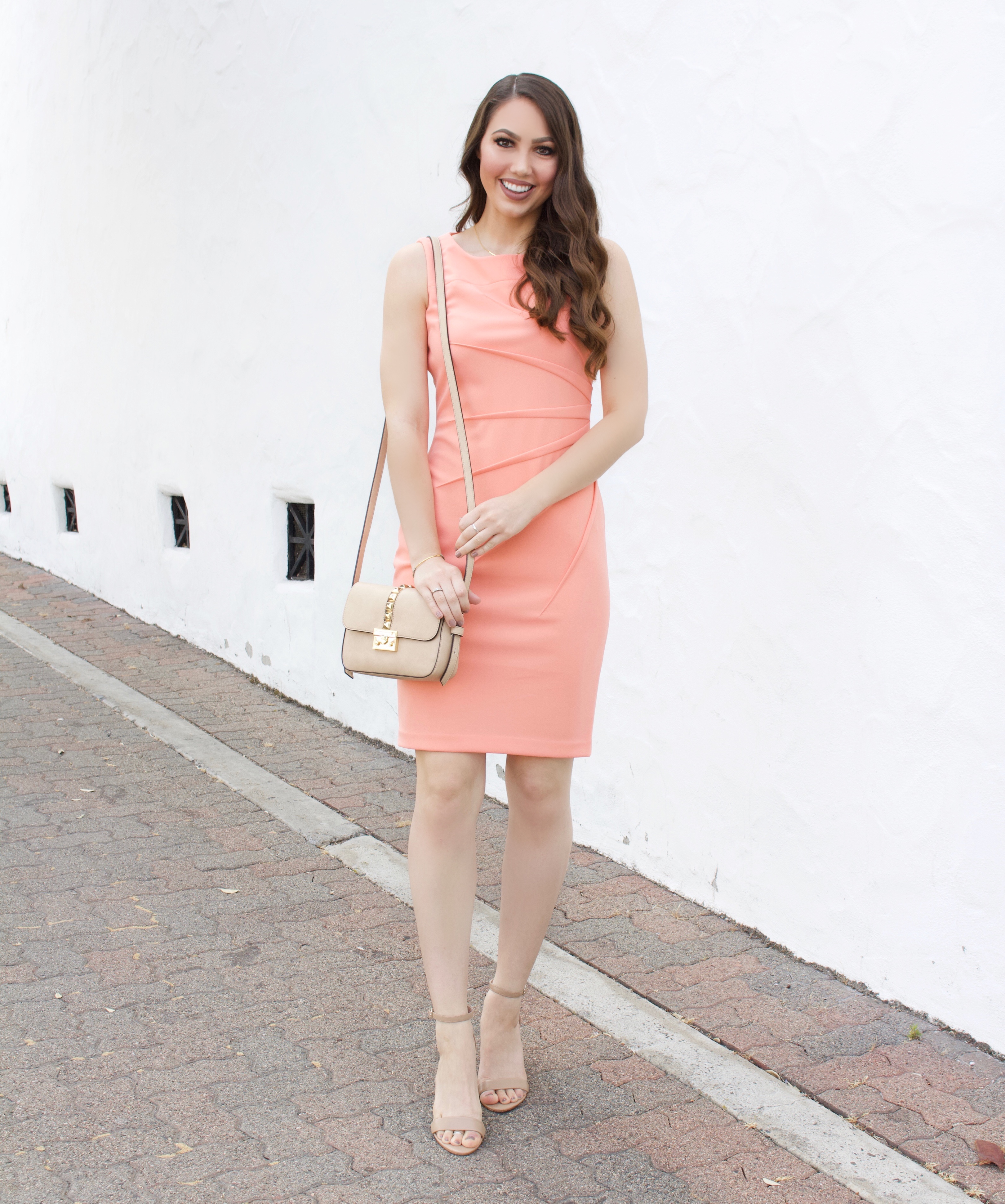 Calvin Klein Sunburst Sheath Dress – Peach | Nude Ankle Strap Heels (chunky heel) | Nude Studded Crossbody
Out of the three, this Calvin Klein dress is definitely the most timeless. However, the sunburst design extending from the side adds a more stylish and fun touch. I honestly believe that this dress will still be in style five years down the road. Like the prior two dresses, this one also pairs beautifully with the nude heels and crossbody. Not only is the peach color perfect for summer, but it also looks beautiful on so many different skin tones. Personally, I love the peach color, but if peach isn't your favorite, the dress comes in many other colors.
What's also great about this dress is that its shape and the sunburst design make it flattering on many body types. For reference, I'm wearing a size 4. I almost purchased a size 2, but it was a little tight on me under the arms.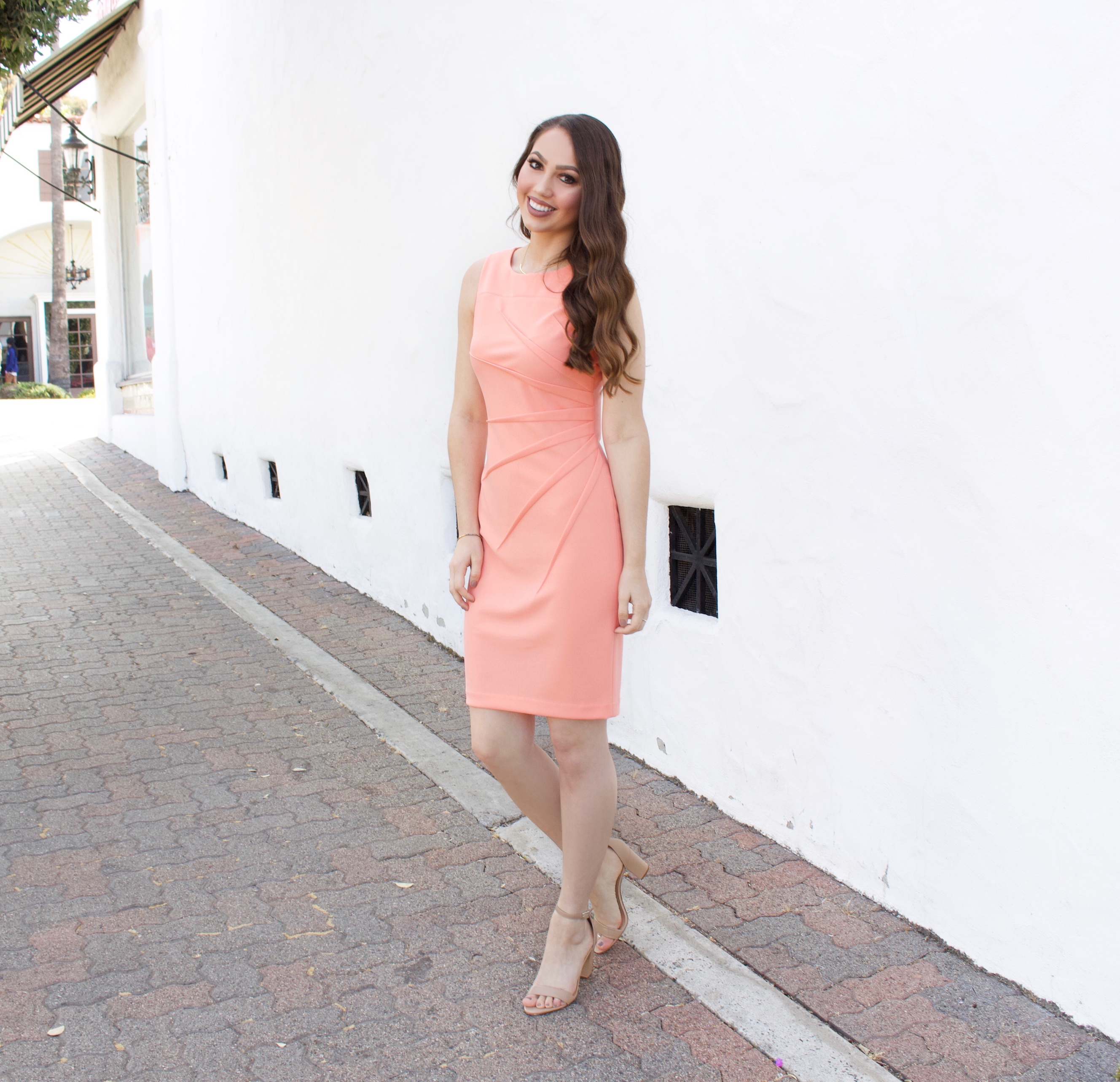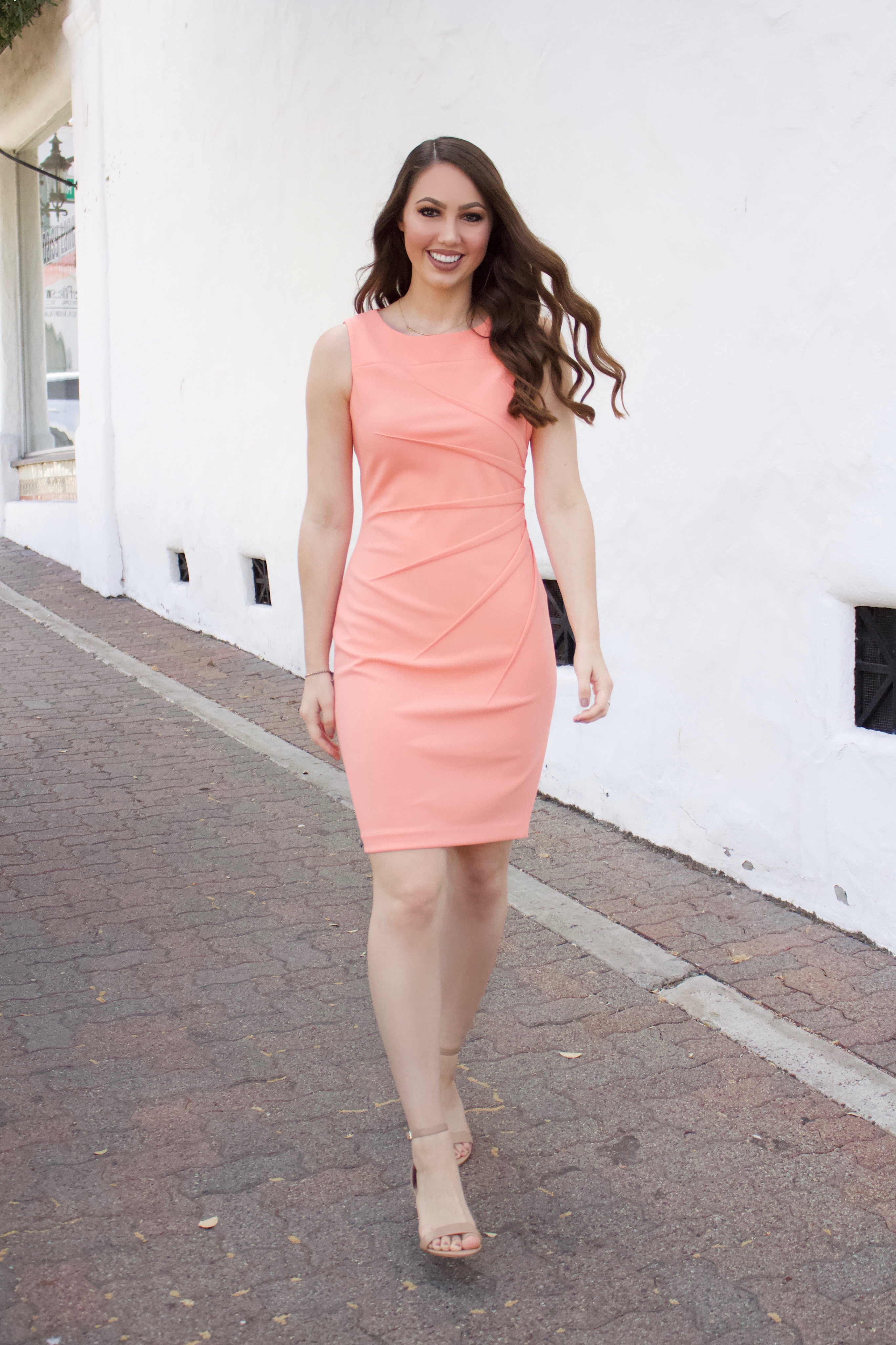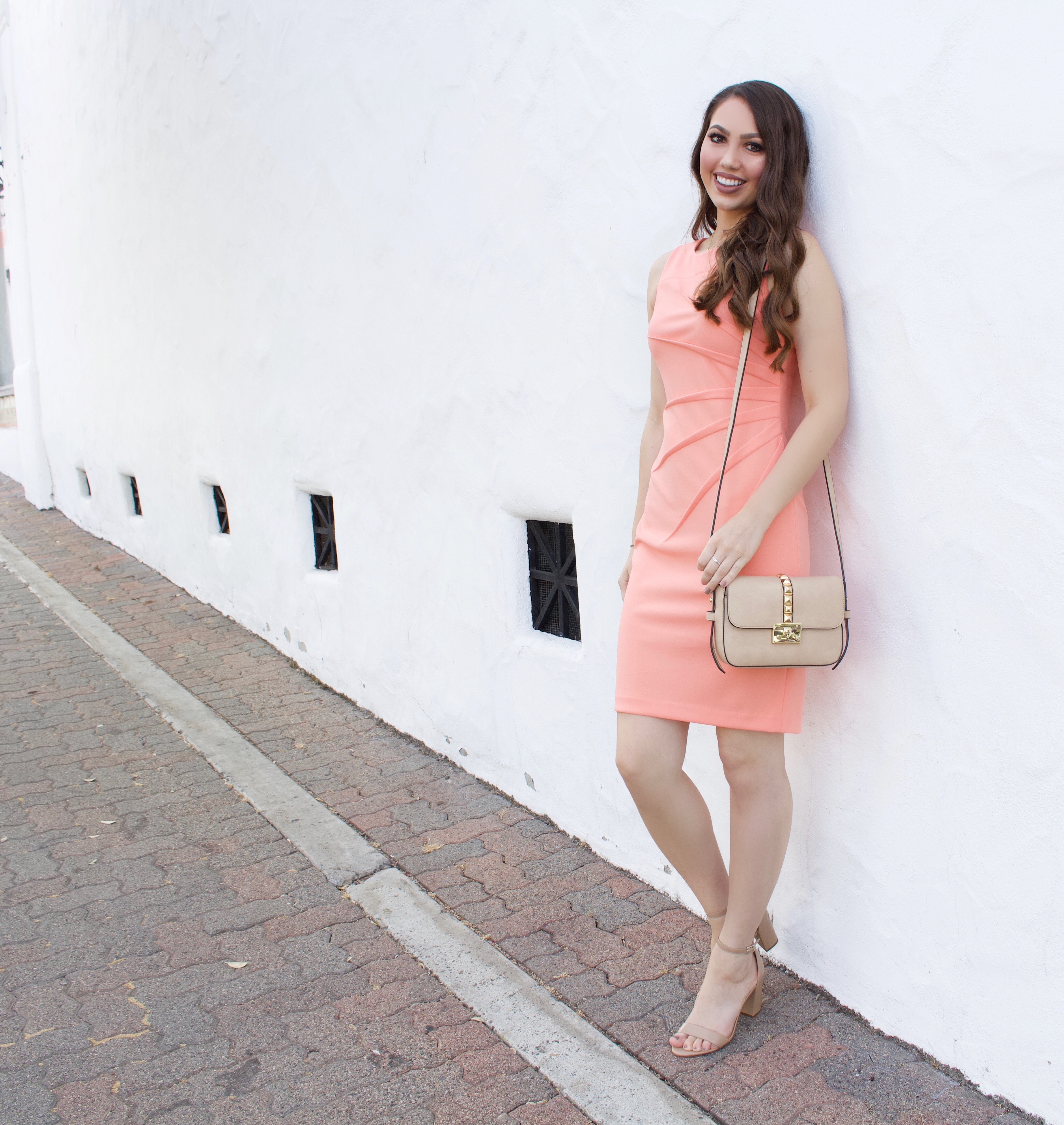 Which dress is your favorite? I'm having difficulty deciding which is my fave because they are all so cute! If you're looking for a dress to wear to a summer wedding, I highly recommend heading to your local Macy's or checking out Macy's dress selection online.
Shop my "What to Wear to a Summer Wedding" Looks:

Thanks for reading!
xoxo Kendall
**Macy's partnered with me on this blog post, but all opinions are my own. I personally selected and styled the dresses in this post. Thank you to all the brands that make My Styled Life possible.