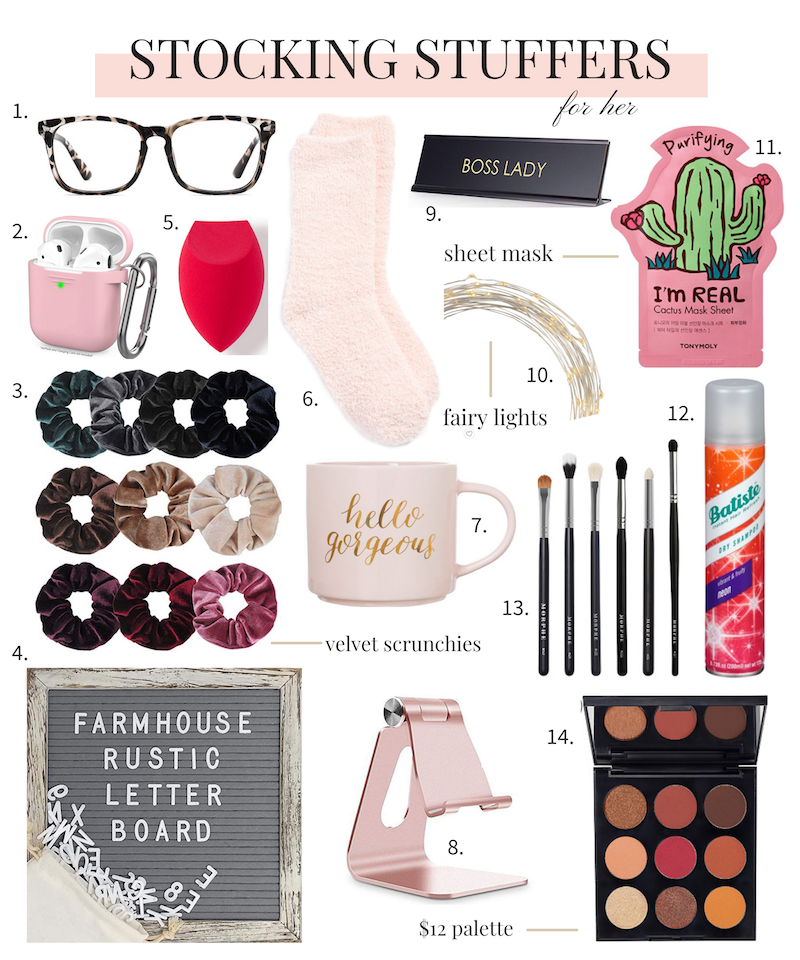 1 | 2 | 3 | 4 | 5 | 6 | 7 | 8 | 9 | 10 | 11 | 12 | 13 | 14
So you've finished your holiday shopping…almost. Now you just have stocking stuffers left, which we all know can sometimes be the hardest part! If you're not sure what to get, hopefully these Stocking Stuffer Ideas for Women will help you out!
A majority of these items are under $15 as I know that stocking stuffers really add up in terms of $$. I highly recommend these butter socks. They are my favorite — so cozy and soft!
For the makeup lover, this $12 eyeshadow palette is such a great deal! I own it and use it all the time. A sheet mask is another fun beauty item as are these velvet scrunchies! You can get nine scrunchies for $8.99!!
Blue light blocking glasses are another great idea with how much time we all spend on our phones and computers! Click above for more info on my other ideas!
Thanks for reading! Looking for more holiday inspiration?! Head over my to holiday page for more holiday party looks, gift guides + more! Also, ladies don't worry. In addition to these stocking stuffer ideas for women, I have stocking stuffer ideas for men!
xoxo Kendall