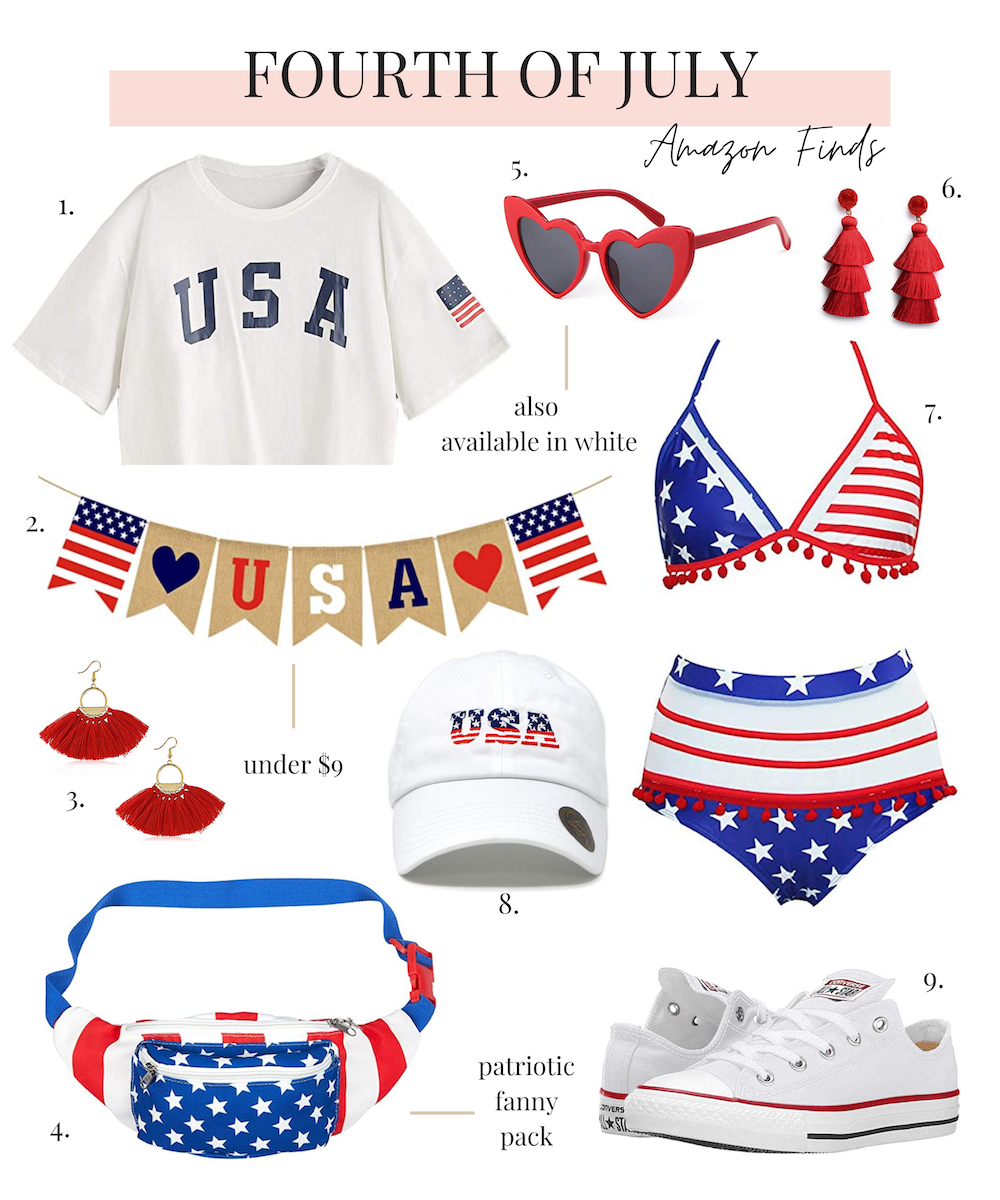 1 | 2 | 3 | 4 | 5 | 6 | 7 | 8 | 9
The Fourth of July is next weekend and I couldn't be more excited! It's one of my favorite holidays! As I was searching for some cute new pieces for the Fourth, I came across these Fourth of July Amazon finds! While I'm not exactly sure what my plans are yet, I know that these picks will be great no matter what I end up doing!
If you're planning to relax poolside, I think that this patriotic bathing suit is the way to go! It's not only festive, but super affordable and stylish. This specific style suit is very popular in the Instagram world. Perfect for some fun Fourth of July photos! Do it for the 'gram, right?
I'm also loving this white USA crop top that's under $13! I'm picturing it styled with denim cutoffs, white Converse, and this patriotic fanny pack. Fanny packs, or "belt bags" as they call them in the influencer world, are still very popular right now. This one is so fun.
Also, I'm a big fan of these heart-shaped sunglasses! I own them in white and in black, but I'm thinking that I need to add a red pair to my collection! At first I didn't think that I would wear them that much because people would think they are weird, but honestly, I love them now. They add a little fun to any outfit and are affordable. In fact, most of these picks are under $20 each! While I wear the sunglasses year round, I don't like to spend a ton of money on other holiday pieces since I won't wear them a ton.
Thanks for reading! Which one of these Fourth of July Amazon Finds is your favorite?! For a festive Fourth of July sweet treat, check out this post.
xoxo Kendall