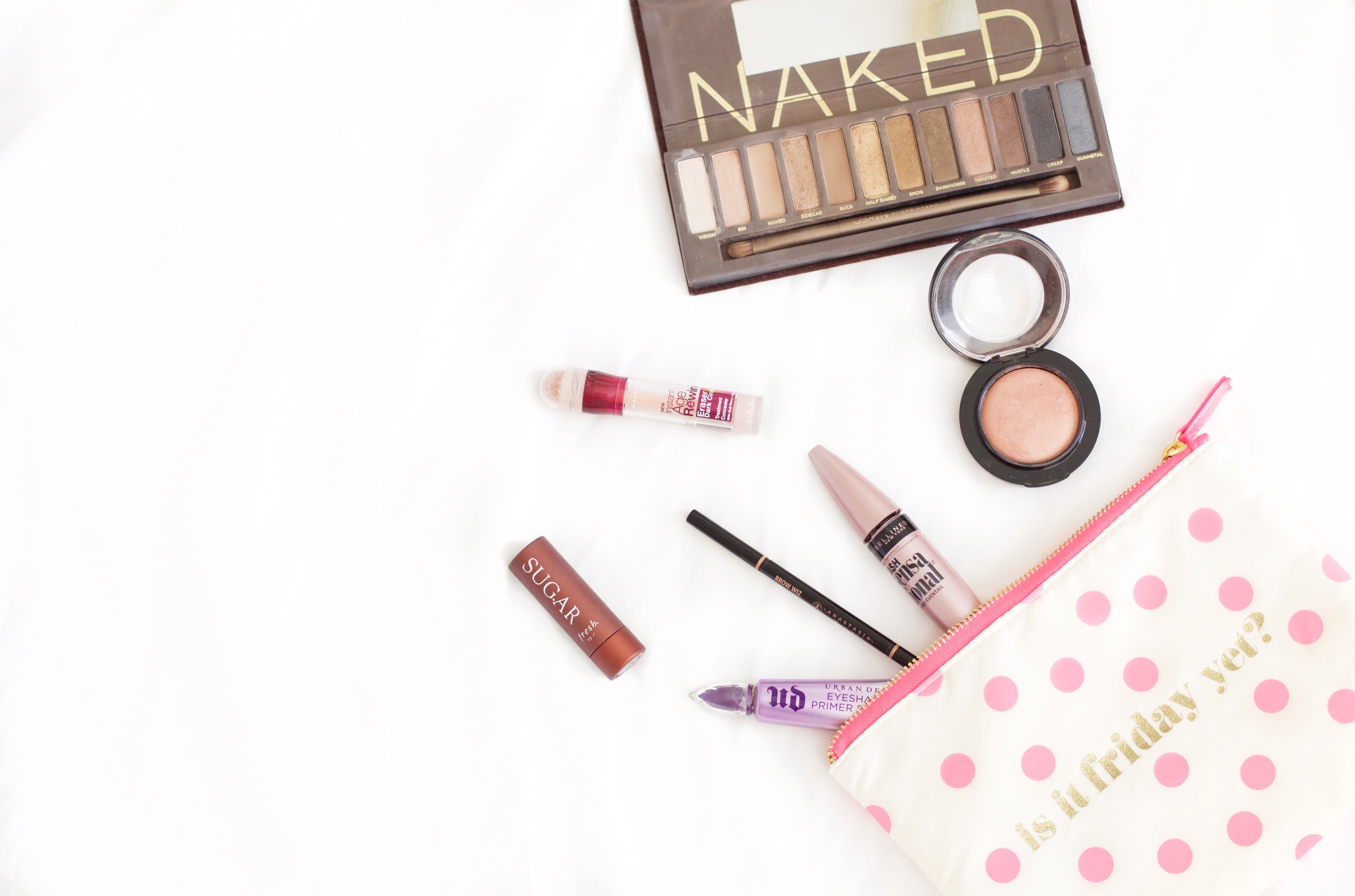 Last week I shared some clothes that are essential for back to school (read here), and today I've rounded up my top 7 back to school beauty essentials. These are all products that I've used for years and that I definitely cannot live without! If you use all these products together you can create the perfect makeup look for the first day!
Urban Decay Primer Potion – Original
I've talked about this product countless times here on the blog, but it's seriously a holy grail product. I apply a little bit of it to each eyelid and it keeps my eyeshadow looking great all day! No creasing or oily lids.
I have quite a few eyeshadow palettes, but if you're looking for a pretty neutral one to get for back to school, I think you should go with this one. The shadows are beautiful and go on so smoothly. There is also a great range of shades so you can create both daytime and nighttime looks.
Maybelline Lash Sensational Mascara
I go through mascara pretty quickly so I tend to stick with an affordable one from the drugstore (maybe one day I will try another high end one…any recommendations?). I know people are very particular with their mascara, but this one from Maybelline has been my absolute favorite for the past two years.
Fresh Sugar Lip Treatment – Untinted
In the past, I've occasionally worn lip gloss or lipstick to school, but for the most part I like to stick with a moisturizing lip balm. This one is my absolute favorite! It feels so smooth on the lips and keeps them moisturized all day long. Plus it has a light lemon scent.
Anastasia Beverly Hills Brow Wiz Pencil
Naturally my brows are pretty full, but I love the way they look filled in. After trying a few different brow products I found the brow wiz and have stuck with it ever since. While I go through one of these every month or so, it is totally worth it!
MAC Mineralize Blush – Warm Soul
I switch up which blush I wear on the daily, but I always go back to this one. It's a beautiful peachy beige with gold pearl and it looks good on a variety of skin tones.
Maybelline Instant Age Rewind Eraser Dark Circle Treatment Concealer – Brightener/Illuminator
Lets be real…being a student often involves staying up late to finish homework or put the finishing touches on a paper or project. The lack of sleep can lead to dark circles under your eyes that are not cute. To combat this, I love using this brightening concealer under my eyes. I apply it, blend it out with a damp beautyblender, and set it with some translucent powder.
What are your essentials? Please share because I love trying new products!
Thanks for reading!
xoxo Kendall