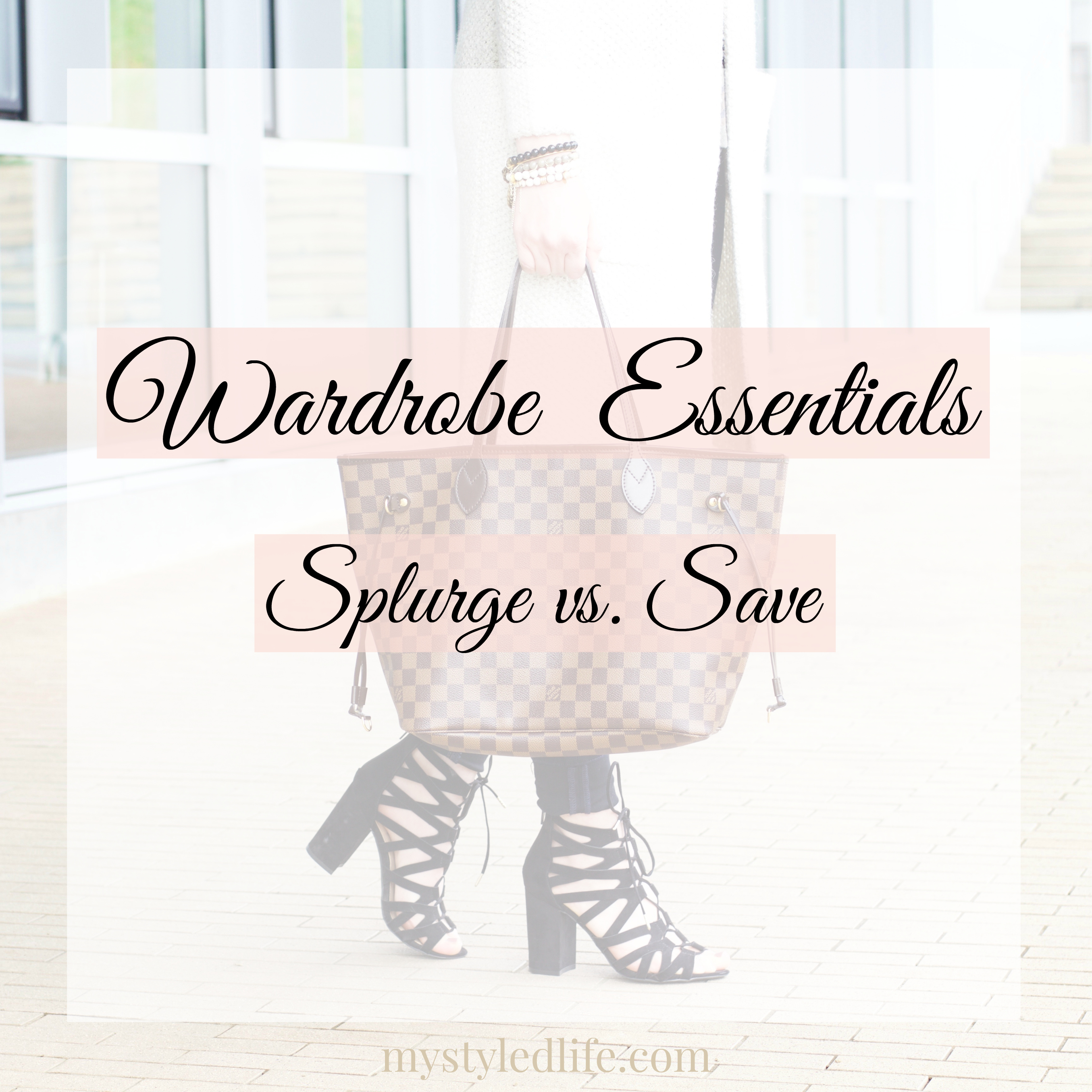 My friends often ask where I get certain clothing items and are shocked when I reveal that some of my most fashionable pieces are from affordable stores like Forever 21 and H&M. For me, super trendy items that are going to be in and out in one season aren't worth dropping a ton of money on. However, I do have staple pieces that are definitely worth the expensive price tag. With this in mind, I thought sharing the items I splurge vs. save on would be interesting for you!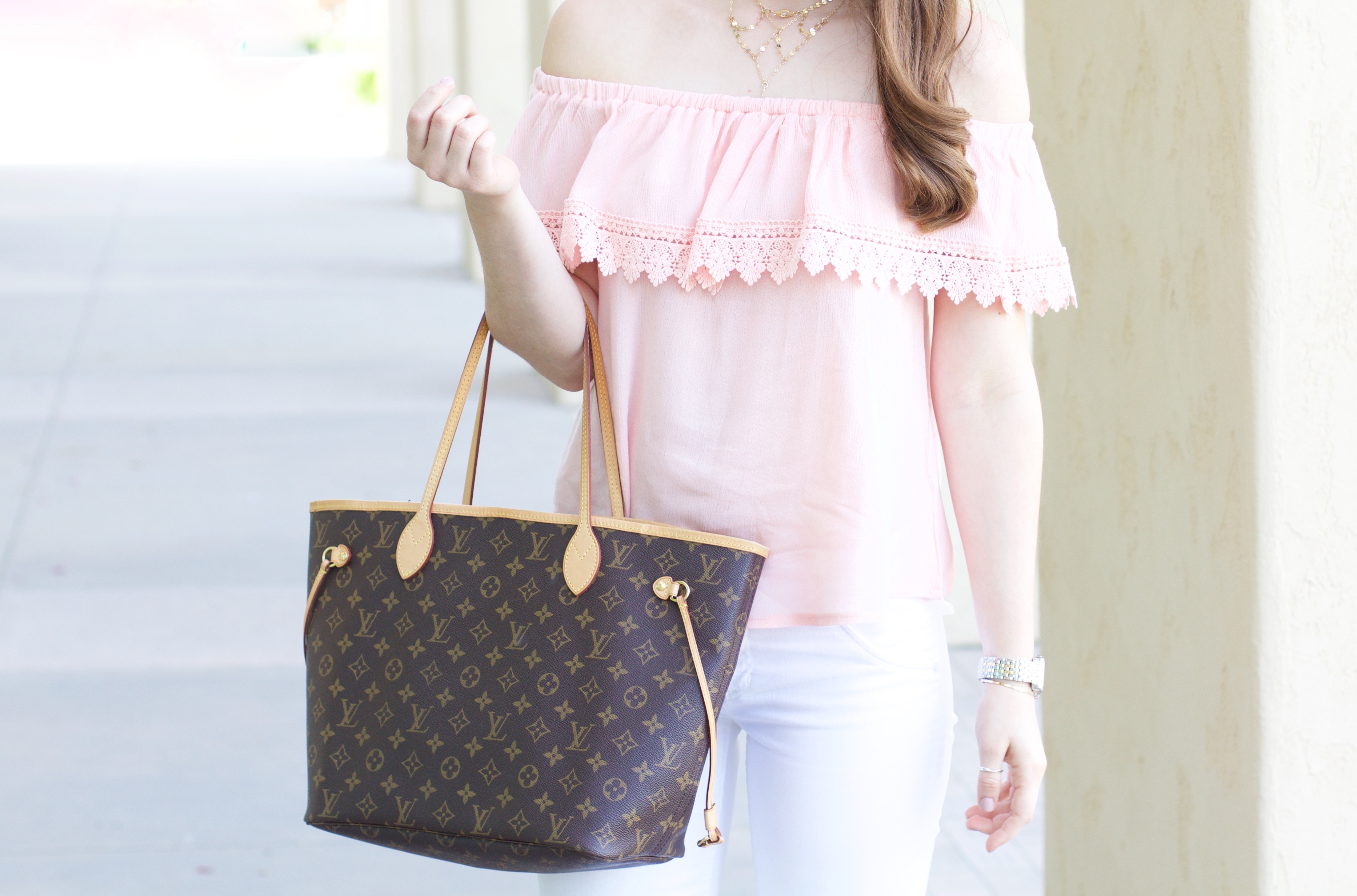 purses
While some affordable items can look way more expensive than they are, I've noticed that this isn't usually the case with handbags. Purses with a lower price point tend to actually look less expensive. The material they are made out of often looks cheap and is flimsy. Plus, these bags don't have as much longevity as a high-end bag. Now I'm not saying that I would never purchase an affordable bag because I definitely have, but I prefer to save money for a while and then purchase a higher quality bag. I would rather have one nice bag than five cheap ones.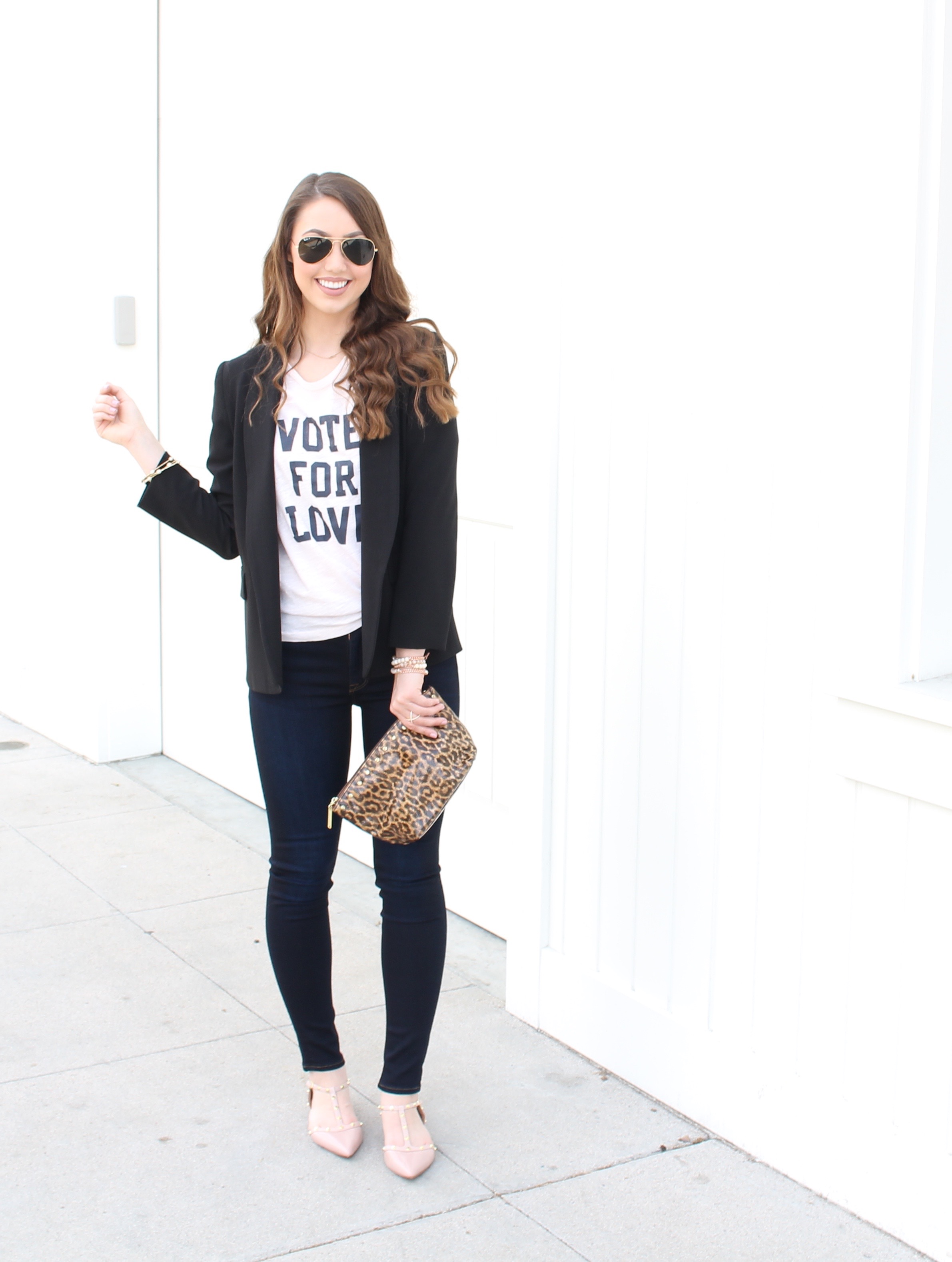 blazers
While not everyone has a job where they have to dress up in formal business attire, a blazer is a must in every lady's closet. This item is so worth the money because chances are that if you're wearing it you're going to a nice occasion where you want to look put together and professional. I recommend going with a classic black blazer to start because it can be worn with slacks or even a dress for nicer events, or with a tee and jeans for a fun everyday glam look. When I know that a clothing item is going to be one that I will still be wearing many years down the road, such as a blazer, I think it's always best to splurge.

pants
Let me just say that I have tried on so many pairs of inexpensive jeans or pants only to end up purchasing a pair from my favorite line – Hudson Jeans. I own multiple pairs of denim Hudson Jeans as well as black, white, and printed pants. What I've found from trying on cheaper pants is that they tend to be thinner (they show underwear lines..ew!), which means they won't last as long before they inevitably get a hole in them. I think it's worth the extra money to invest in pants/jeans because you can wear them for so many occasions by just switching out the top and accessories you're wearing!

heeled shoes
I've always been a firm believer in buying more expensive heels/wedges! A few weeks back though, I saw a cute pair of inexpensive blush suede heels and thought well, why not… What a mistake! After a couple hours, my feet hurt so bad and I was miserable. Clearly I should have stuck with my own advice about cheap heels. I believe that shoes are definitely worth splurging on and in my experience, shoes around $60  or higher tend to be better quality as well as more comfortable. These super popular taupe wedges I own are my current fave "heeled" shoes.


trendy pieces
When it's obvious that a certain trend is going to be "in" one day and then "out" the next, I see no point in spending excessive amounts of money on it. That's why it's a trend! For instance, last Summer and Fall neck scarves – aka bandanas – were popular. Instead of dropping a ton, I picked a few up for $1 each and in my opinion, they still looked really cute!

sunglasses
Other than my Ray-Ban Aviators, all the sunglasses I wear are on the affordable side (about $50 or under). I honestly drop my sunglasses all the time so having a super expensive pair makes me nervous. Plus, I just feel like less expensive sunglasses don't look a whole lot different than the $300 ones. Of course they don't have the designer logo on them, but that's perfectly fine with me. I always find the cutest ones at Nordstrom in the BP. department!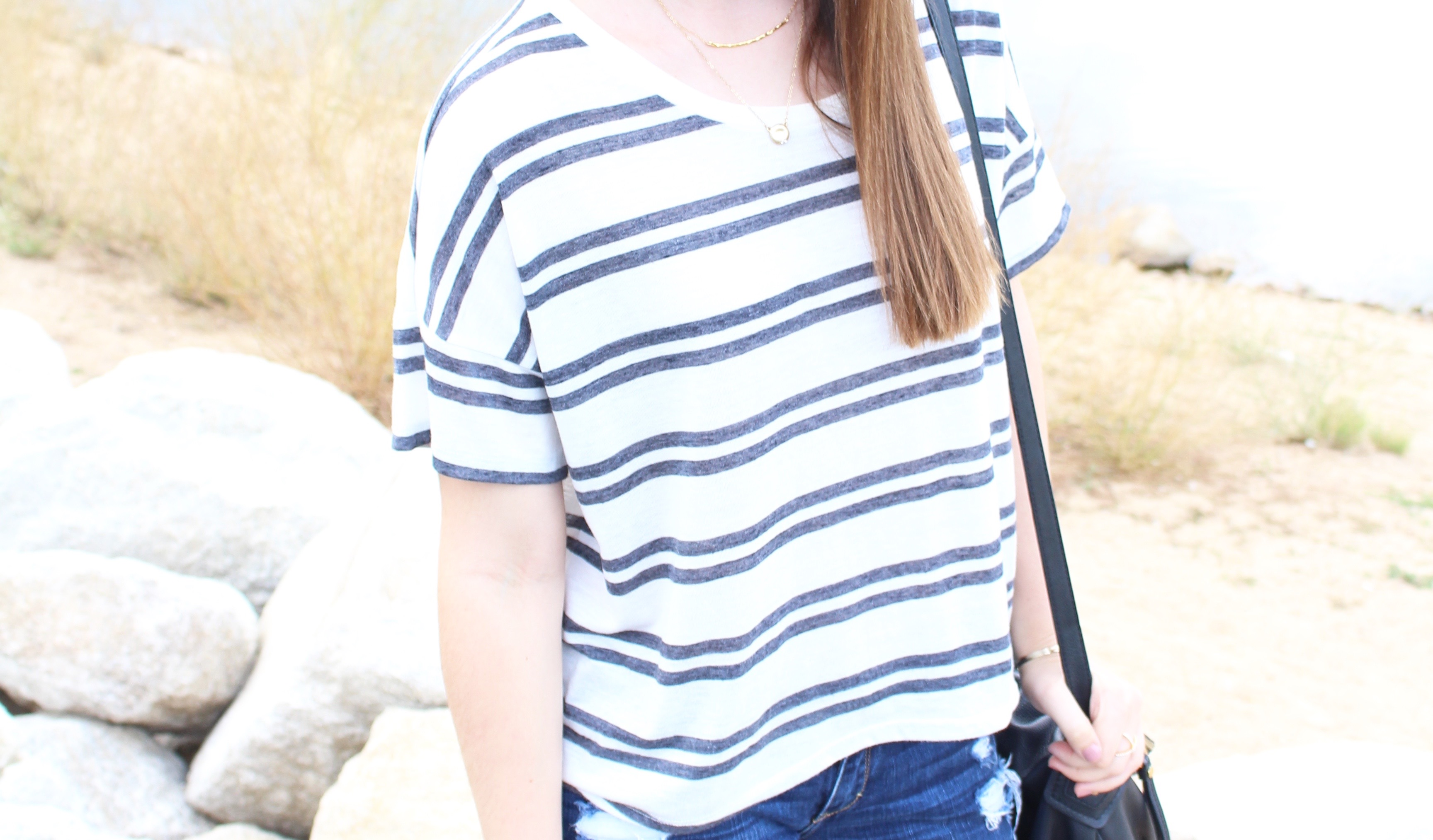 t-shirts
I feel like this one is obvious, but then again, I know that some people probably would spend $50 on a simple t-shirt. Well, not me! Since I rarely wear them out in public to begin with and because mine somehow always end up getting stained, torn, etc., I prefer the less expensive options. I've found that Old Navy and Target usually have pretty good tees that are very affordable!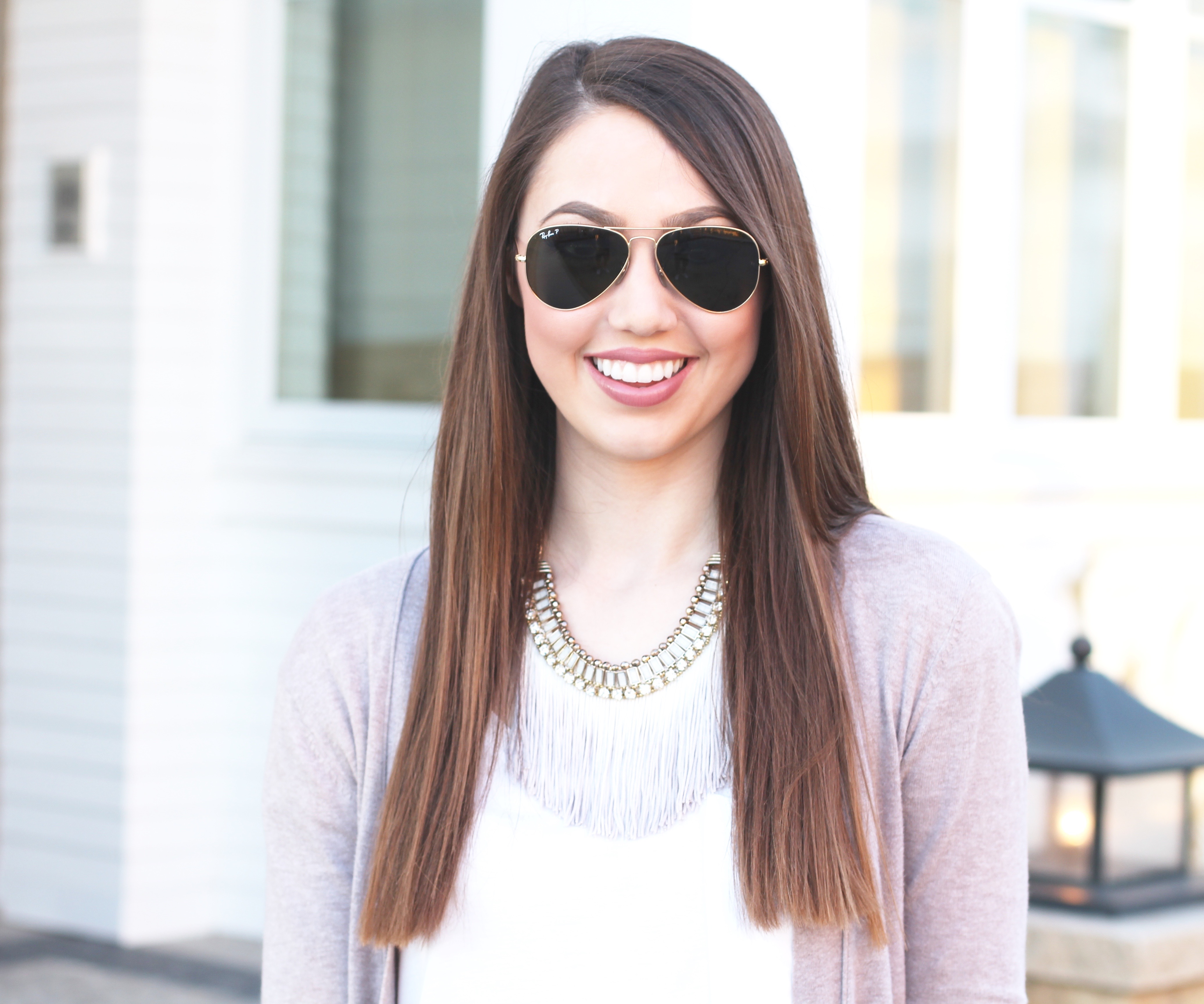 statement necklaces
While they can seem a little scary to wear at first, statement necklaces are so fun and a great way to spice up an outfit. However, since they often include bold colors that don't match my neutral everyday attire, I like to buy affordable ones. Also, this allows me to get 2-3 statement necklaces for the price of one more expensive one, which in my mind is a win!  Over the years I've purchased quite a few statement necklaces and my go-to store for them is Francesca's.
—
I know this post was longer than my usual ones writing wise, but I hope you enjoyed it! If you would like to see longer, more informational posts here on MSL, please let me know by commenting here or on Instagram!
Thanks for reading!
xoxo Kendall