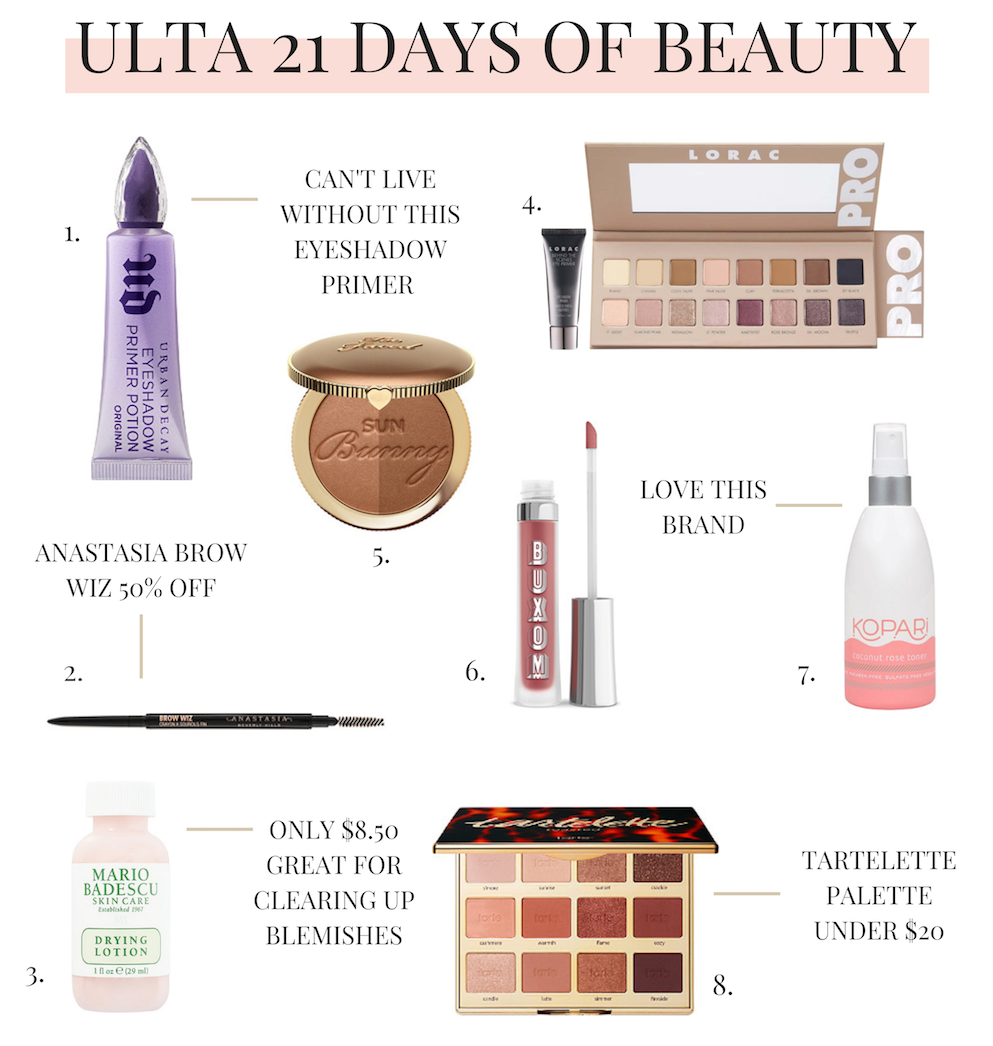 Calling all beauty lovers!! The Ulta 21 Days of Beauty 2019 Sale is ON! This is one of the sales I look forward to every year as it includes so many amazing deals. That's why I'm breaking down the key aspects of the sale for you.
Key Dates
The Ulta 21 Days of Beauty Event runs March 17 – April 6, 2019. However, it's important to realize that certain items are only on sale on specific days! This means you need to stay on top of what's on sale each day and plan out your purchases accordingly.
Eight Must-Have Items
If you follow me on Instagram @mystyledlife, you know I love trying out new makeup products. What I love about the sale is that I can pick up my all-time favorites and some new items to try for reasonable prices. Below are the items I've got my eyes on.
Urban Decay Primer Potion. I can't live without this. It prevents my eyeshadow from creasing and my eyelids from getting oily, making sure my eye makeup looks good ALL day. Price: $12 | Sale Date: Friday, March 22
Anastasia Brow Wiz. Another holy grail product for me. During the sale, this product is 50% off so I always stock up for the rest of the year. Price: $10.50 | Sale Date: Saturday, March 23
Mario Badescu Drying Lotion. This drying lotion is great for spot treating face blemishes! Price: $8.50 | Sale Date: Saturday, March 30
Lorac Pro 3 Eyeshadow Palette. I actually haven't tried this palette, but it looks like a great everyday palette. The shadow colors are beautiful. Price: $22 | Sale Date: Saturday, April 6
Too Faced Sun Bunny Bronzer. Don't get me started on this product…I love it!! All the Too Faced bronzers are on sale, but this one is my favorite. Price: $15 | Sale Date: Friday, April 5
Buxom Full-On Plumping Lip Cream. While I'm normally a liquid lipstick kind of gal, I do love this lip gloss! It comes in so many beautiful shades and is minty! Price: $10.50 | Sale Date: Thursday, March 28
Kopari Beauty Coconut Rose Toner. I have not tried this specific product, but my experience with the brand's other products means this one is likely amazing! Also, it has great reviews. Price: $12 | Sale Date: Wednesday, March 27
Tarte Tartelette Toasted Eyeshadow Palette. I'm a big fan of warm-toned eyeshadows so naturally I think this palette is gorgeous. Price: $19.50 | Sale Date: Friday, March 29
Thanks for reading! Don't forget to check out my other beauty content.
xoxo Kendall