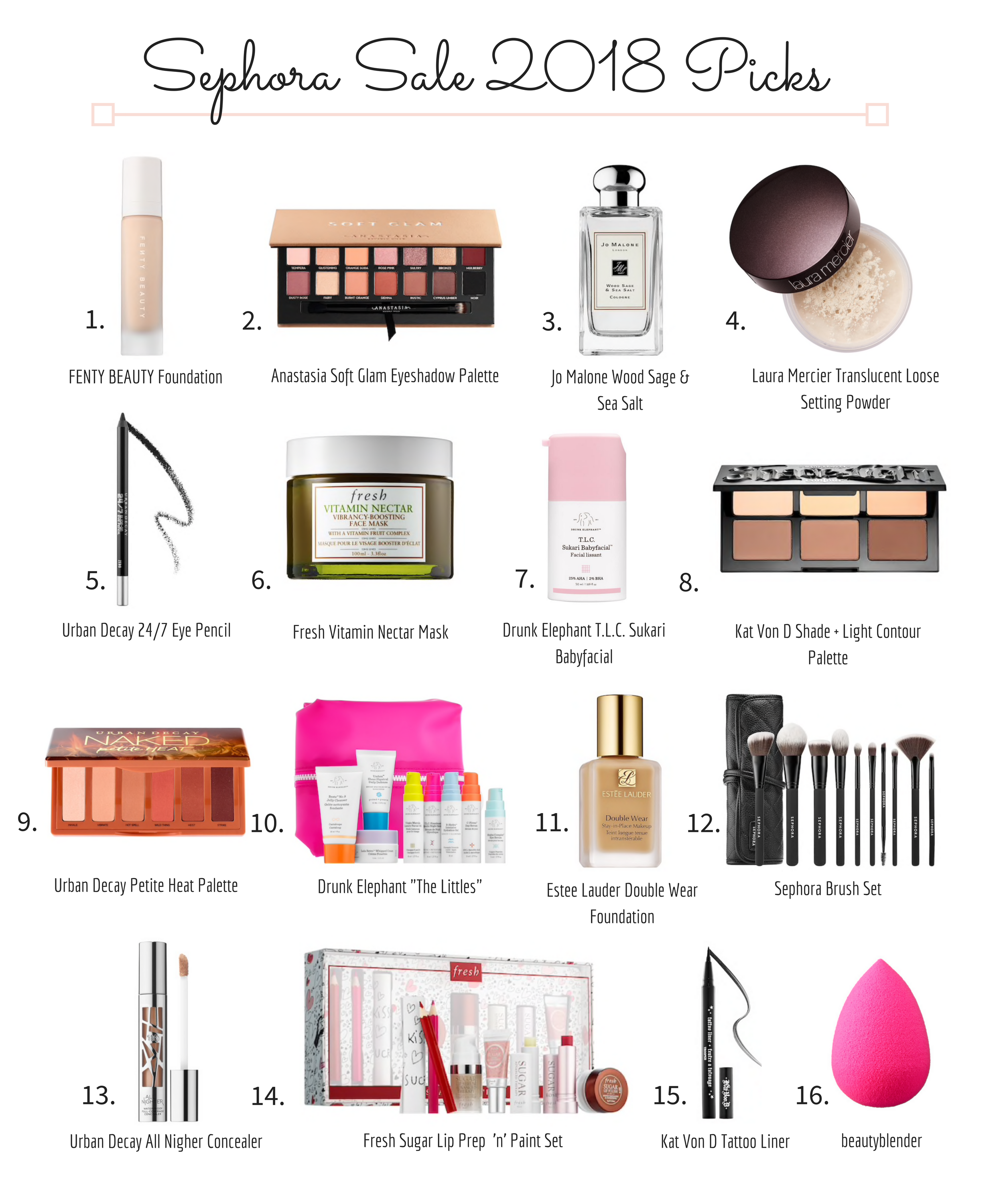 1 | 2 | 3 | 4 | 5 | 6 | 7 | 8 | 9 | 10 | 11 | 12 | 13 | 14 | 15 | 16
Calling all my fellow makeup junkies…the Sephora Spring Sale is almost here! That's why today I'm sharing everything you need to know about the sale including the key dates, my favorite items, and how to get access to the sale. Let's be real, makeup can be expensive! That's why if there is something you want to try out, the sale is the best time to purchase! My picks include both items I swear by and ones I'm dying to try!
Sephora Spring Sale Dates:
April 13-16: Sephora Rouge members get first access to shop beauty finds at 15% off. Code: YAYROUGE
April 13 only: bring a friend and extend your Rouge discount
April 20-23: All VIB members can shop Spring Bonus products at 15% off (code: YAYVIB). Beauty Insider members can shop the same at 10% off (code: YAYINSIDER)
My Recommendations
Okay…it is SO hard to narrow it down to just 16 picks, but I did it! As I mentioned before, I have used many of these products, not all of them! Starting with skincare, I LOVE this Fresh Vitamin Nectar face mask. It leaves my skin feeling so tight and refreshed. As for other skincare products, I'm dying to try everything from Drunk Elephant. This T.L.C. Sukari Babyfacial product and this "The Littles" set both had great reviews!
For the face, it seems like everyone is trying the Fenty Beauty foundation, so of course I had to include it. I always think it's best to try new products when they are on sale. I also highly recommend you picking up the Laura Mercier Translucent Loose Setting Powder. It is SO amazing for setting your face makeup. I have also been loving the Urban Decay All Nighter Concealer. It's a matte formula, but isn't drying.
For the eyes, you really can't go wrong with the Urban Decay Petite Heat palette! It's perfect for traveling! Also, I really want to try the Kat Von D Shade + Light Contour palette. If you watch my Insta Stories, you know I'm obsessed with makeup palettes! To see what else I picked out, check out the picture above!
Can I shop the sale if I'm not a member?
No, you must be at least a Sephora Beauty Insider member to participate in the sale! See below on how to join!
How to get access to the Sephora Spring Sale 2018:
You simply sign up for free to become a Beauty Insider member! This will allow you to immediately receive 10% off all Spring Bonus products! Over time, after you spend a certain amount, you can elevate your Beauty Insider membership to VIB or Rouge membership so that when the next sale comes around you can get even better deals!
To become a VIB member, you must spend $350 and to become a Rouge member, you must spend $1000.

Thanks for reading! Happy Shopping!
xoxo Kendall