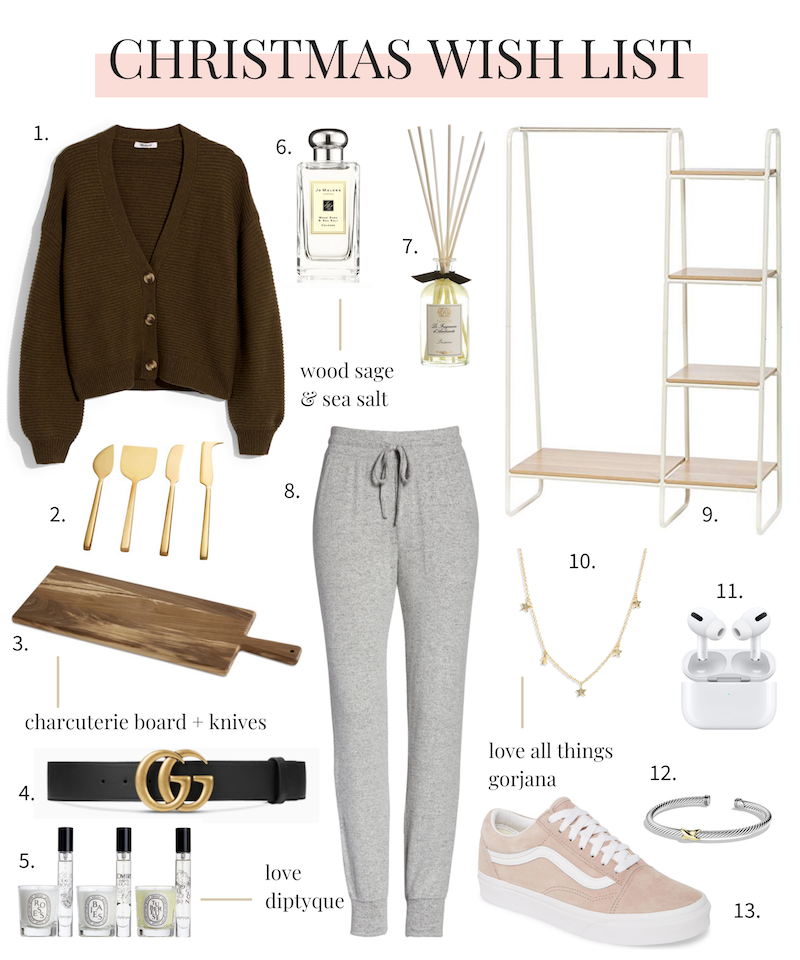 1 | 2 | 3 | 4 | 5 | 6 | 7 | 8 | 9 | 10 | 11 | 12 | 13
If I'm being honest, I truly feel blessed and have more clothes, beauty products, jewelry, etc. than I could ever need. However, I know that some of you like to see what I have my eyes on during the holiday season, so I thought it would be fun to share a Christmas Wish List.
At the top of my list is a cute charcuterie board and knife set. I could live on cheese, crackers, and all the other charcuterie board fixings. I'm also loving this Prosecco diffuser and this Jo Malone cologne.
As for clothes, while I really do not need anymore, these lounge pants look so cozy and I love this cardigan! Also, if you follow me on Instagram, then you know that I have been obsessed with my black Vans Old Skool sneakers the past few months. Since I reach for them so often, I'm thinking about getting a pair in another color. While there are many options, I love these blush pink ones!
Thanks for reading! What's on your Christmas Wish List?! Still have others on your list to shop for?! Keep checking my Holiday page for more gift guides! I'll also be sharing a ton of holiday outfit ideas throughout the season!
xoxo Kendall