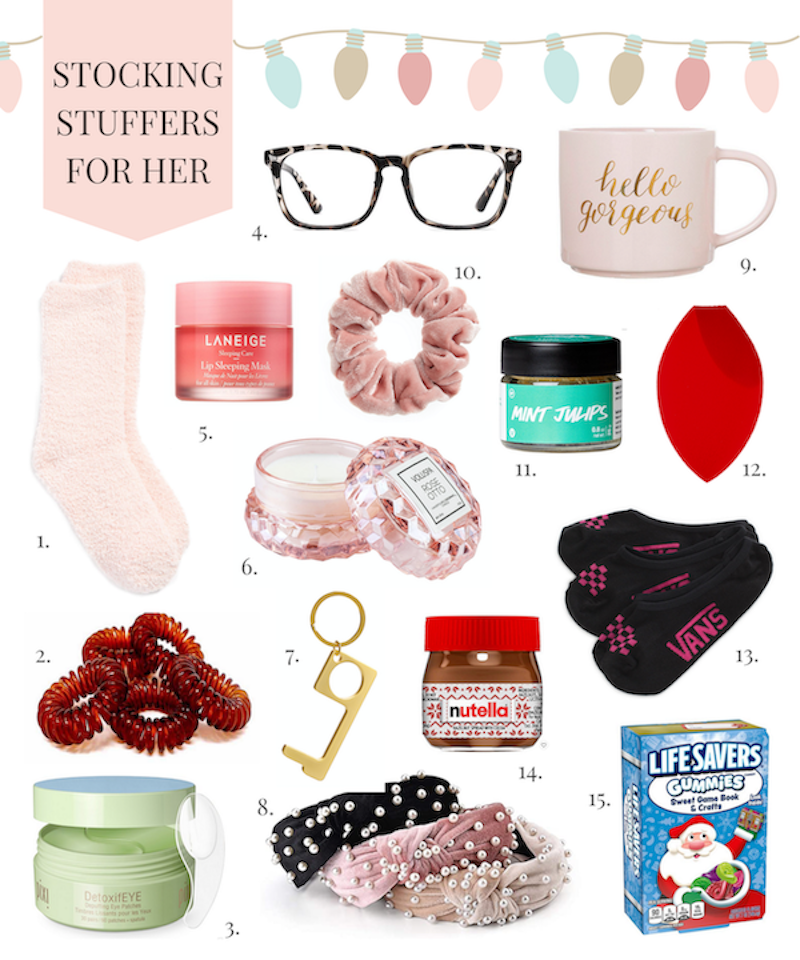 Each year I love sharing my holiday gift guides with you! To kick things off this season, let's start with stocking stuffers for her. I'm all about keeping stocking stuffers affordable, so many of these items are under $15!
Cozy Butter Socks – My all-time FAVORITE socks! These are only available during the winter season and I always stock up for the rest of the year.
Coiled Hair Bands – For the past few months, I have been using these nonstop. They are better for your hair than regular hair bands and work really well.
Pixi Eye Masks – These are my favorite eye masks. They are excellent for de-puffing the under eye area in the morning and they are fun!
Blue Light Blocking Glasses (under $20) – If you know someone who has to be on their computer or phone a lot for work, these are a must. They have helped reduce the number of headaches I get from staring at a screen all day.
Laneige Lip Sleeping Mask – I fell in love with this product the second I tried it! This lip mask is so moisturizing and a little goes a long way so this jar will last a while.
Voluspa Rose Scented Candle – Who doesn't love a good candle? Voluspa is one of my favorite candle brands and this rose scent is so beautiful.
Door Opener Keychain – A very 2020 gift!
Pearl Headbands (set of 3) – These pearl headbands are so pretty and add the perfect added touch to an outfit. This set of three is under $13 so you can give someone all three or divide them up.
Hello Gorgeous Mug – This mug is all over Instagram. It's so cute!
Velvet Hair Scrunchie – These are totally trending.
Lush Mint Julips Lip Scrub – The best lip scrub around! It does such a great job exfoliating the lips. Use this scrub and then top with the Laneige Lip Mask.
Morphe Beauty Sponge – This beauty sponge is not only affordable, but effective! Plus, it's only $8.
Vans No-Show Socks – I wear these socks on a daily basis with booties and sneakers. They stay up due to little grips inside the sock at the heel.
Mini Nutella Jar – I don't know why I just think this is so cute!! These will sell out.
Life Savers Gummies – Each year my family puts these in each other's stockings. It's a yummy tradition!
Thanks for reading!
xoxo Kendall