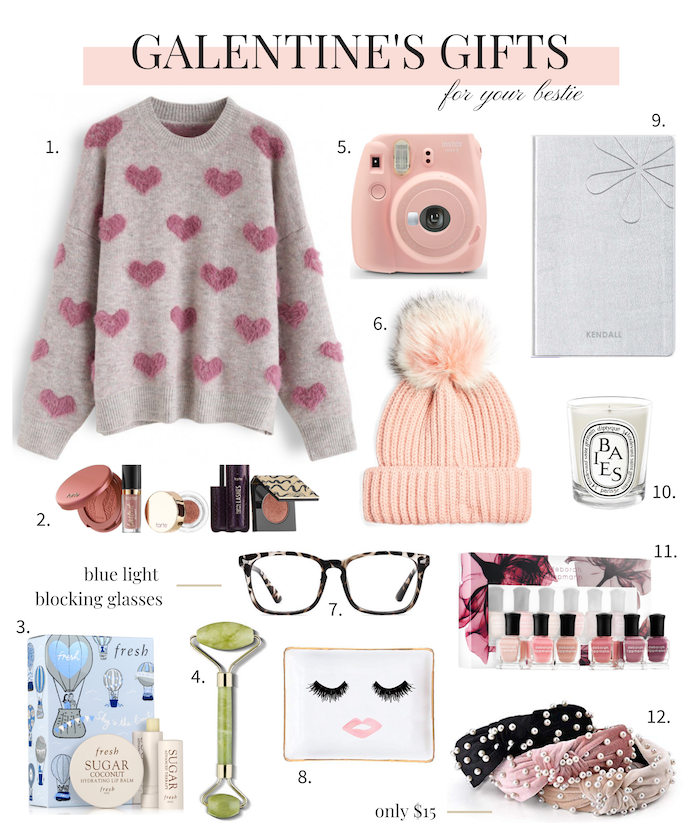 1 | 2 | 3 | 4 | 5 | 6 | 7 | 8 | 9 | 10 | 11 | 12
Planning on going to a Galentine's Day party?! If you're not sure what to get your favorite gals, I wanted to share some Galentine's Day gifts that they will love. I have a reputation for being a great gift giver among my friends! I've included gifts in a variety of price ranges so that you can find something at a price point you're comfortable with!
One of my top gift ideas is a pack of pearl headbands. These are trending right now and I've been wearing mine practically every day since I bought them! Another fun accessory is a pom pom beanie!
For a personalized item, I've been giving everyone I know one of these personalized journals. They are so well made and are offered in a variety of colors.
If you want to splurge a little, I recommend a diptyque candle or Fujifilm Instax camera. It's always fun to get your bestie something that she normally would not buy herself. Which one of these Galentine's Day gifts is your favorite?!
Thanks for reading! For those going on a Valentine's Day date night, you need this jumpsuit!
xoxo Kendall