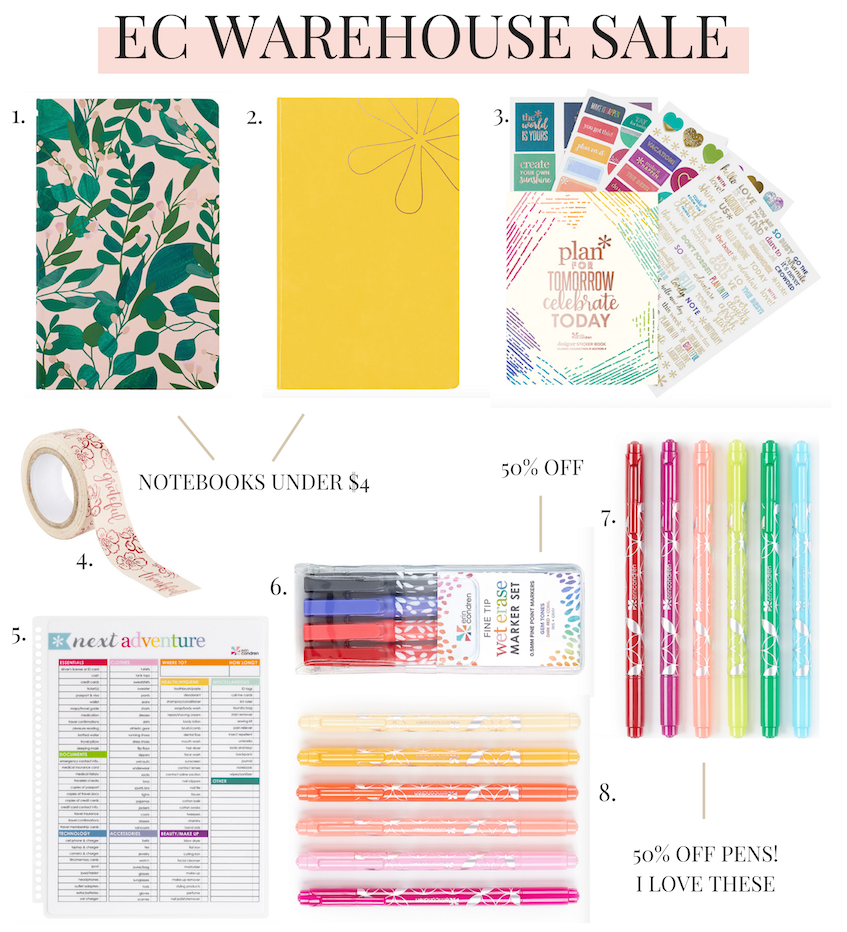 The Erin Condren Warehouse Sale 2019 is ON! Since I know that many of you are EC fans like I am, I wanted to share some of the best items that are part of the sale! Some of these items are 50% off while others are 70% off. It just depends on which item you're looking at, however, either way…Yes, the sale is THAT good!
If you're in need of more sticky notes or stickers, now is the time to stock up. Many of the snap-in dashboards are included in the sale so if you're looking for one of those, I highly recommend picking one (or multiple) up during the sale. Also, EC pens are my FAVORITE and the pen sets are 50% off!
What I Purchased
I just placed my order, which included cute sticky notes, notebooks, and colored pens! I had to have a little self-control when ordering because let's be real…I wanted it all. There are so many great deals. If I was only going to pick up one item it would be the pens since a set of 6 is $15.50, but during the sale it is $7.75. There are many different pen sets to choose from, but I picked up the Sunrise set because I love the various pink tones.
First-Time Shopper?
Are you shopping the sale?! Have you heard of Erin Condren?! If it's your first time ordering a LifePlanner, use this link to get $10 off your first purchase. By using my link, after you create an account, you will receive an email with a $10 coupon code for your first purchase.
If you have any questions, please let me know. Also, don't forget to check out all my Erin Condren content!
Thanks for reading!
xoxo Kendall