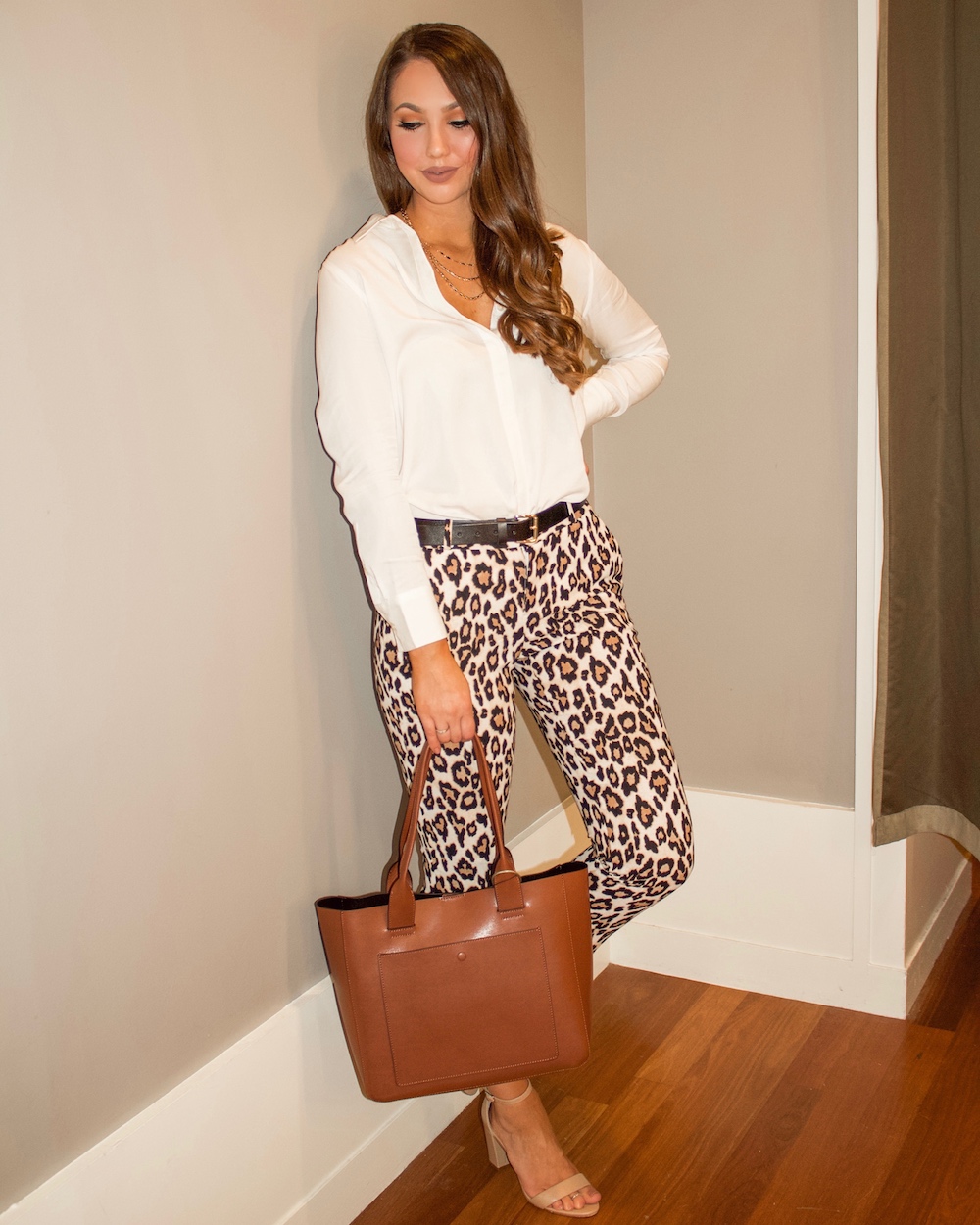 Having just wrapped up my MBA, this girl is going from student to businesswoman, which means that it's time for me to elevate my work style. From cute work clothes to accessories to makeup, Brea Mall has everything you need to revamp your office look. That's why I'm excited to be partnering with Brea Mall to share my favorite work finds!
Banana Republic
Look 1 — Leopard Love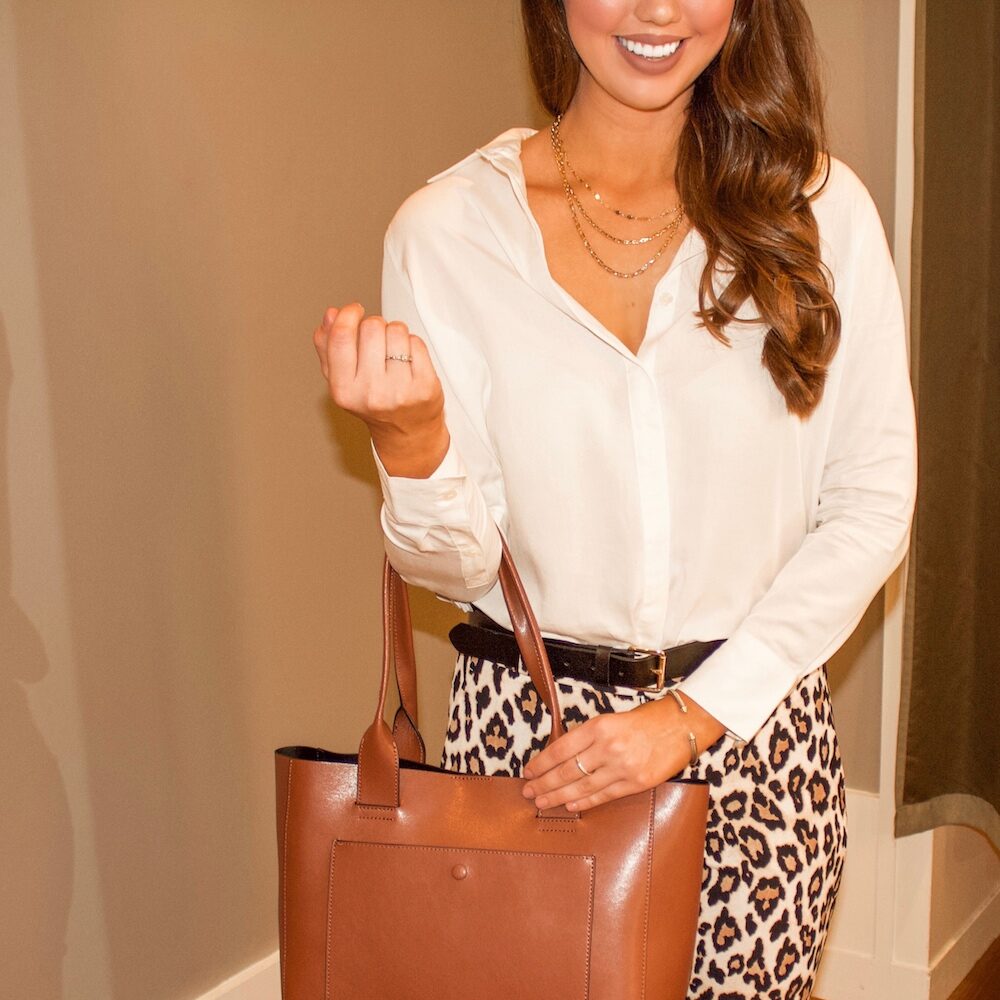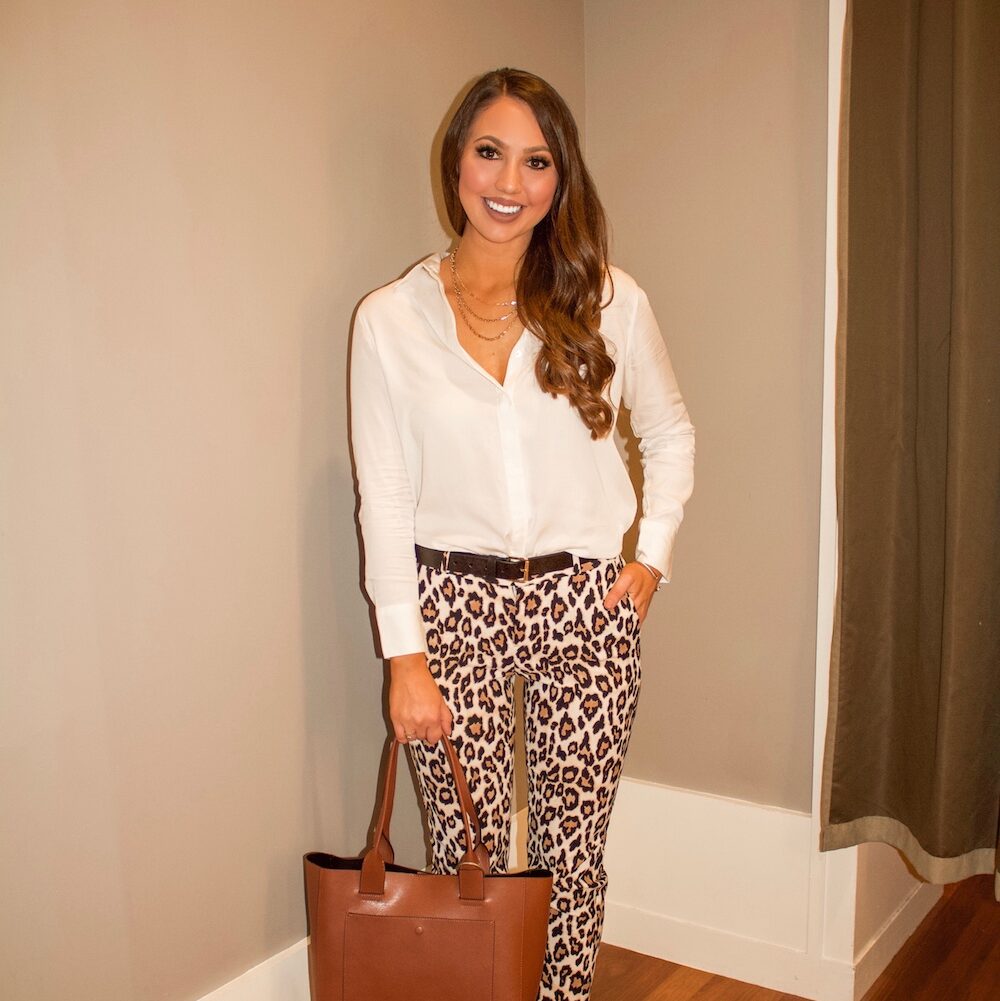 Banana Republic is one of my go-to spots for classic work wear and I'm always impressed by the selection at the Brea Mall location. Since I'm all about taking a work outfit up a notch, I mixed in some fun prints.
For the first look, I paired leopard-print pants with a simple white button up, black belt, and cognac bag. The pre-layered necklace was the perfect finishing touch. I think this is such a fun look for the office!
Look 2 — Polka Dot Fun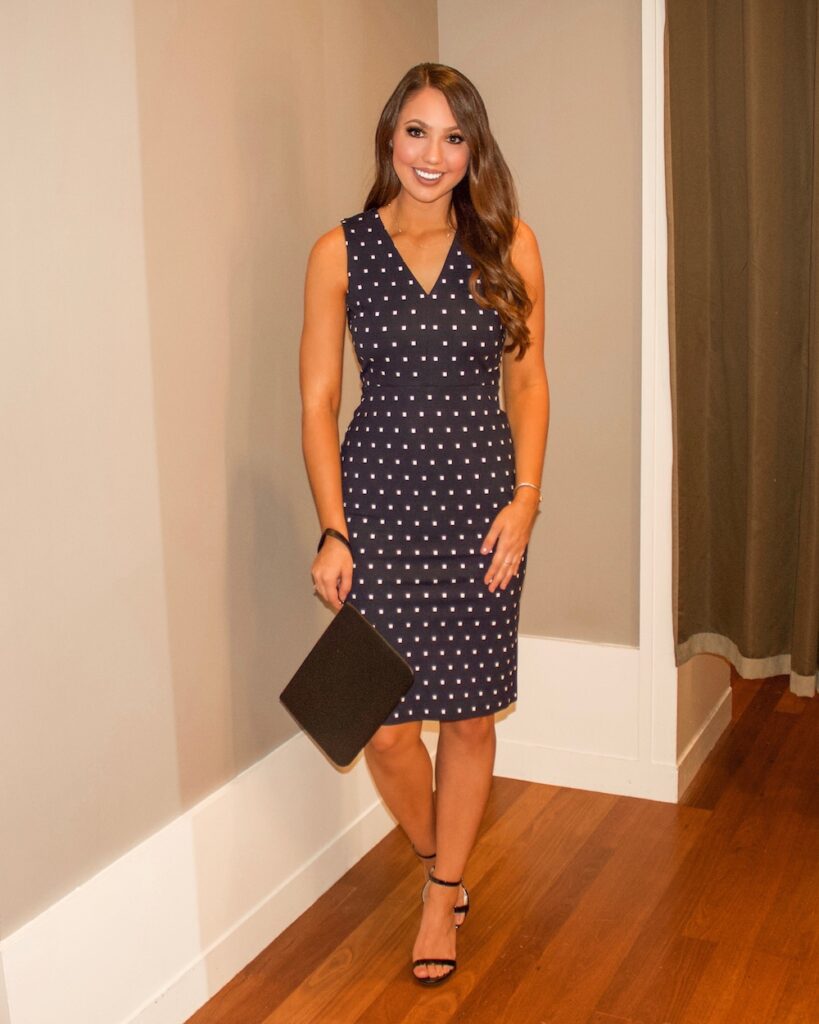 For an outfit that's a bit more formal, I love this polka dot navy dress. Apart from being very flattering, the fabric is stretchy, making it super comfortable. It truly is the perfect length and if you're a little shorter, it will hit at or slightly below the knees.
I paired it with a simple black clutch and heels to complete the look.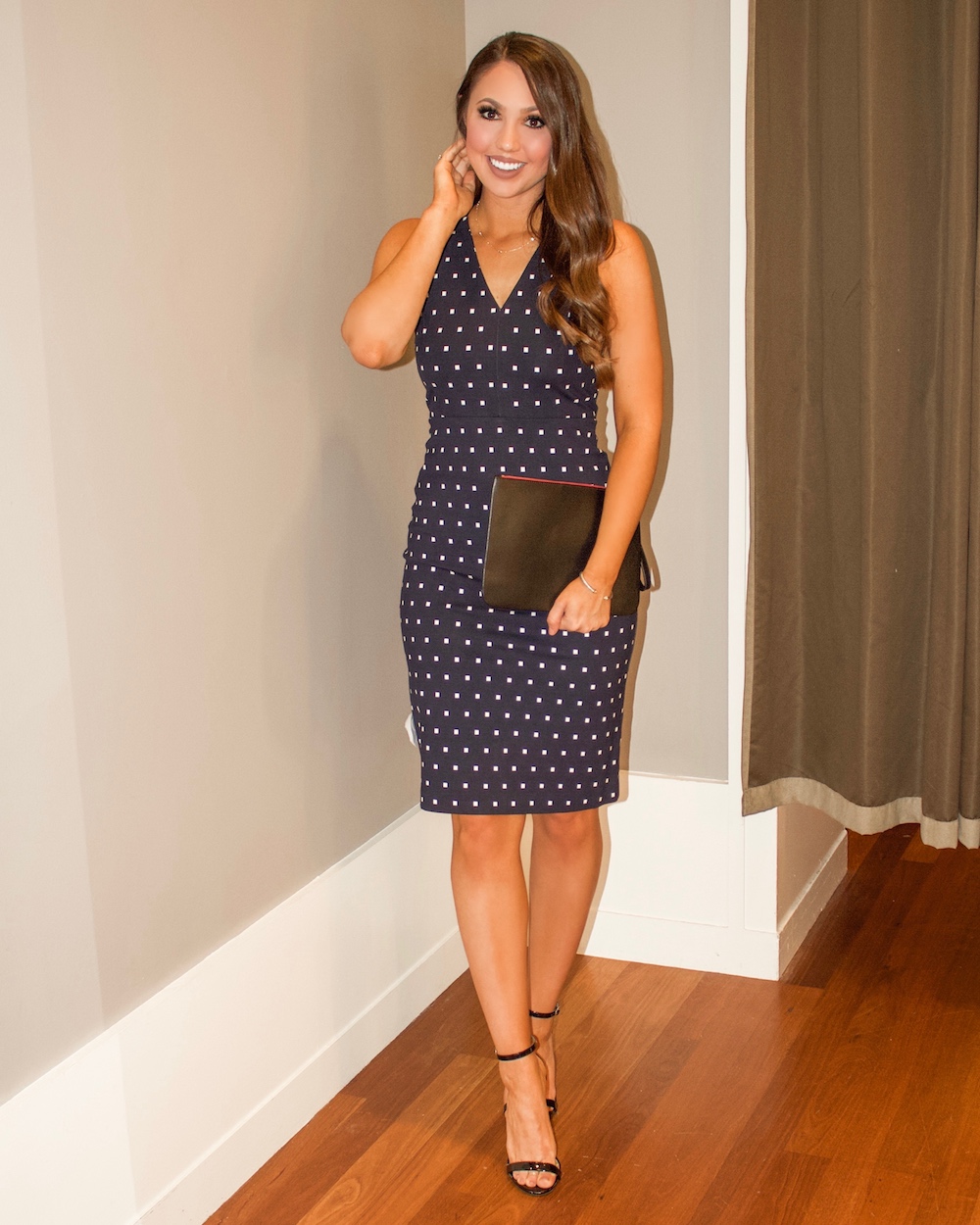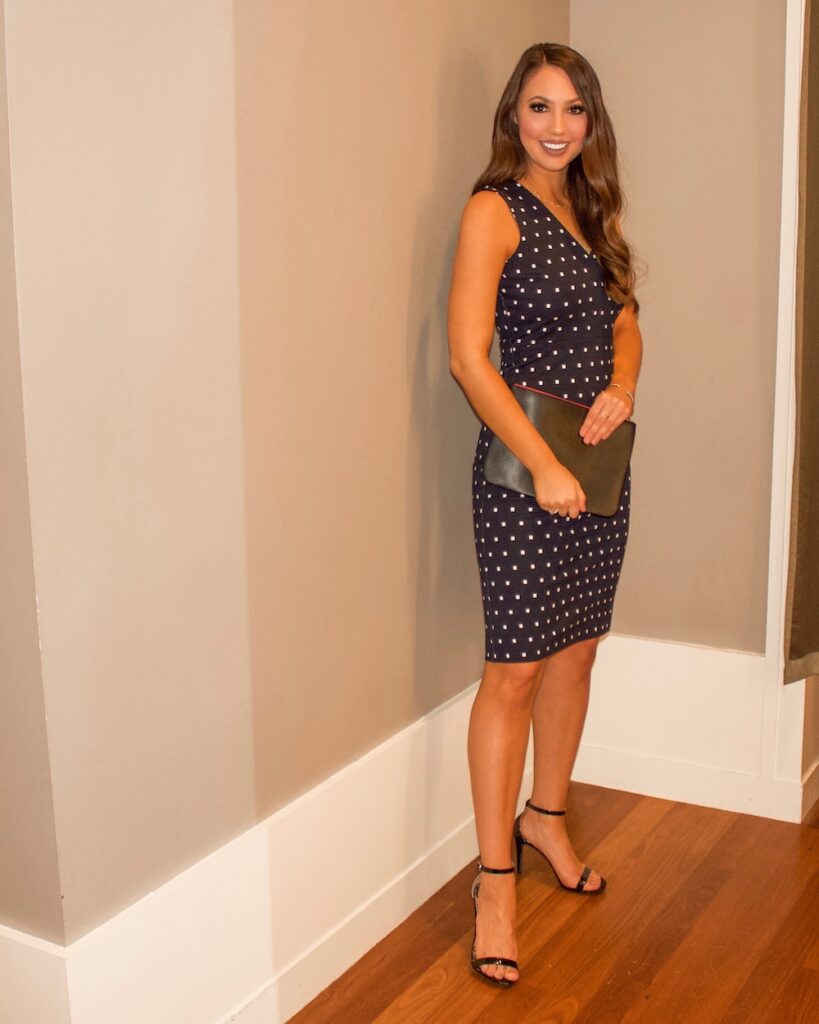 Look 3 — Black and White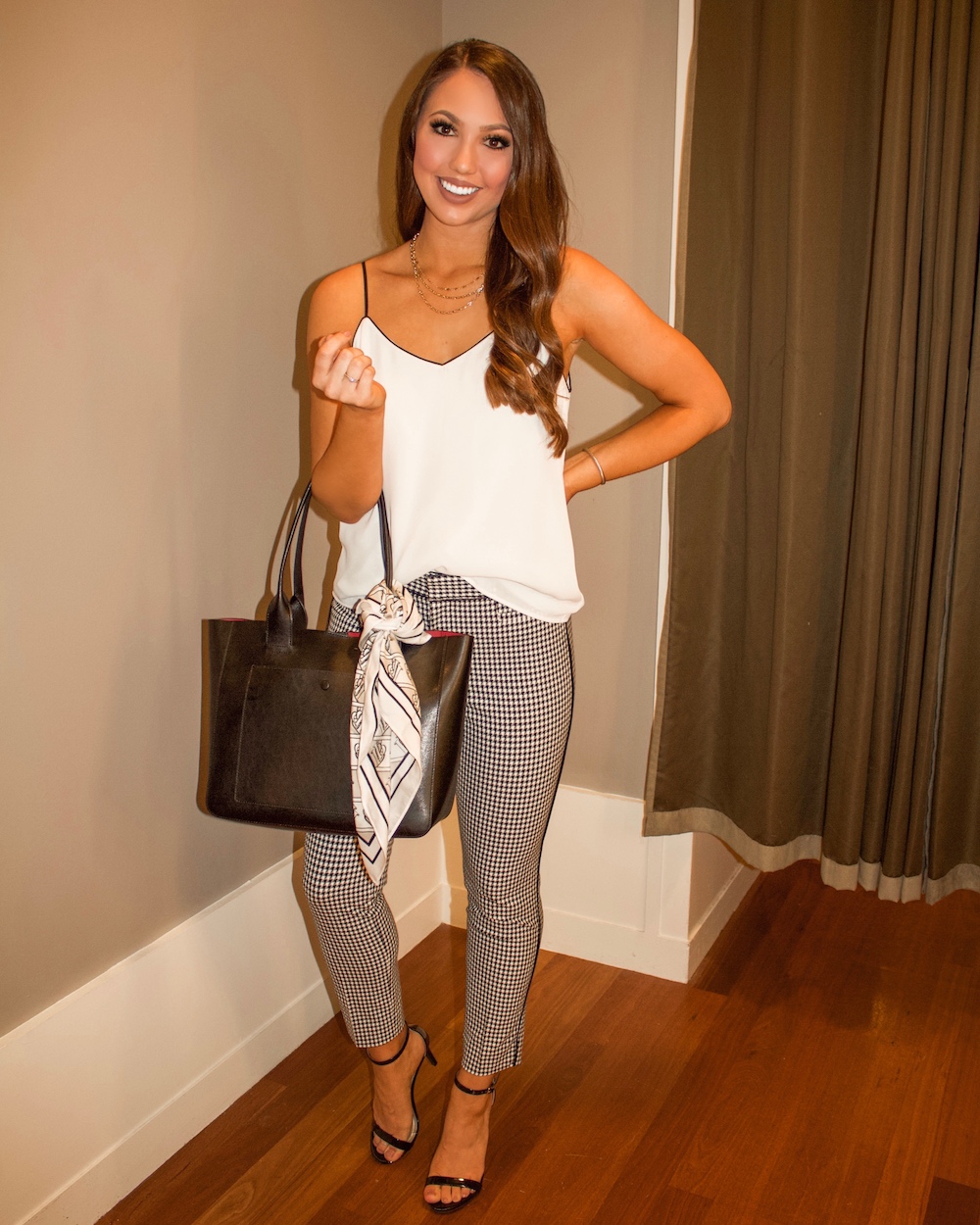 You can never go wrong with black and white! For this outfit, I chose to pair a white camisole that has black piping with houndstooth skinny-fit pants. For accessories, I went with the same necklace from Look 1 and a black tote, which I added a printed scarf to for a little extra flair. Throw on a blazer and you're good to go.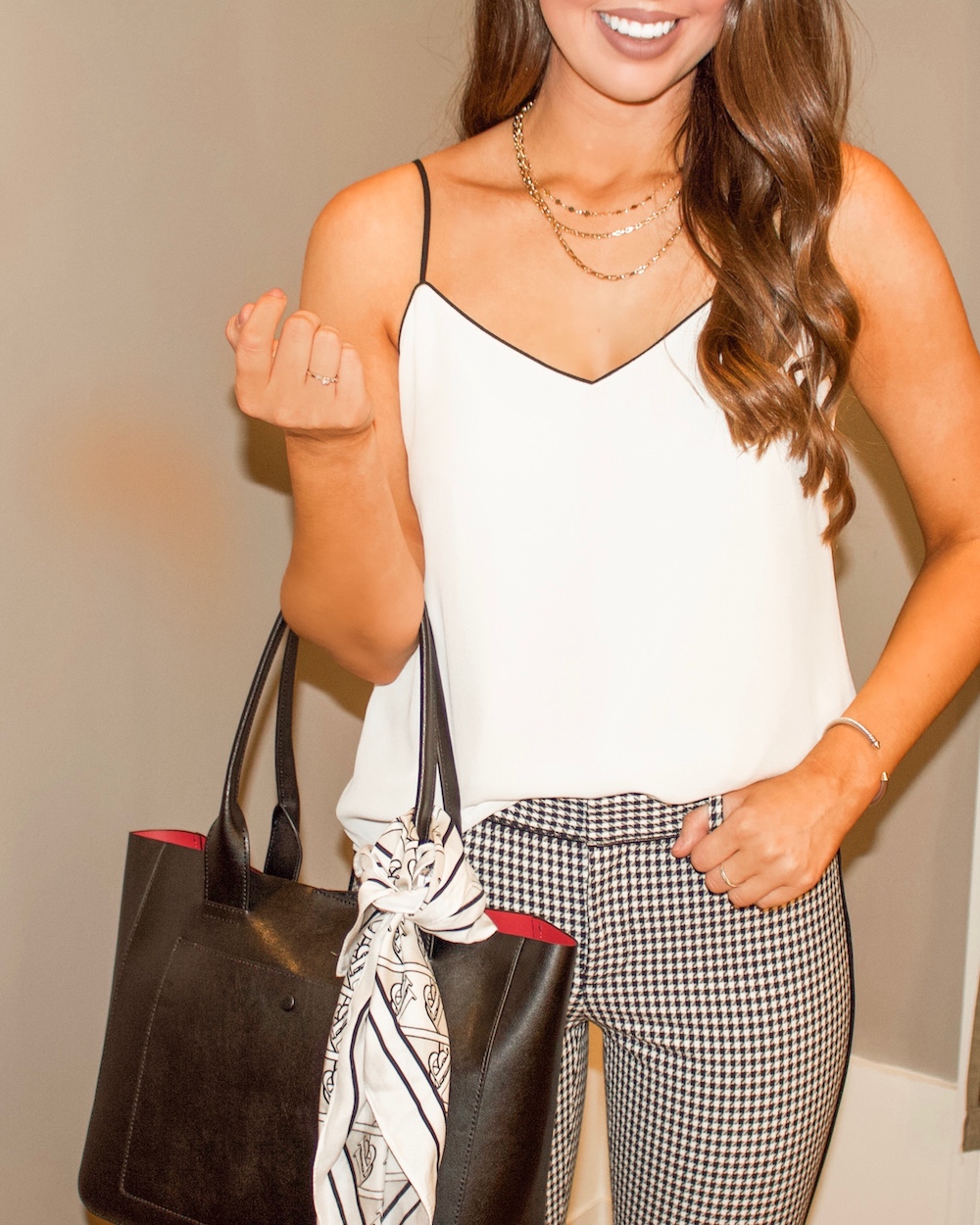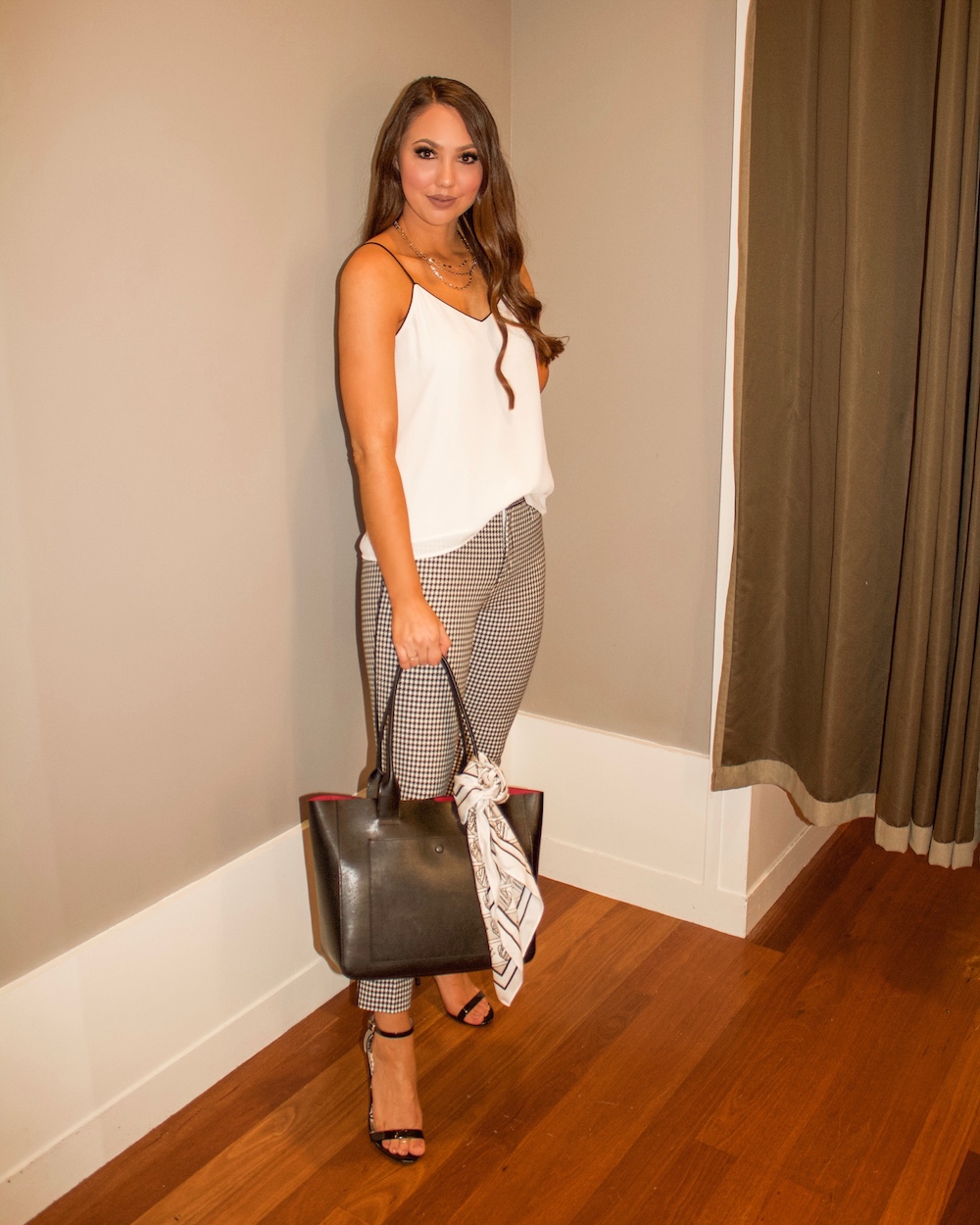 MAC Cosmetics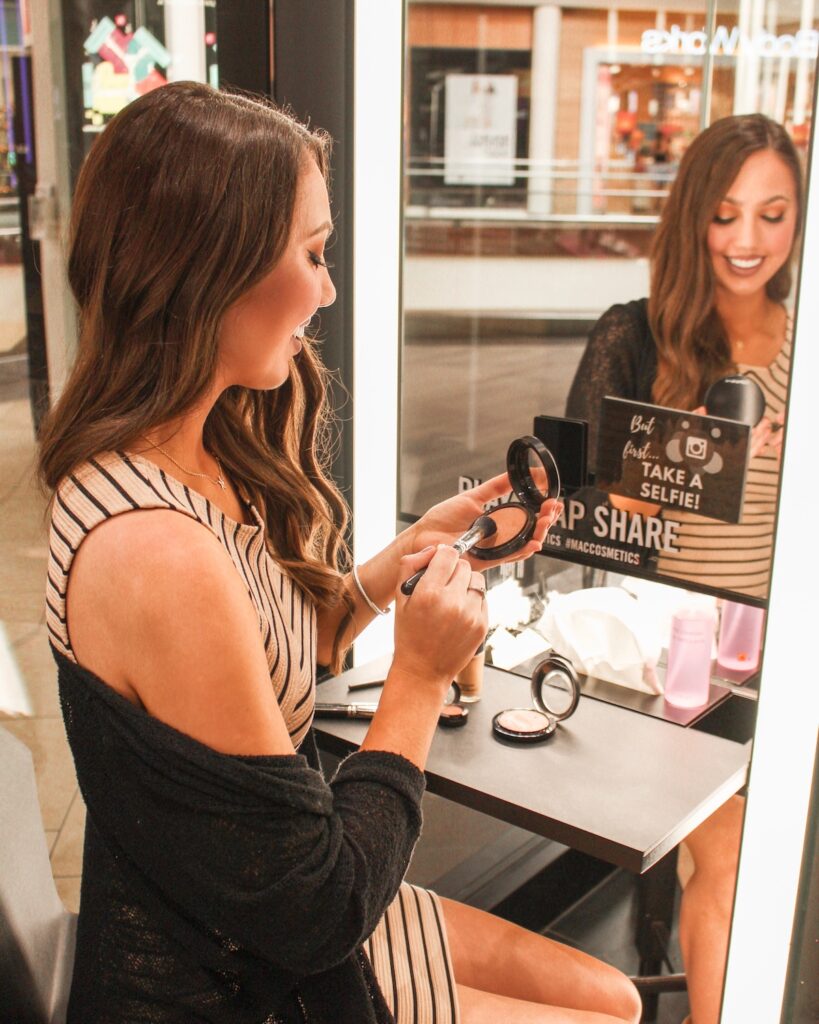 I'm a big fan of putting on a little makeup in the morning before heading into the office. It makes me feel more confident and ready to tackle the day's tasks. If you're looking to add a few new makeup items to your makeup routine, MAC Cosmetics at Brea Mall is ready to help. The MAC team suggested the following for an easy and beautiful work makeup look:
Studio Fix Foundation — As a matte finish, medium-to-full buildable coverage foundation, this product helps minimize the appearance of pores and imperfections, making skin look smoother. Besides having SPF 15, this foundation is designed for a 24 hour wear.
'Saddle Eye Shadow' — With golden orange/brown hues, this shadow is a MAC classic. I love applying this shade in the crease and then putting the shade 'Naked Lunch' on the lid for an easy, everyday eyeshadow look.
In Extreme Dimension Lash Mascara — With a lightweight whipped carbon black formula, this mascara adds dense volume and creates curl while it conditions for softness and flexibility. In addition, the moulded brush stores the optimal amount of mascara for saturated colour.
'Spiked' Eye Brows Styler — This self-propelling, self-sharpening brow definer, which features a spoolie, offers grooming alongside extreme colour precision. Also, it lasts 12 hours.
Give Me Sun Powder — This slow-baked domed face powder with low-level pearlized pigments provides a dimensional yet natural finish. It's perfect for enhancing skin tone to give a sun-kissed look or to accentuate a tan.
Soft & Gentle Baked Highlighter — As a luxurious, slow-baked, velvety soft face powder with a radiant finish, this product adds highlight to the high points of the face. You can also blend it all over for a sheer luminous polish to the skin.
'Mull it Over' Powder Kiss Lipstick — This weightless moisture-matte lipstick delivers a romantic blur of soft-focus colour. The formula contains moisture coated powder pigments that allow it to both condition and hydrate the lips.
Fix Plus — This lightweight mist, which is infused with green tea, chamomile, and cucumber, gently soothes and refreshes the skin. It gives an instant boost of hydration to refresh and finish makeup.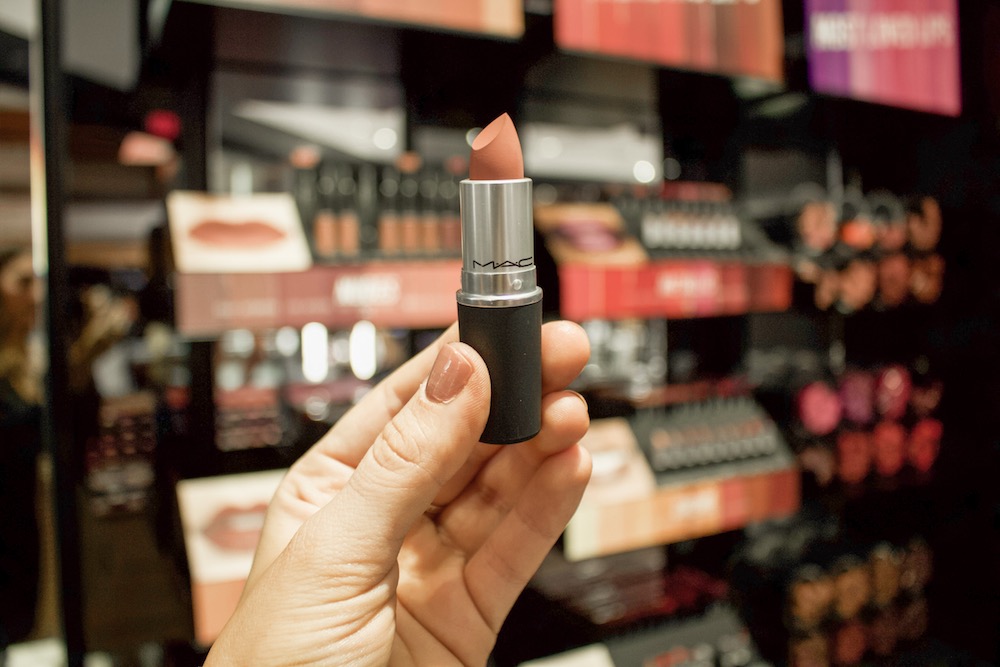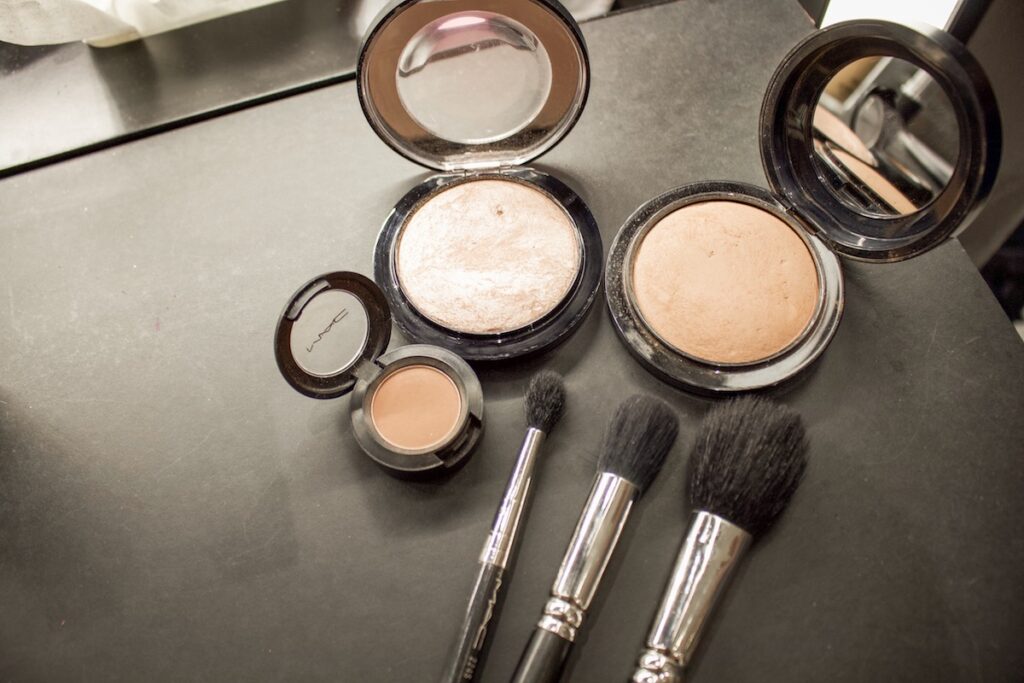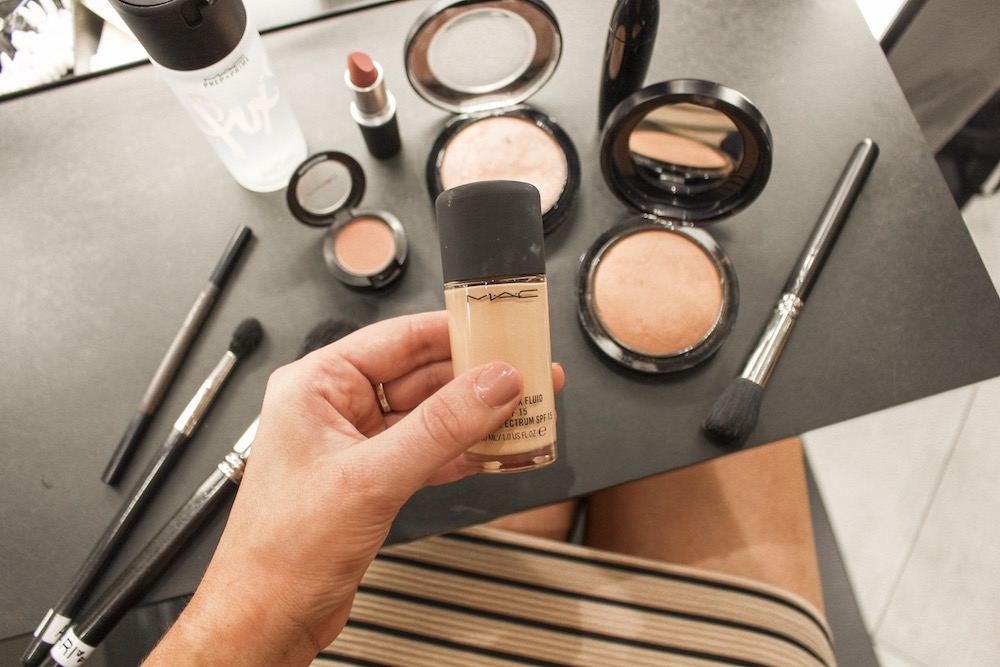 Alex and Ani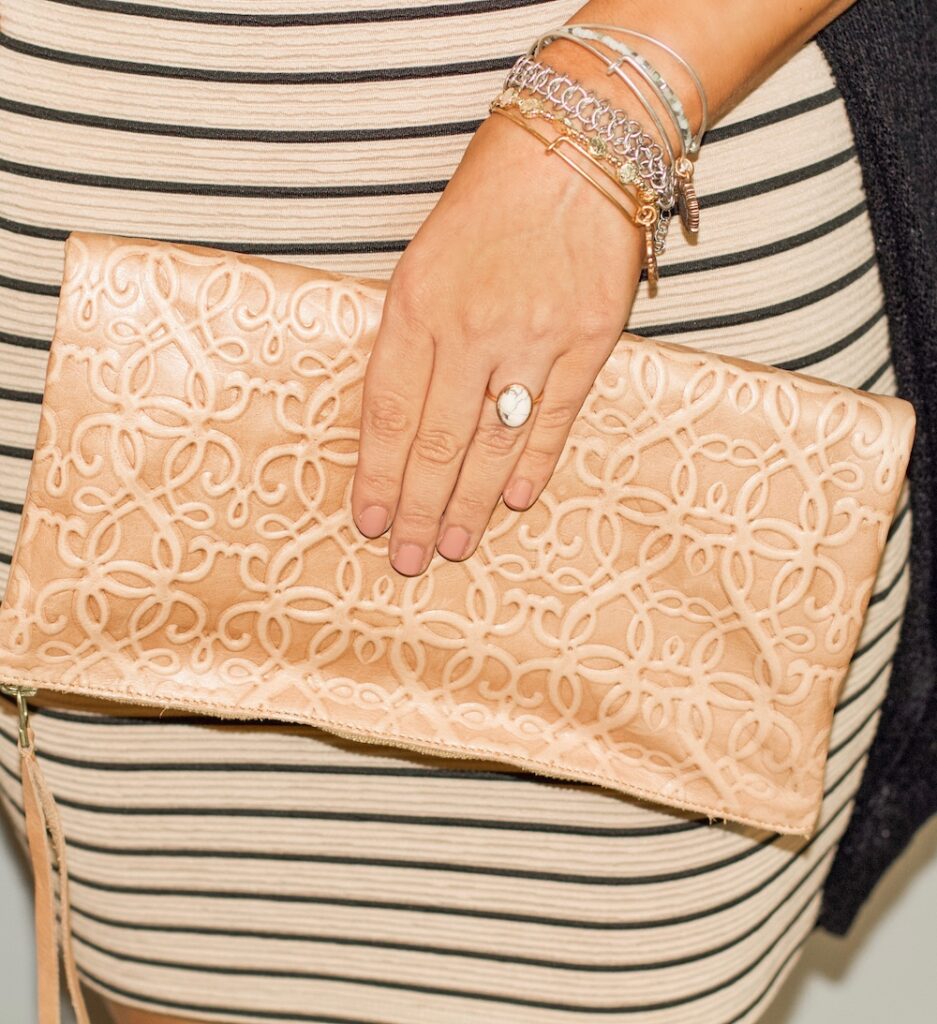 Since some employers are a little more strict on the dress code, jewelry is always a great way to elevate your look. For jewelry that allows you to express your personality without being too over-the-top, I love Alex and Ani.
I'm all about a layered look so I'm a fan of stacking a mix of gold and silver bracelets together. I'm in love with the sunflower bracelet in particular — I've been wearing it every day!
Alex and Ani also offers a great range of necklaces, rings, and earrings. I really love the two-tone initial necklace! Also, I wanted to note that Alex and Ani jewelry is a great gift idea for a co-worker's birthday!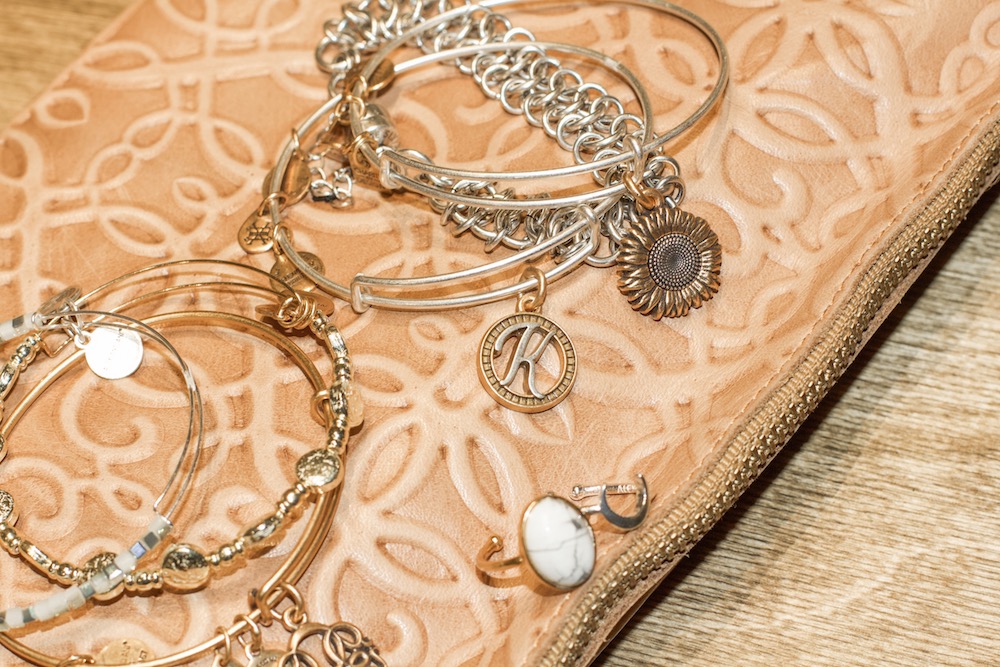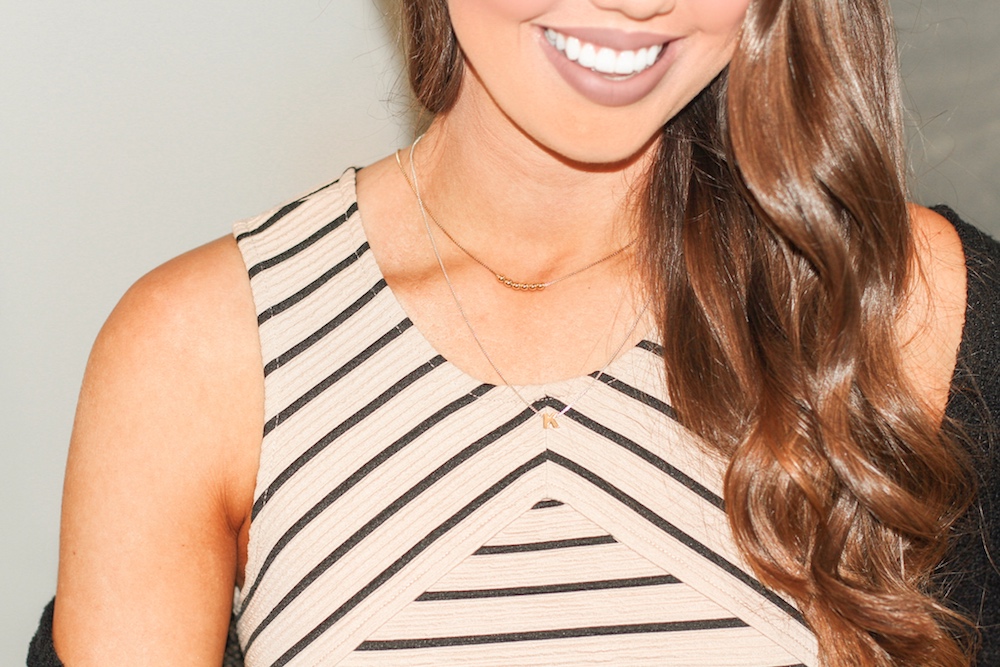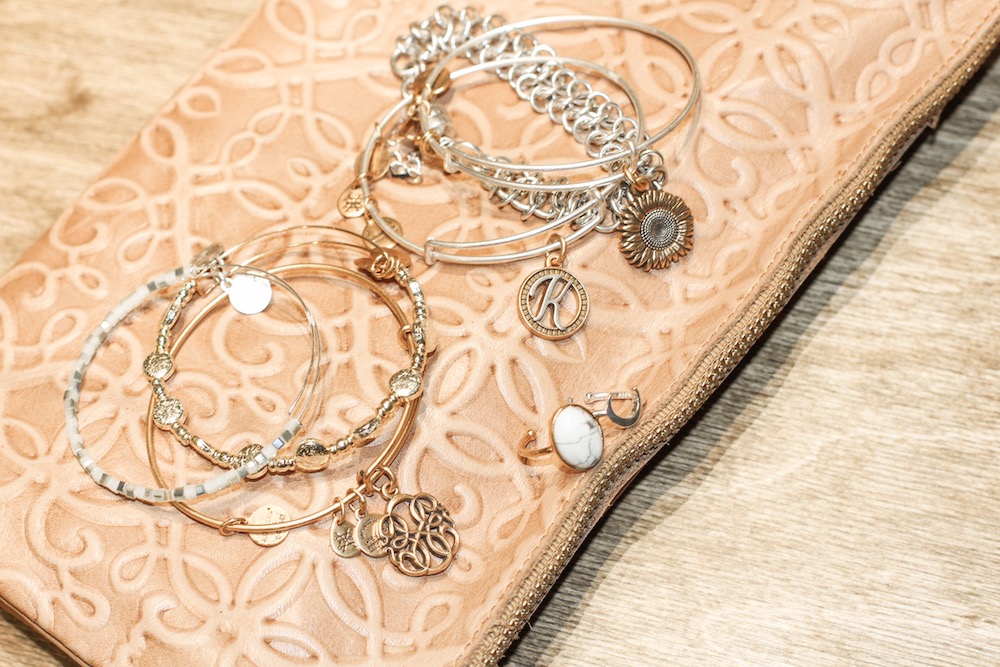 Michael Kors
Look 1 — Mixed Print Glam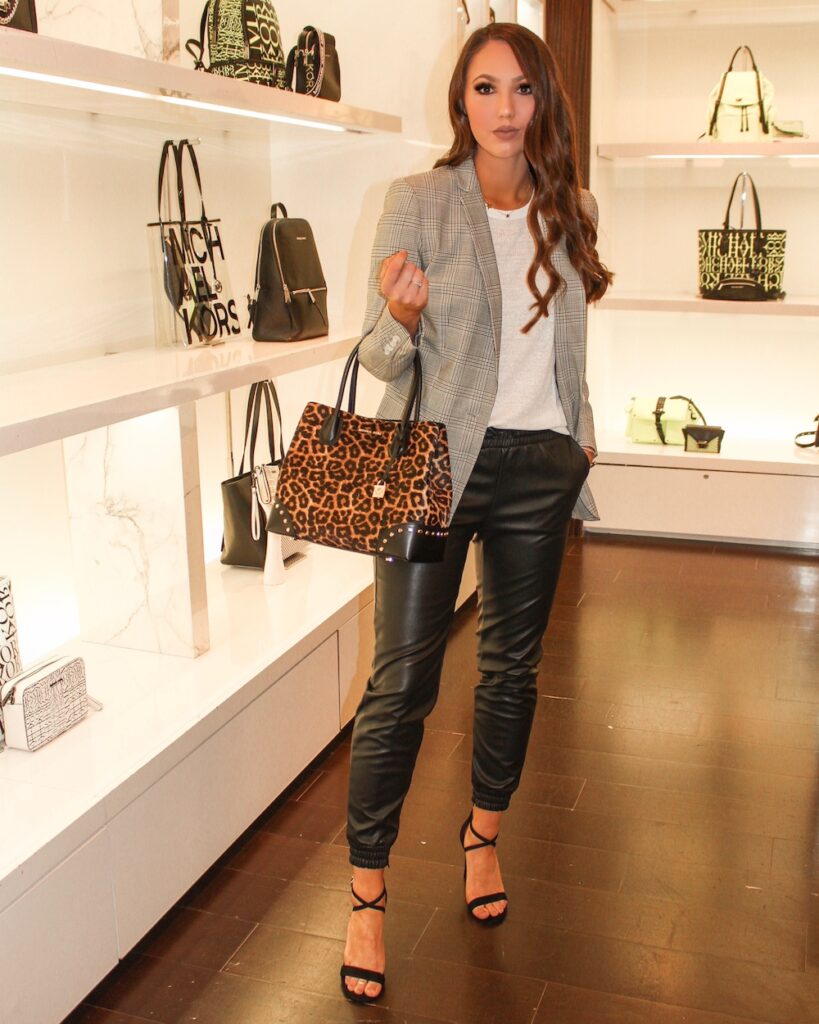 For office outfits that are a bit more edgy, Michael Kors at Brea Mall is the place to go! I was seriously in love with EVERY item that I tried on.
After falling in love with these faux leather joggers, I challenged myself to figure out how to style them for the office. I ended up pairing them with a basic white knit tank and a slightly oversized blazer. Then I accessorized with the cutest leopard bag and criss-cross heels. These heels are seriously to die for!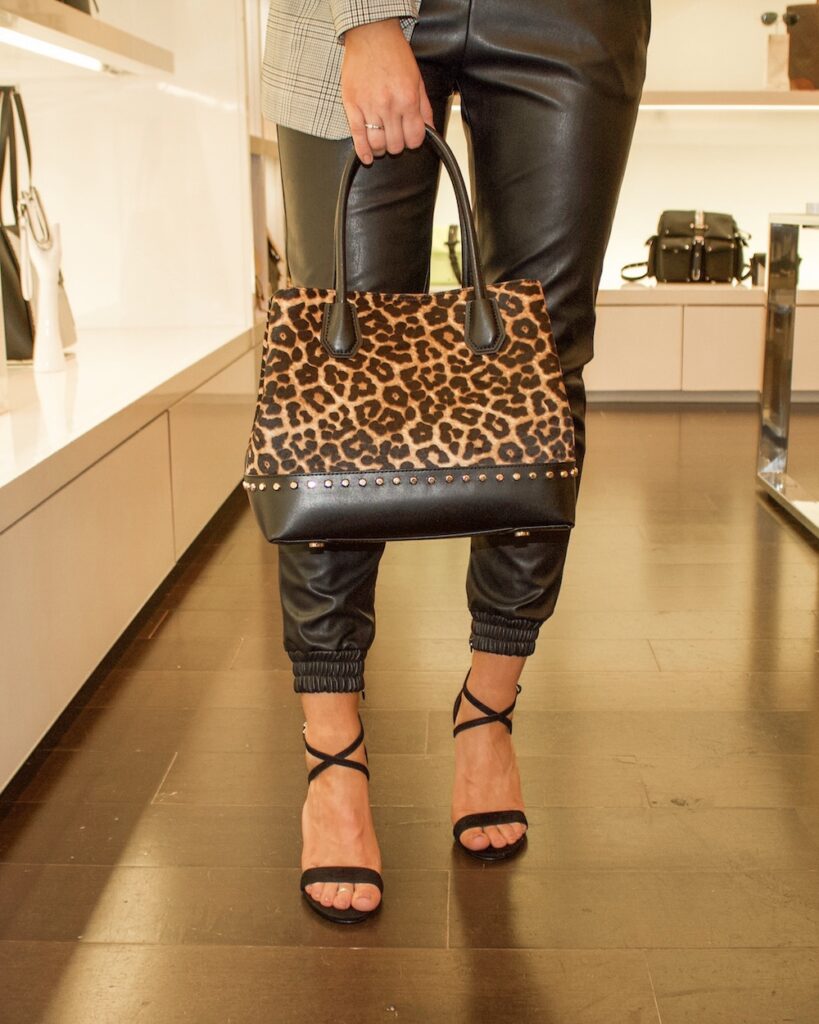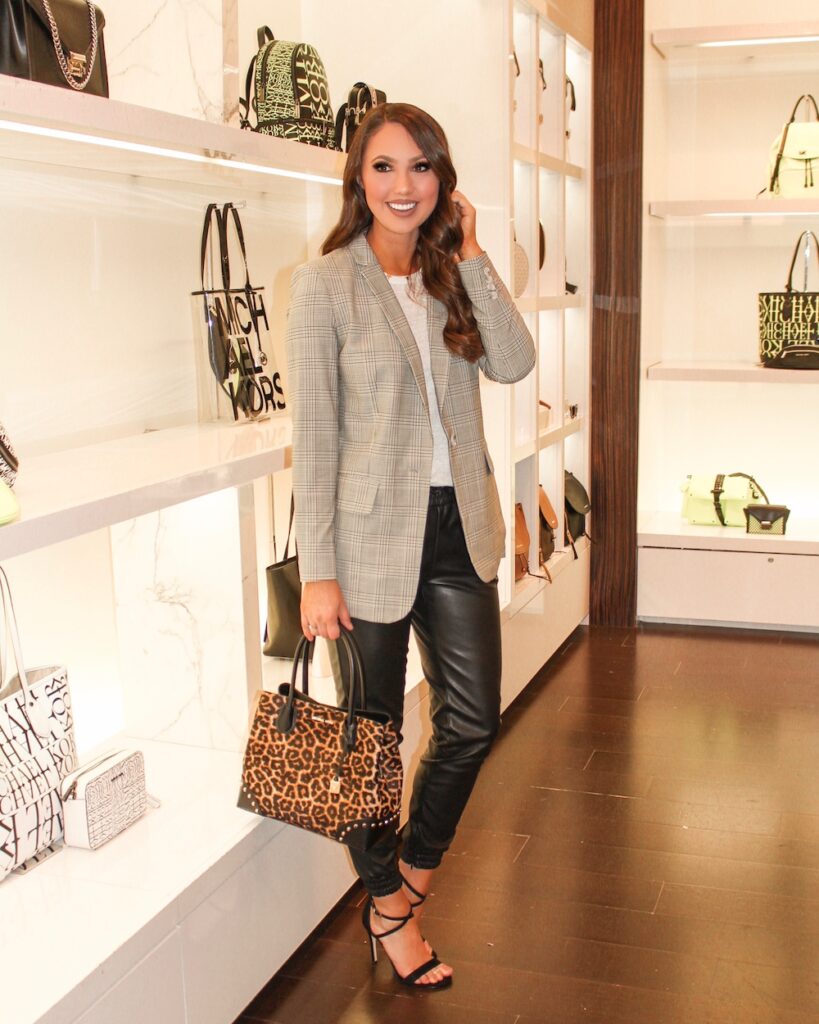 Look 2 — Navy Dream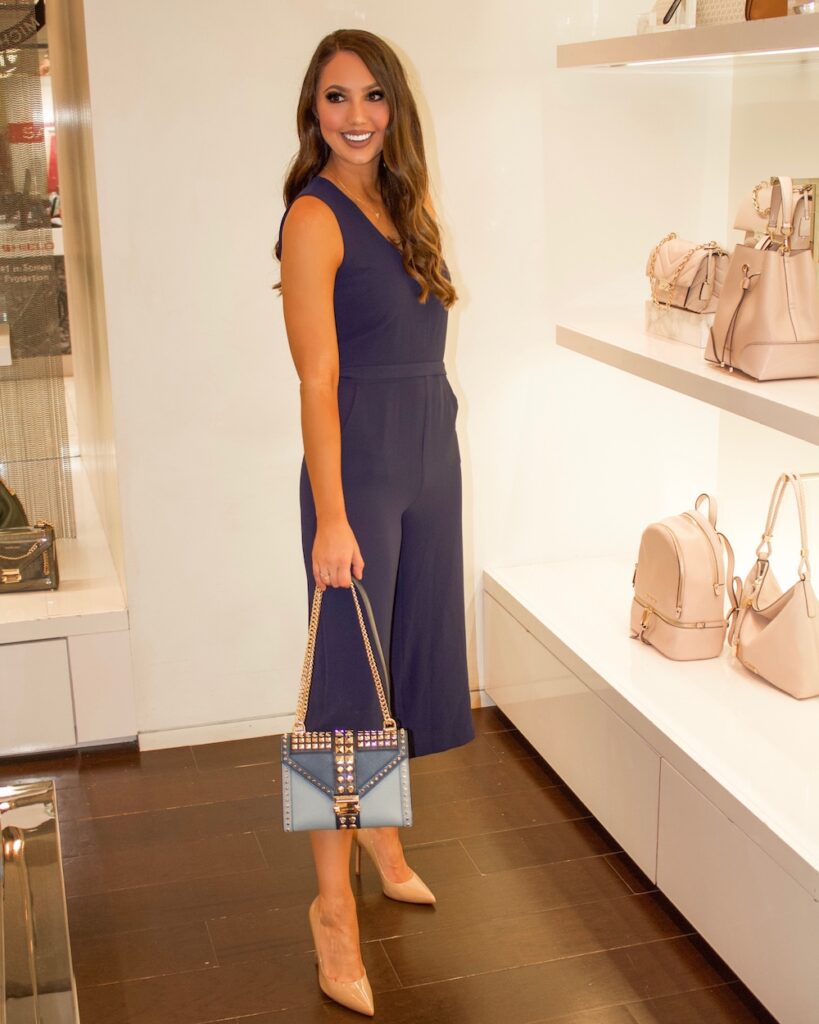 This navy culotte jumpsuit is such a dream! The fit is extremely flattering and I love the belt detail. To create an outfit, I paired the jumpsuit with classic nude pointed-toe heels — these were so comfy — and a two-tone blue studded bag. Not only is this outfit great for the office, but also for a post-work drink!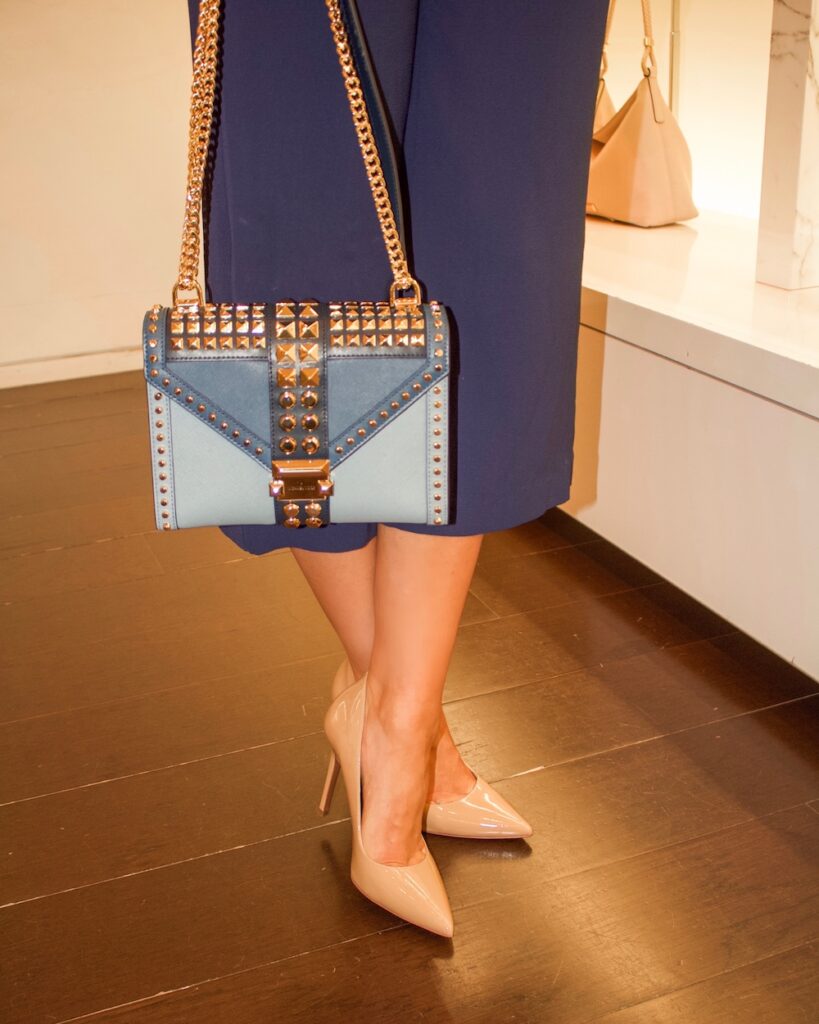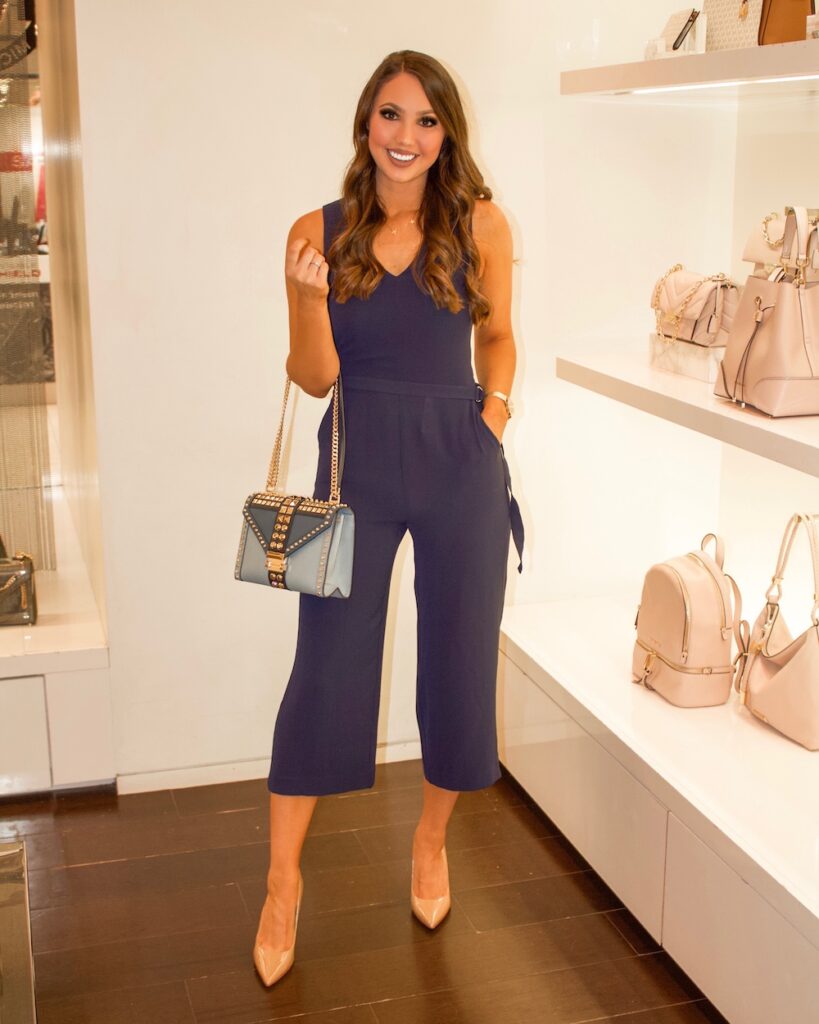 Look 3 — Bold and Edgy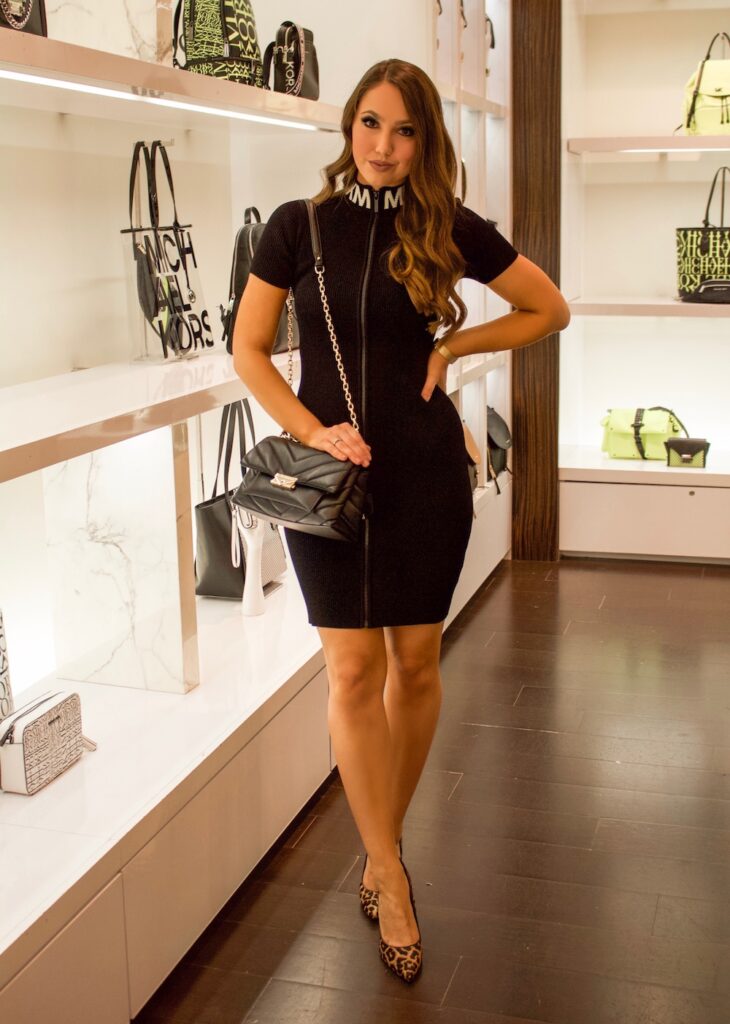 For a bold look that will definitely make a statement, this stretch, zip-front dress is the way to go. I paired it with leopard pointed-toe heels — leopard is a huge trend this fall — and a black quilted bag. I felt so confident in this outfit and all I could think of is the phrase "I close deals in heels."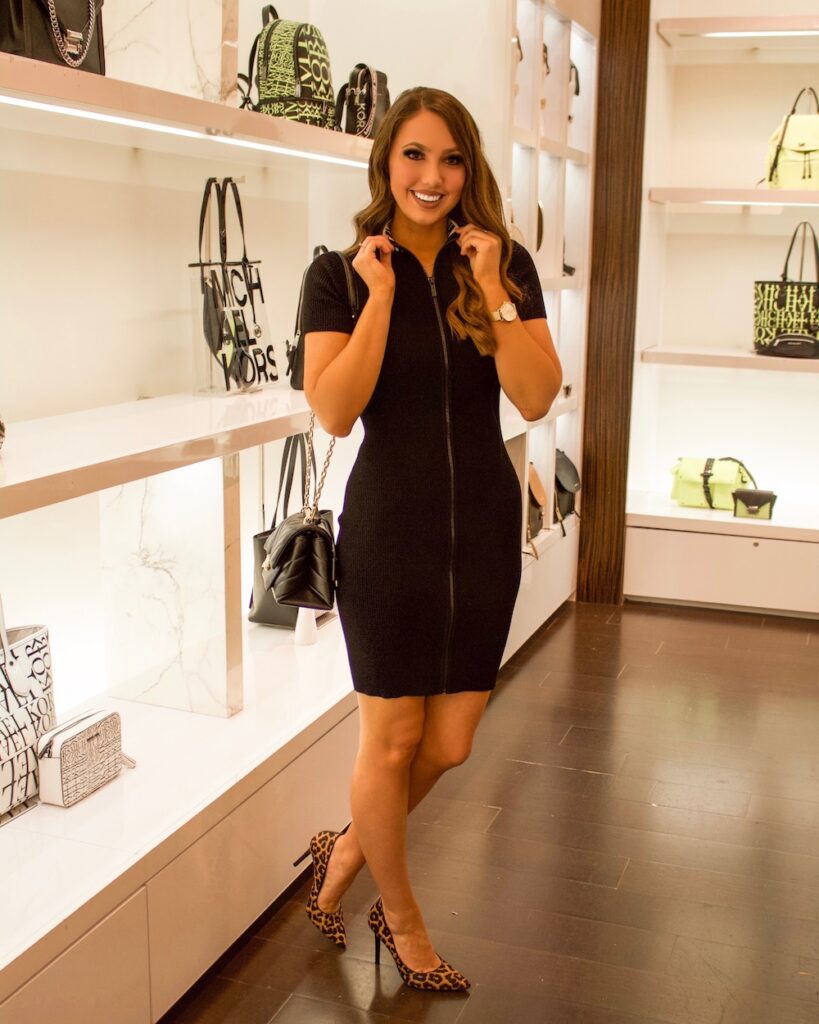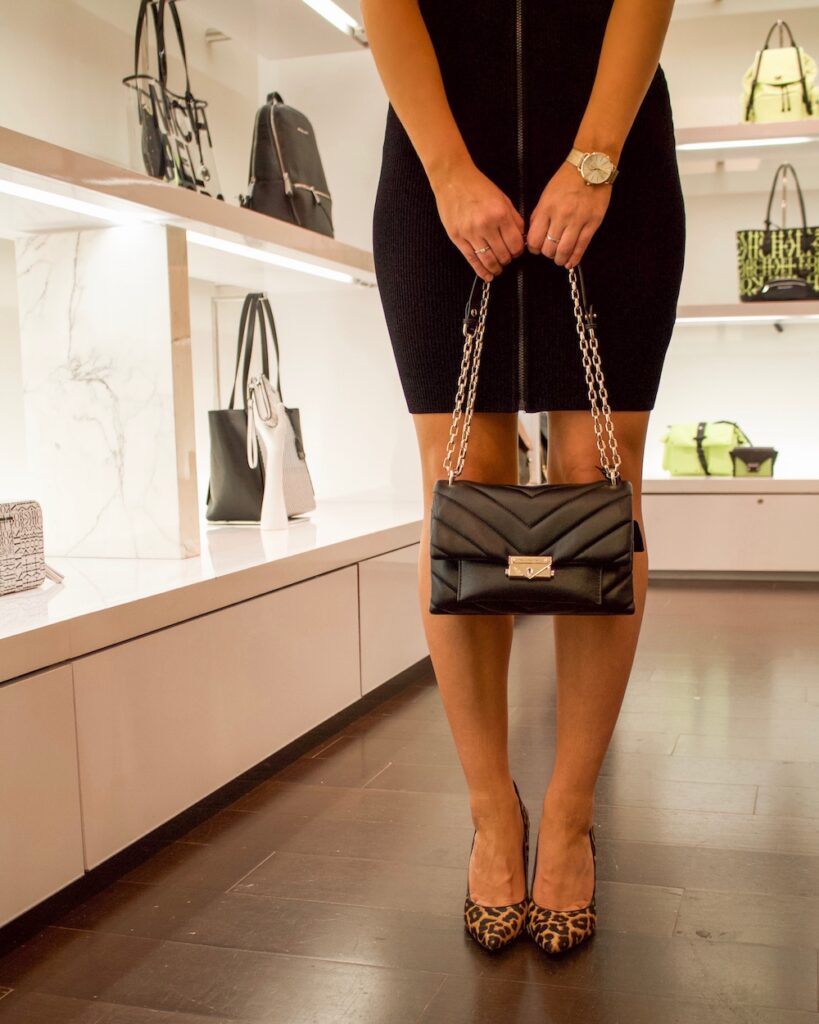 Post-Shopping Lunch Stop: California Pizza Kitchen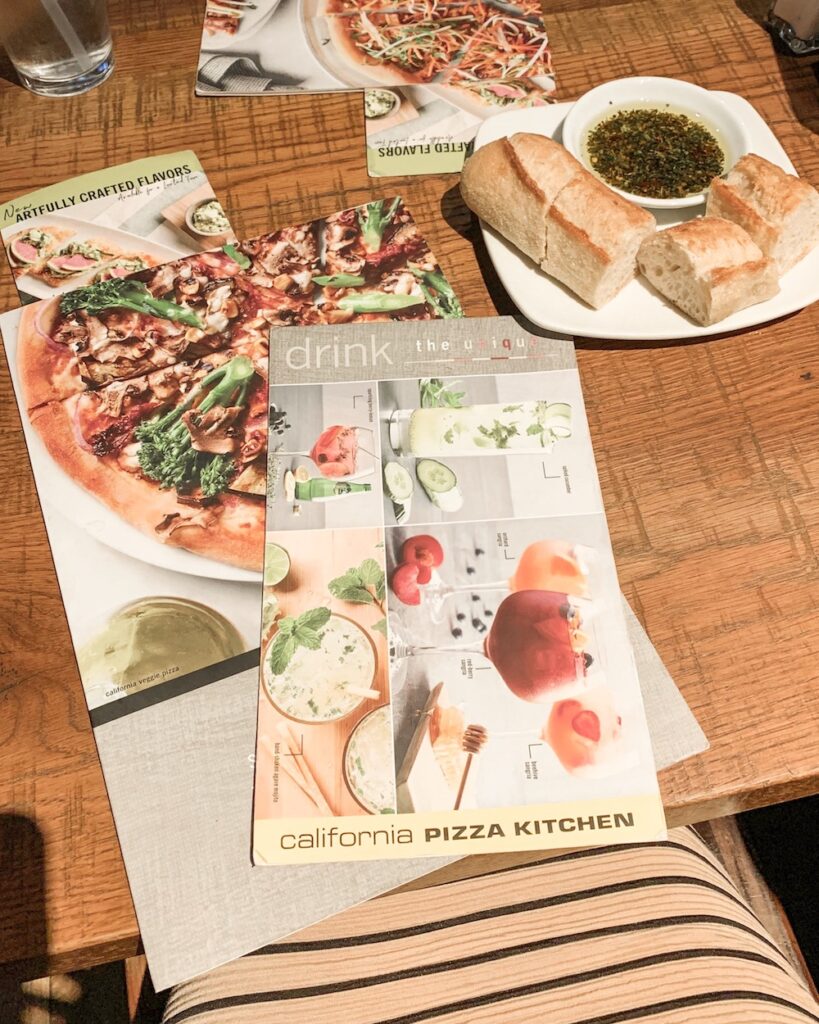 While Brea Mall has so many delicious lunch options, one of my favorite spots is California Pizza Kitchen aka CPK. Whether you're in the mood for a pizza or want to get a salad to stay on the healthier side, CPK has tons of options.
During my visit I ordered a Hawaiian pizza + The Original BBQ Chicken Chopped Salad — my faves. I also tried the California Club sandwich. All of these were yummy and totally hit the spot after a long day of business shopping!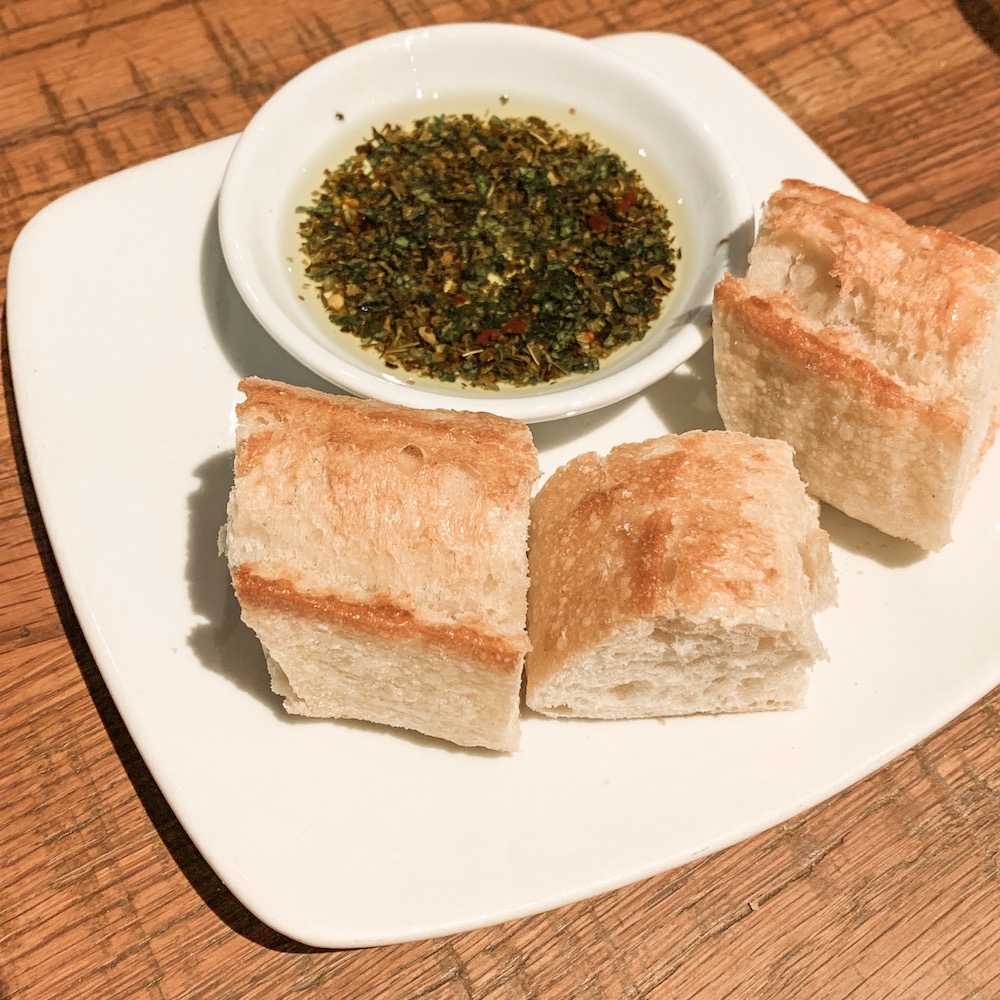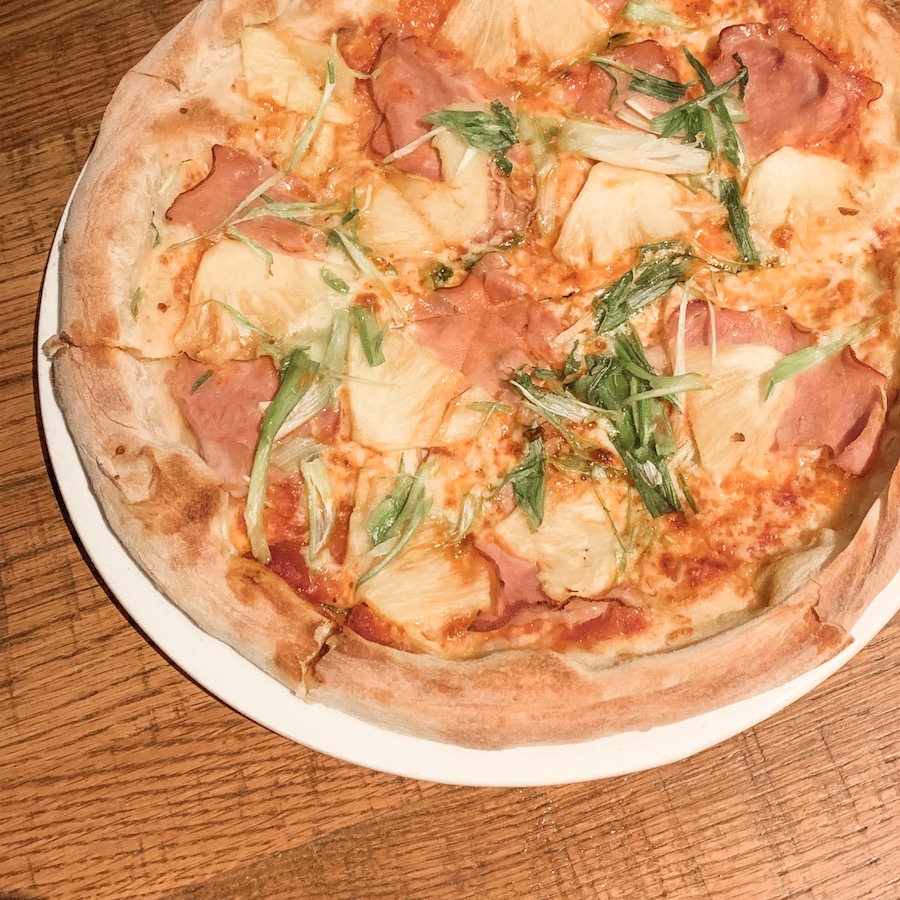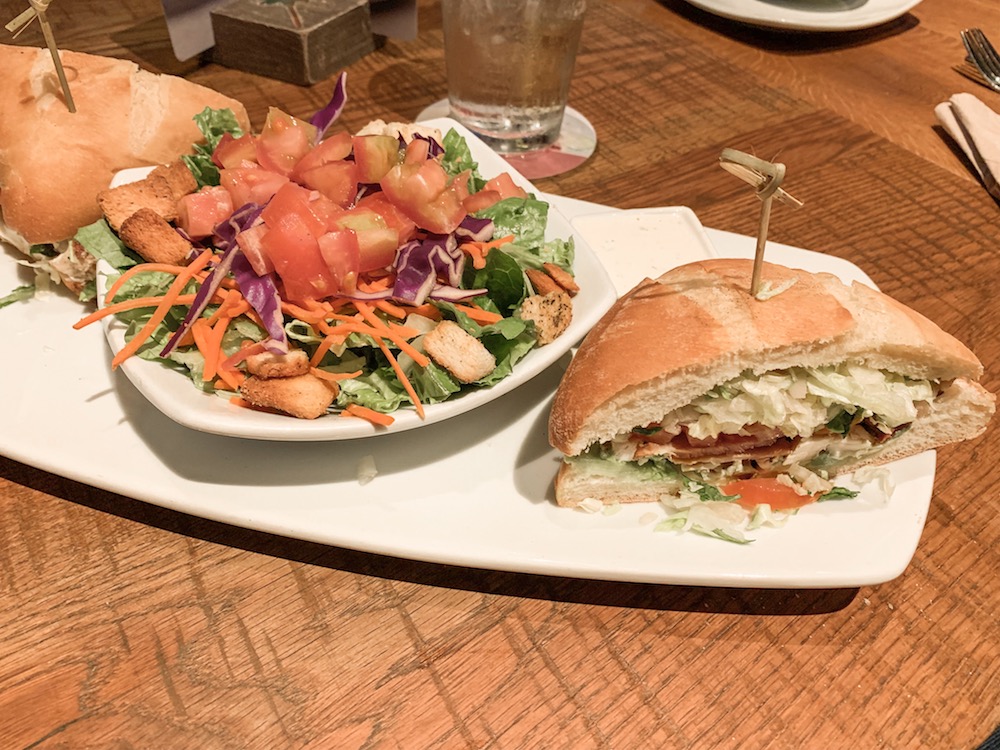 If you too are planning to update your work style, you will find the perfect pieces at Brea Mall! Below is the address of the Brea Mall so that my local readers can visit!
Address: 1065 Brea Mall, Brea, CA 92821-5718
Thanks for reading!
xoxo Kendall
* Brought to you by Simon Malls. As always, all opinions are my own. Thank you to all the brands that make My Styled Life possible.