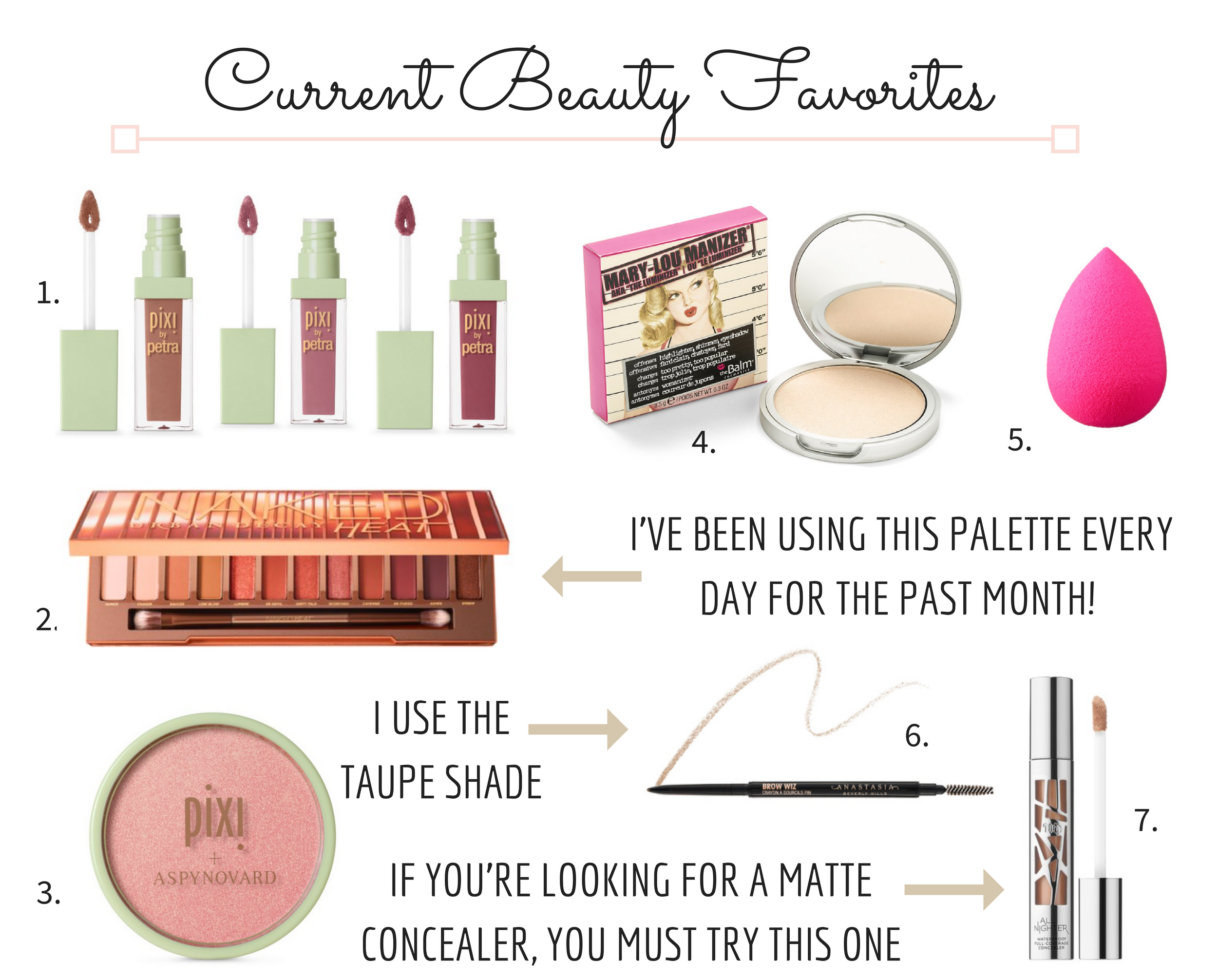 Over the past couple months, I've tried out a lot of beauty products, many of which I've briefly talked about on my Instagram Stories! Since I often get compliments on my makeup and many of you have wanted to know what products I'm using, today I'm sharing my current faves. These are products that I find myself reaching for every day and that I would recommend!
First off, let's talk about this eyeshadow palette! Urban Decay actually sent it to me and at first I thought the colors may be a little bold for everyday use. However, I was TOTALLY wrong, especially considering that I now use the palette almost every day. I love how it has so many matte shades that are perfect for blending out the crease. Also, since there is such a great range of shades, I am able to use the palette to create both day and night looks.
Another product that I've been loving is this Pixi Beauty blush in the shade Rome Rose. Target lists it as light pastel FYI! It looks a little intense in the pan, but it is SO beautiful on the skin. It gives the perfect flush of color. Speaking of Pixi, I've recently been trying their new MatteLast Liquid Lip products and I've really been enjoying them so far. I love the shade Matte Beige.
As for the beautyblender, I believe that it should be in every girl's makeup routine. This sponge blends my concealer in like no other. Recently, I've been using it with the All Nighter concealer by Urban Decay and I'm surprisingly loving the matte formula. Mind you, I love matte products, but I was concerned that a matte concealer would make my face look dull. Well, that's definitely not the case! With this product, my makeup looks better than ever! It's a little hard to blend out at first because it is a thick concealer, but once on it looks amazing! Highly recommend!
Lastly, there is the Anastasia Brow Wiz and the Balm Cosmetics Mary Lou Manizer. Both of these are products that I've actually had in my makeup collection for a while, but I recently started thinking about how much I love them so I had to share. The thin tip of the brow wiz creates the perfect strokes that look like real hair! This makes filling in your brows a piece of cake! As for the Mary Lou Manizer (a highlight), it provides the most beautiful glow and looks great on all skin tones.
Also, if you want to check out my skincare must-haves, see this post.
Thanks for reading!
xoxo Kendall
**The Urban Decay + Pixi Beauty products mentioned were sent to me. However, I was under no obligation to write about them. All opinions are my own. This is NOT sponsored.