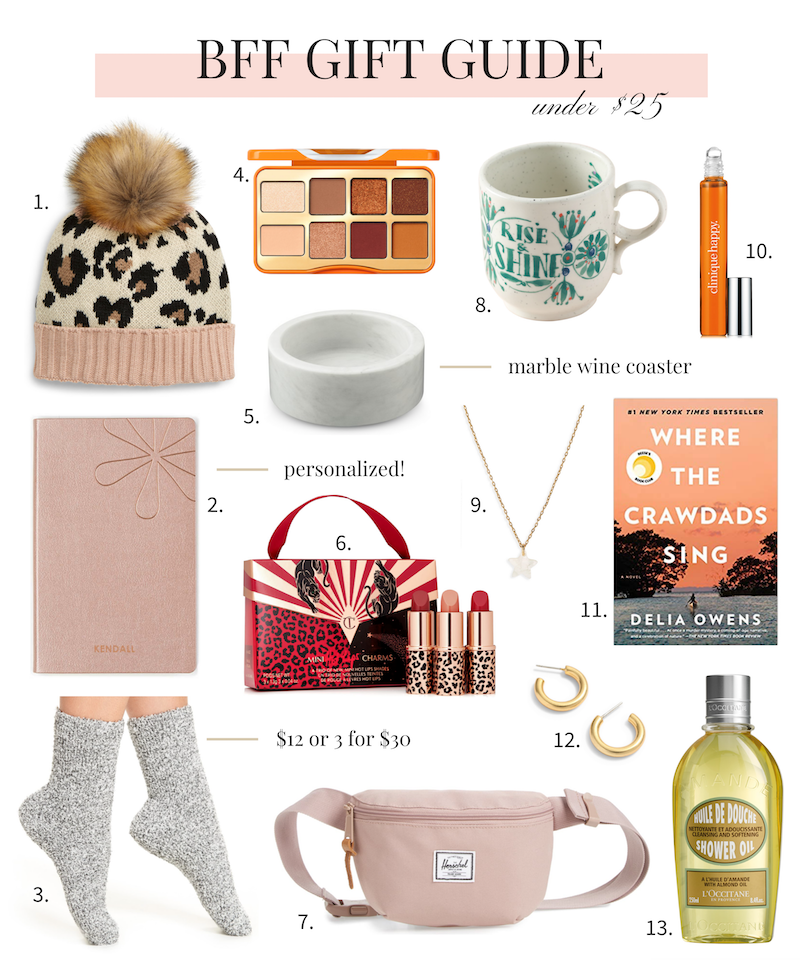 1 | 2 | 3 | 4 | 5 | 6 | 7 | 8 | 9 | 10 | 11 | 12 | 13
Coming up with BFF gift ideas can be hard! Gifts under $25, even harder! To make shopping easier for you this season, I rounded up some of my favorite gifts. I own and/or have gifted many of these items so I can assure you that your friend will love them!
One of my favorite gifts is this personalized notebook, which is offered in multiple colors! The personalization is such as special touch! Another one of my go-to gifts is a cute mug! I love this rise and shine mug. Pair it with a box of tea or a few hot chocolate packets and you have an easy, but super cute, gift!
A book is another great idea. My top recommendation is Where the Crawdads Sing. I read this book in under 24 hours and it was SO good. For the beauty lover, a rollerball perfume is something unique, but you can never go wrong with a gift set like this mini lipstick one from Charlotte Tilbury! Which gift is your favorite?
Thanks for reading! I hope these BFF Gift Ideas are helpful. Need more holiday inspiration? Gift guides, holiday outfits, makeup + more? Check out my Holiday page!
xoxo Kendall