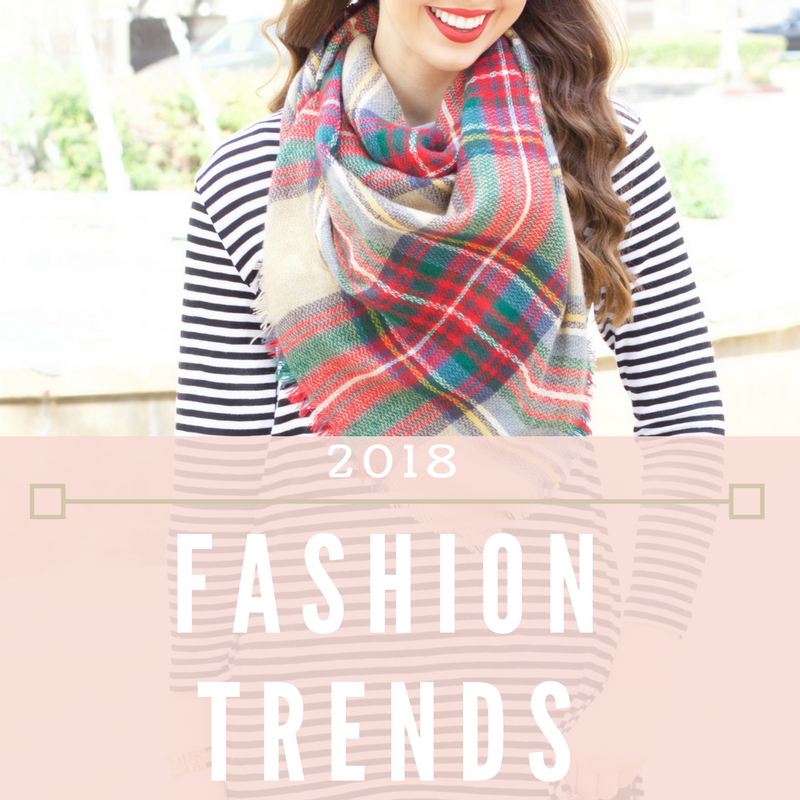 1. Dark Denim
The days of light wash denim are over! In 2018 really dark denim will be in style. Personally, I'm super excited about this because I've always been more of a fan of dark rather than light wash denim.

2. Lavender Everything
Say goodbye to Millennial Pink this year. Lavender is where it's at in 2018. From clothes to purses and everything in between, you will be seeing a ton of this shade this year. While Ultra Violet is the Pantone color of the year for 2018, you will see lavender in the fashion world.

3. Fringe
I remember fringe being popular in 2016, but it was kind of out of style in 2017. Well, flash forward to this year and it's BACK! I'm actually excited about this because I think fringe is a fun texture that jazzes up an outfit.

4. Cargo Pants
YES…these are back! I saw a ton of different styles in the Topshop section of Nordstrom the past weekend. How do you feel about this trend?? I'm not sure about it yet, but I do love army green and camo. I'm thinking I need to pick up these ones next time I go shopping.

5. Art on Clothing
I noticed this trend beginning toward the end of 2017 with the Louis Vuitton x Jeff Koons The Masters collection. However, in 2018, expect to see the trend mixed into clothing pieces like t-shirts!

6. Plastic Pieces
I'll admit that this is one trend I'm not fond of. When I think of plastic clothing, I think of Barbie clothes. While normally I'm like yasssss I want Barbie's closet, in this case I'll pass. I just don't think that plastic tops, jackets, etc. are cute. What do you think?

7. Mixed Prints 
Picture two prints you could never imagine wearing together and actually do it this year! Stripes and cheetah print, floral and plaid…I know it sounds a little crazy. However, you will be surprised at how some combos actually look really cute together!

8. Scrunchies 
This trend is pretty self explanatory! However, I'm not quite sure that I will partake…we'll see!

9. Plaid
While I tend to associate plaid with the holidays, I'm actually excited to see this trend in 2018. As long as Bermuda plaid shorts don't become a thing again…throwback to like 4th grade when Limited Too sold them. I don't think I ever owned a pair – thank goodness!
Thanks for reading! Which trend are you most excited for??
Also, if you missed Monday's post, check it out here!
xoxo Kendall