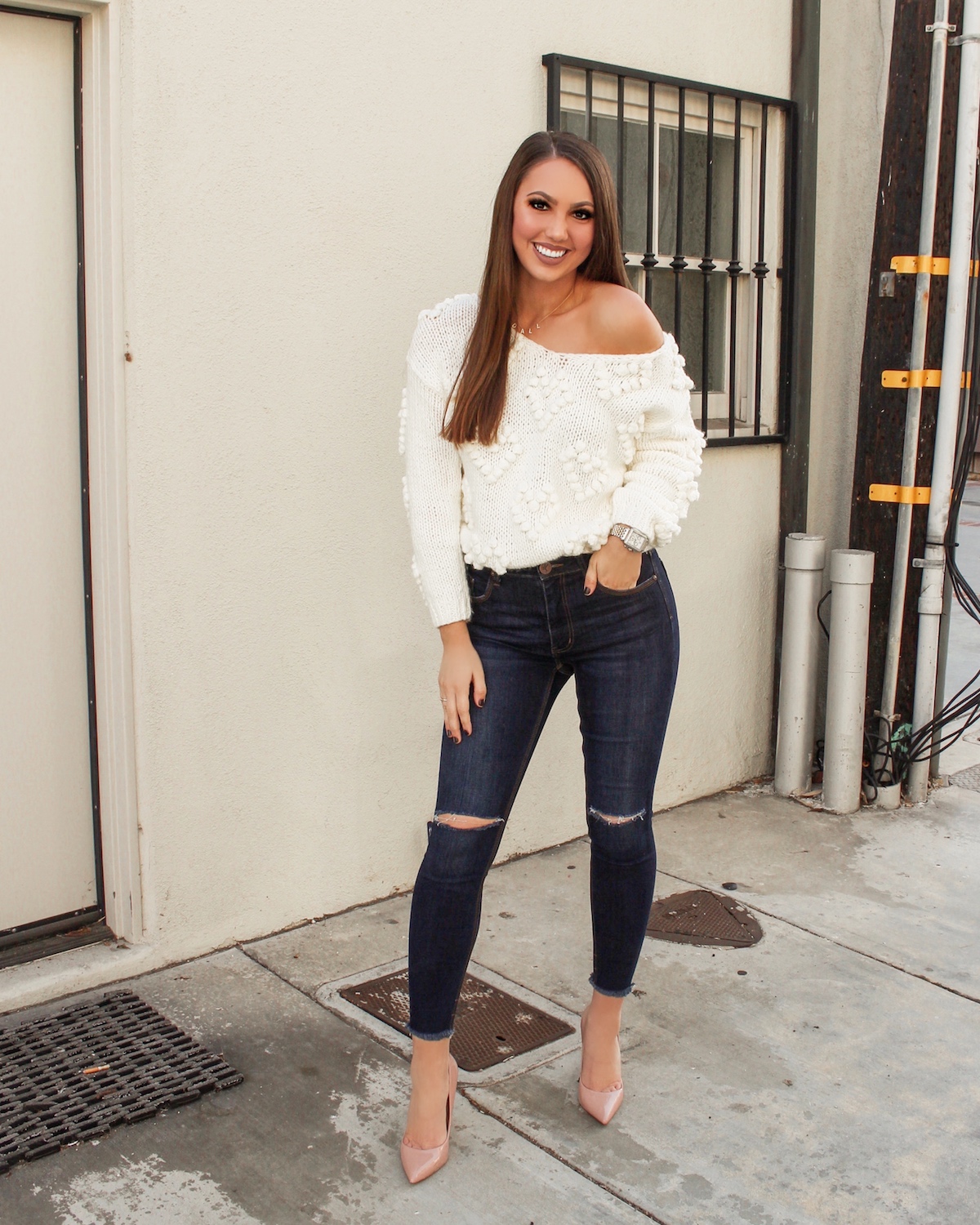 In addition to food prep for Thanksgiving, outfit prep is essential in my opinion! I always dress a little more on the casual side for Thanksgiving and of course, love to be in a semi-comfortable outfit since overindulging always happens on Turkey Day! To help you outfit plan, I'm sharing 3 Thanksgiving Outfit Ideas.
Outfit #1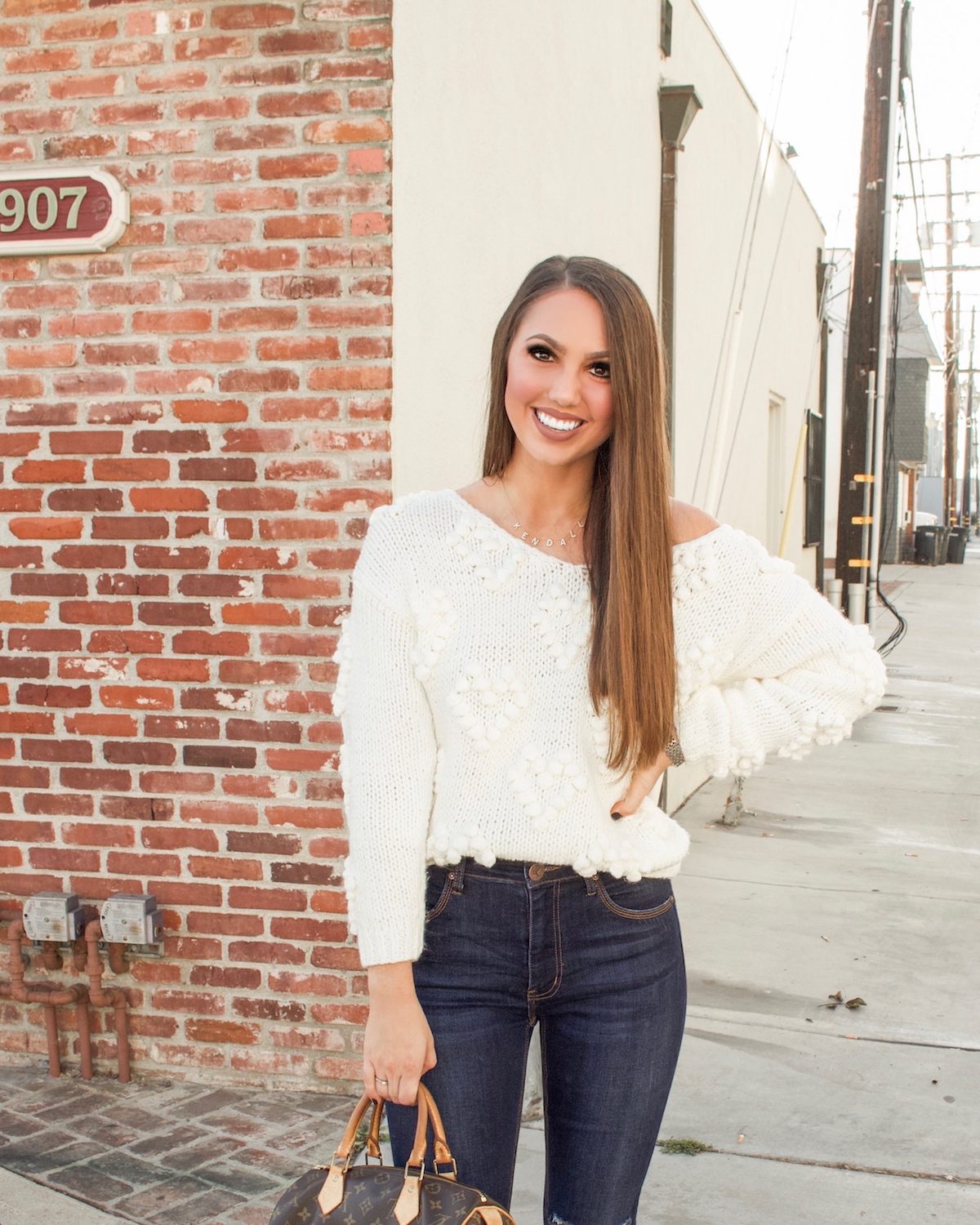 White Heart Pom Pom Sweater | Nude Heels | Crystal Name Necklace | Watch Head | Watch Band
This outfit…I feel so chic when I wear it. There is just something about pairing patent nude heels with jeans and a sweater that makes you feel like a million bucks. My heart pom pom sweater is SO cozy and warm. It would also be really cute with a tulle skirt for a holiday party look!
For reference, I'm wearing a size S/M and it fits perfectly!
Outfit #2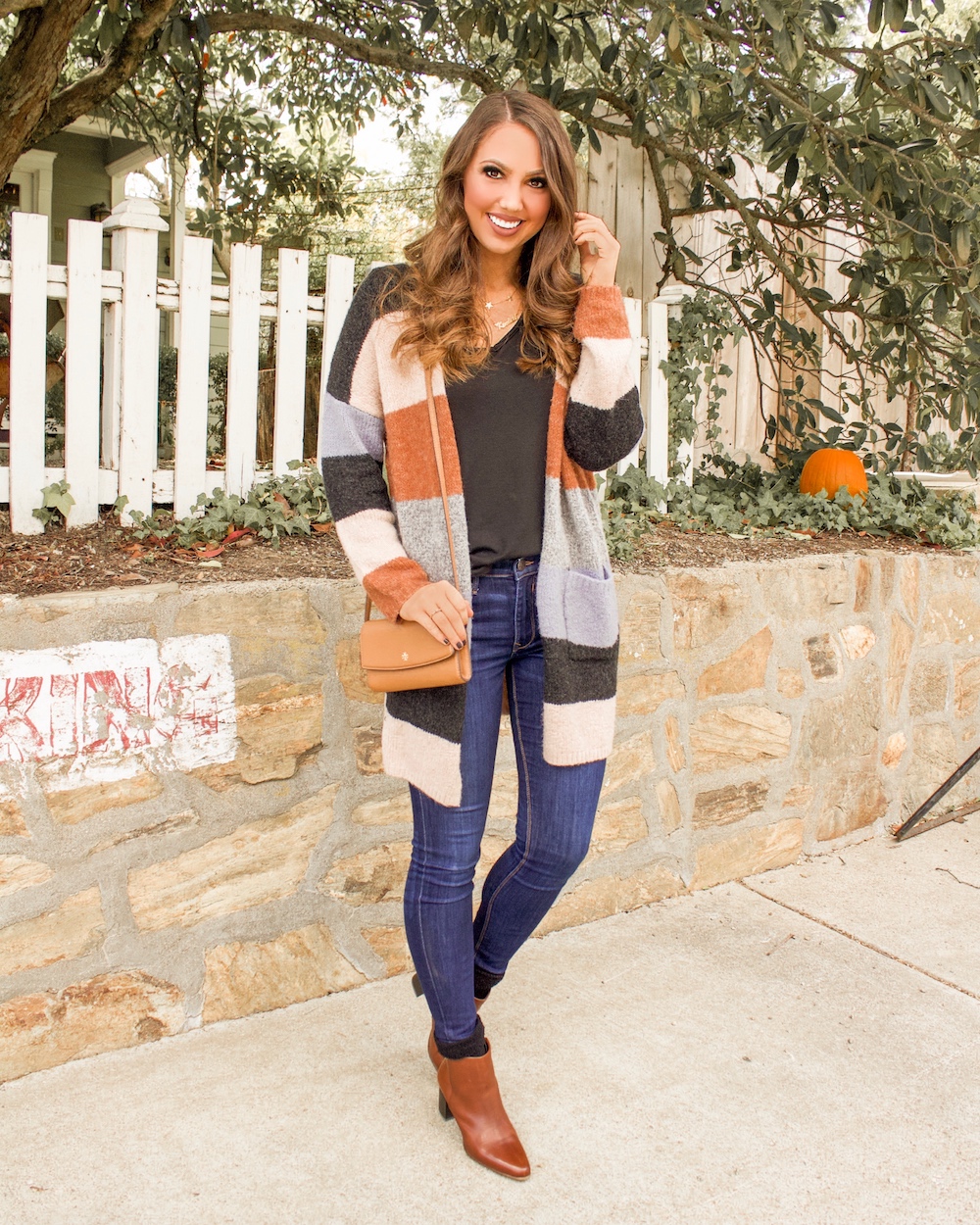 Similar Striped Cardigan | Black T-Shirt | Dark Wash Jeans | Cognac Pointed Toe Booties | Black Fuzzy Socks
I shared this look on Instagram last week, but had to include it in this post since this is totally something I would wear on Thanksgiving. You really can't go wrong with a t-shirt and a striped cardigan, right?! I really feel that the cognac booties pull together this look and to make it cozier, I wore fuzzy socks with them.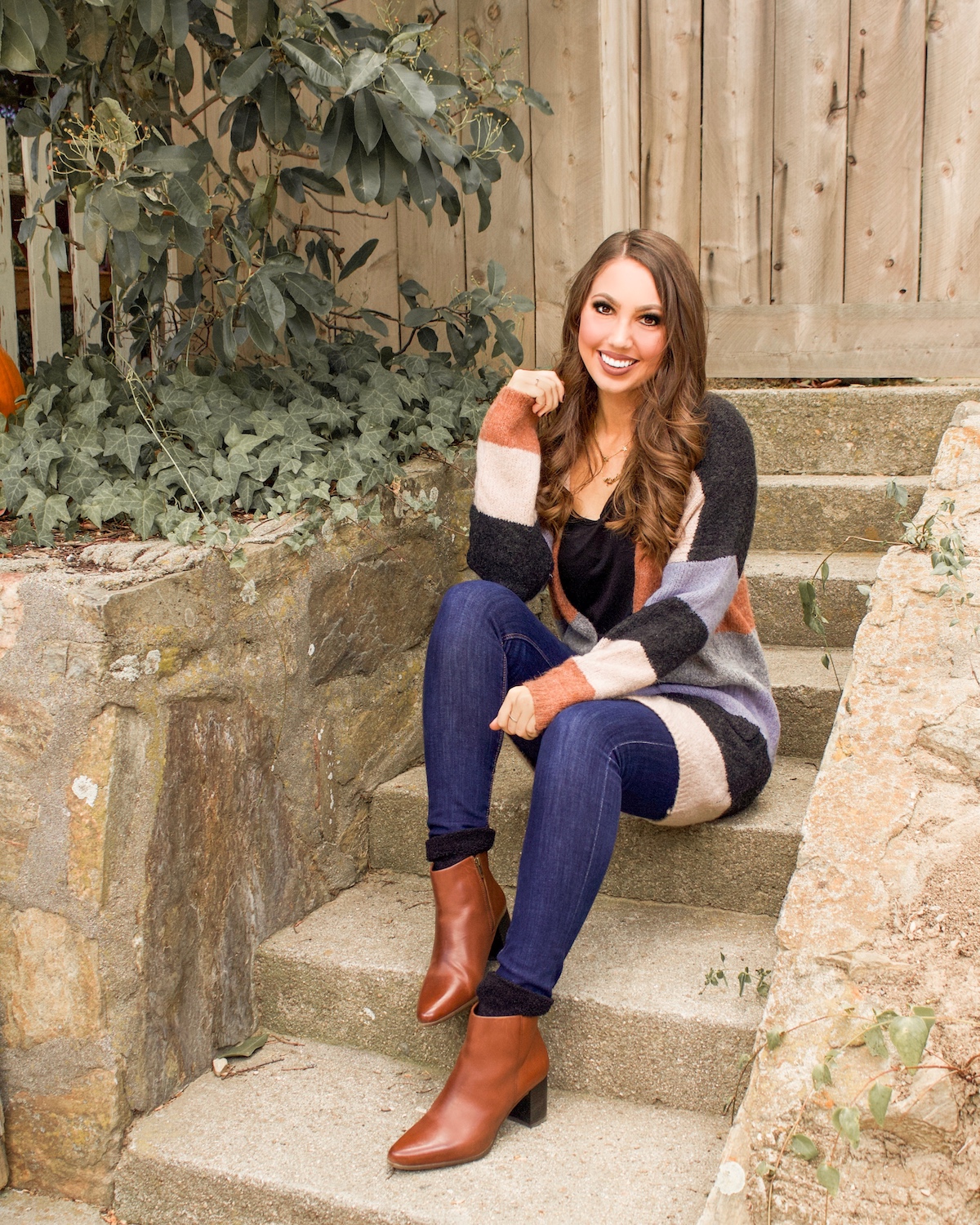 Outfit #3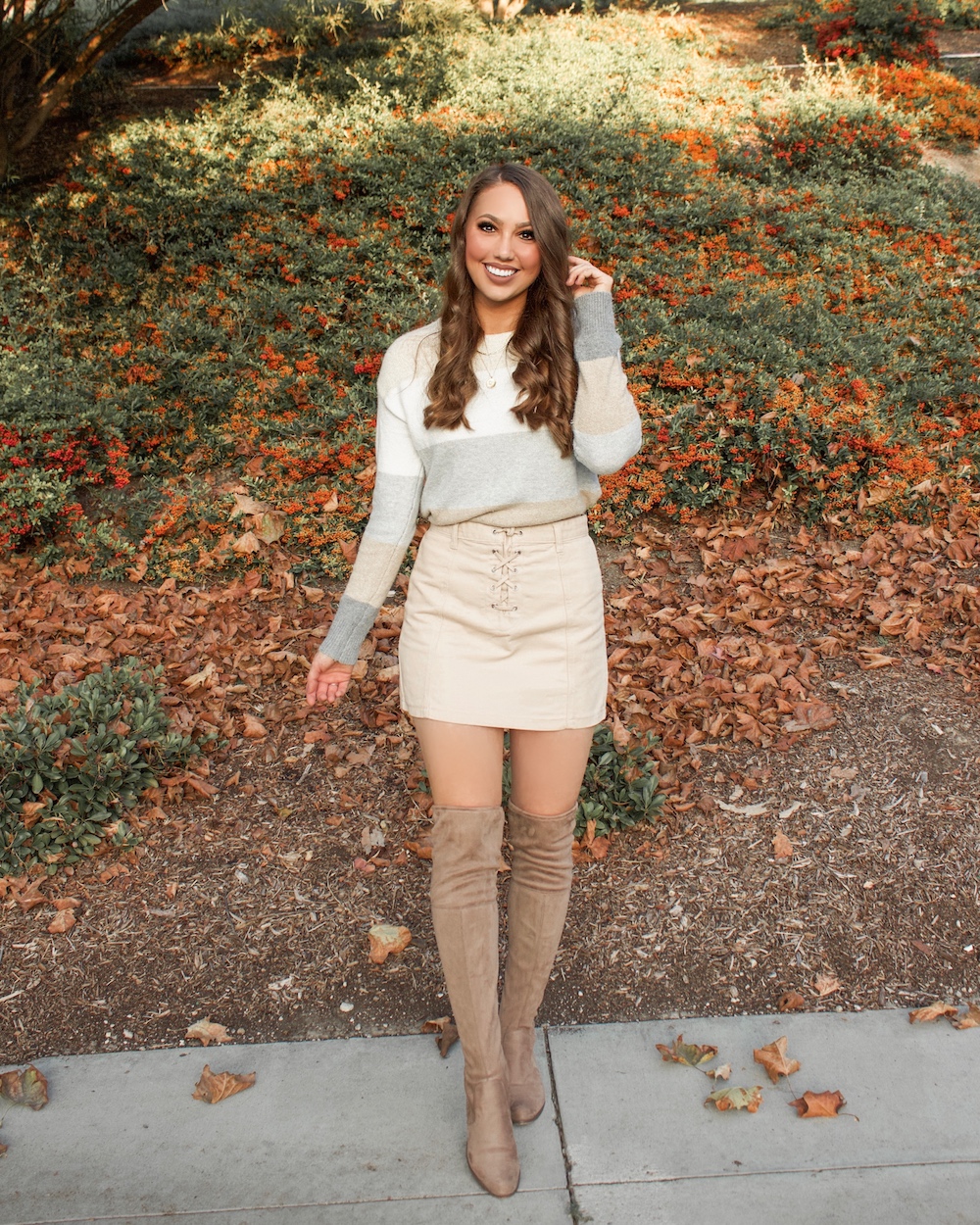 Neutral Striped Sweater (under $12) | Coin Necklace | Gold Bar Necklace
For a little more of a sassy look, go with a skirt, sweater and OTK boots! You can even pair a neutral-colored hat with this look for an added touch. The best part is that this sweater, which comes in multiple colors, is less than $12! AND…it's a great quality sweater!
Thanks for reading! Heading to someone's house for Thanksgiving?? Check out my Thanksgiving Hostess Gift Ideas post.
xoxo Kendall